Here's Why Omeros Corporation's Stock Bolted Higher In November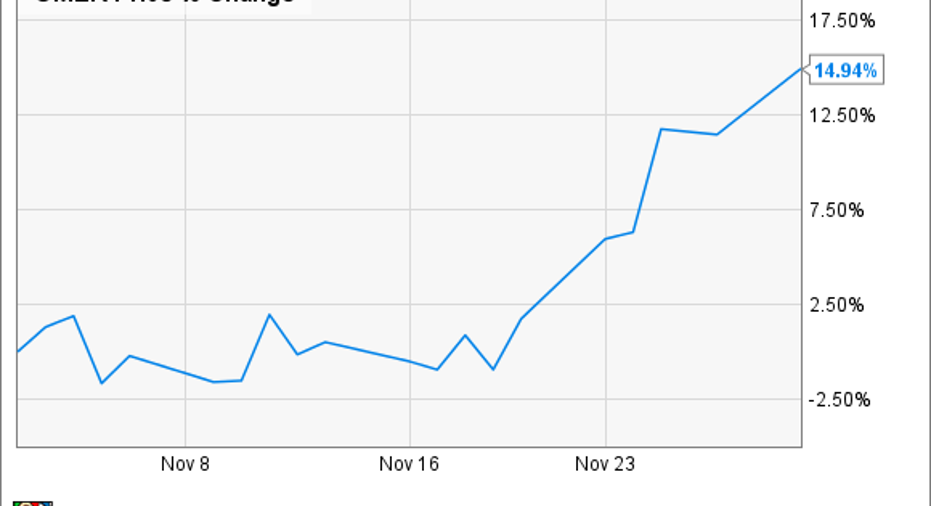 What: Omeros Corporation ,a biophama company developingsmall-molecule and protein therapeutics for inflammatory diseases and bleeding and nervous disorders, saw its shares rise by almost 15% last month, according to data provided byS&P Capital IQ. The company's shares pushed higher after the market mulled over its disappointing third-quarter earnings miss and apparently agreed with management's assessment that things are going better than last quarter's numbers would seem to indicate.
In particular, investors apparently felt better about the progress of Omeros' FDA-approved cataract surgery or intraocular lens replacement aid,Omidria, after management provided some much-needed color on the drug's soft third-quarter sales figures.
Image source: Omeros.
So what: Although Omidria, Omeros' only FDA-approved drug, generated just $3.2 million in net product sales during the three-month period, management noted on the conference call that sales volume actually grew by 71%from the prior quarter, according to data received from the company's wholesalers. The problem is that Omidria's quarterly sales came off as weaker than they really were because of logistical and accounting issues that affected how revenue is ultimately recognized.
Now what: The Street thinks Omeros will grow its total annual revenue by an astounding 518% and cut its net loss in half next year. If these estimates turns out to be correct, Omeros would be one of the fastest-growing biotech companies in the world. Consequently, risk-tolerant investors that are willing to endure some short-term volatility may want to consider picking up some shares.
The article Here's Why Omeros Corporation's Stock Bolted Higher In November originally appeared on Fool.com.
George Budwell has no position in any stocks mentioned. The Motley Fool has no position in any of the stocks mentioned. Try any of our Foolish newsletter services free for 30 days. We Fools may not all hold the same opinions, but we all believe that considering a diverse range of insights makes us better investors. The Motley Fool has a disclosure policy.
Copyright 1995 - 2015 The Motley Fool, LLC. All rights reserved. The Motley Fool has a disclosure policy.