Here's Why Novadaq Technologies Inc. Is Tanking Today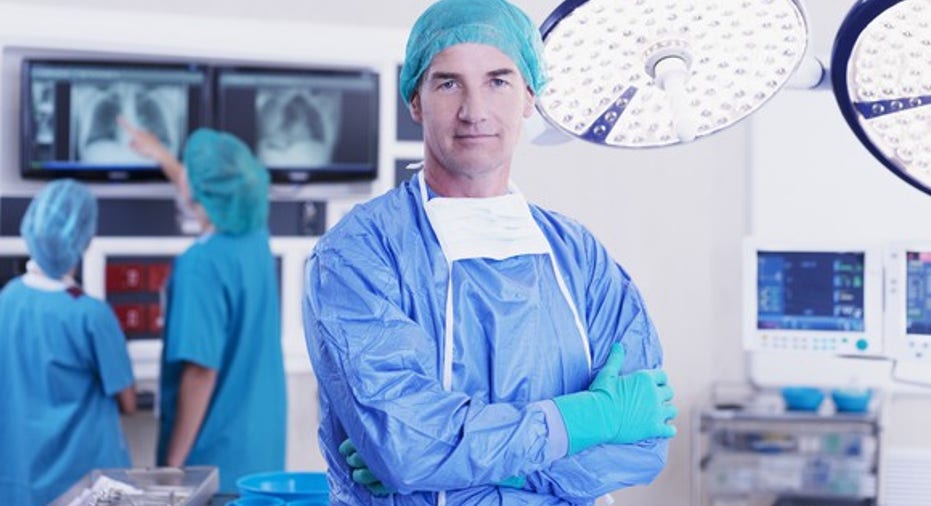 Image source: Getty Images.
What happened
After investors received a preliminary look at the company's fourth-quarter financialresults and 2017 guidance, shares ofNovadaq Technologies(NASDAQ: NVDQ), a company focused on fluorescence-imaging products used to enhance surgery,fell by 19% as of 11:45 a.m. EST on Wednesday.
So what
Management provided investors with updated financial results ahead of its presentation at the J.P. Morgan Healthcare Conference. Here's a summary of the key points:
The company said that sales of its recurring revenue products -- which include consumables,services,and components -- grew by 42% in the fourth quarter, to $9.5 million. However, Novadaq stated that its total quarterly revenue would be only $20.2 million, which represents growth of just 1% over the year-ago period. That's well short of the $25.4 million in revenue that market watchers had expected.
Novadaq's financial guidance for 2017 also fell short of expectations. Management stated that the company'sfull-year 2017 revenue will land between $98 million and $102 million. While that represents growth of roughly 25%, the range is far below Wall Street's forecast of $111.3 million in total revenue.
Management stated that it has opened up a new credit facility that provides the company with up to $60 million in new financing.
Understandably, traders sold off shares hard in response to the company's disappointing financial updates.
Now what
Given that Novadaq is still just a small-cap growth company that operates at a loss, it is no surprise to see that its shares are tumbling as a result of Wednesday's disappointingfinancial updates. However, it should come as some comfort to shareholders to know that the company's sales of recurring revenue products are still growing rapidly. In addition, the new credit facility should help ensure that the company won't need to hit up shareholders for extra cash any time soon.
Looking ahead, Novadaq continues to believe that its total addressable market in the U.S. is around $2.7 billion, which means there is still plenty of room left for Novadaq to expand. The company's partnership with Intuitive Surgical on its Firefly imaging system also provides Novadaq with a credible partner that could help give it a leg up over competitors in the long term.
Still, there's no doubt that Wednesday's financial update provides investors with reasons to believe that the company's growth story isn't as robust as they had hoped. Because of this, I'd suggest that potential investors keep Novadaq as just a watch-list stock for the time being.
10 stocks we like better than Novadaq Technologies When investing geniuses David and Tom Gardner have a stock tip, it can pay to listen. After all, the newsletter they have run for over a decade, Motley Fool Stock Advisor, has tripled the market.*
David and Tom just revealed what they believe are the 10 best stocks for investors to buy right now... and Novadaq Technologies wasn't one of them! That's right -- they think these 10 stocks are even better buys.
Click here to learn about these picks!
*Stock Advisor returns as of January 4, 2017
Brian Feroldi owns shares of Intuitive Surgical.Like this article? Follow him onTwitter, where he goes by the handle@BrianFeroldi, or connect with him on LinkedIn to see more articles like this.
The Motley Fool owns shares of and recommends Intuitive Surgical. The Motley Fool has a disclosure policy.