Here's Why Natural Gas Stocks Cooled Off in December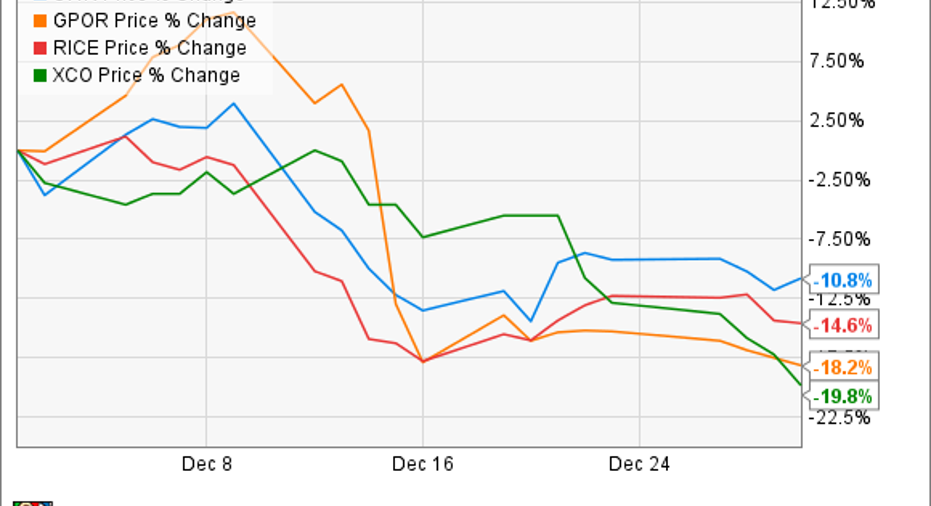 Image source: Getty Images.
What happened
Natural gas prices were red-hot for most of December and reached a two-year high on the 28th as weather forecasters expected a cold winter. However, a shifting forecast calling for warmer weather quickly wiped out the month's gains. Those sinking prices, along with several company-specific drivers, weighed on natural gas producers last month. Leading the laggards were Southwestern Energy (NYSE: SWN), Rice Energy (NYSE: RICE), Gulfport Energy (NASDAQ: GPOR), and EXCO Resources (NYSE: XCO):
So what
While the sinking price of natural gas was the primary culprit behind Southwestern Energy's double-digit downward move last month, that was not the only weight it had to bear. Another driver was an early-December downgrade from Tudor Pickering, which cut the stock from buy to hold. That ended a string of upgrades after several analysts had become more bullish on the stock in the last few months. That said, analysts have a lukewarm view overall, with an average hold rating, because of the company's significant leverage, which puts it at a competitive disadvantage because it cannot grow as fast as rivals under current market conditions.
Analysts also had a lot to say about Rice Energy last month, though most of those reports were bullish. Goldman Sachs, for example, upgraded it from neutral to buy in anticipation of stronger operational execution in 2017 and because of its relative recent underperformance versus peers. Meanwhile, both Mitsubishi UFG Financial Group and Barclays initiated coverage at overweight, while SunTrust said that Rice Energy's recent acquisition of Vantage Energy would significantly boost its competitive position. The analyst did warn of several near-term challenges that the company must overcome as a result of that acquisition. Otherwise, Rice Energy's only negative news last month, other than sinking gas prices, was that regulators fined it $3.5 million for violations at 10 well sites and six pipelines in Pennsylvania.
Image source: Southwestern Energy.
Gulfport Energy, on the other hand, had several news-driven catalysts pushing its stock down last month. In early December the company announced that it would spend $87 million to acquire 12,600 undeveloped acres near its existing core portion in Ohio's Utica shale. It continued its buying spree a week later, announcing a transaction to enter the SCOOP play of Oklahoma for $1.85 billion. Not only did the deal represent a gigantic strategic shift, but the company also financed it by launching an offering of 29 million shares at a significant discount to the stock's previous trading price. Finally, the company capped the month off with the announcement that its CFO was departing for an external opportunity. While Gulfport Energy filled that void internally, investors don't like it when top financial officers unexpectedly leave, especially in the midst of financing a major acquisition.
Finally, weaker gas prices were the primary driver of EXCO Resources' December swoon, because of the potential negative impact on the company's troubled financial position. Rating agency Moody's highlighted those concerns last month when it downgraded the company's credit rating deeper into speculative territory. The rating agency did so to reflect a view of EXCO's eroded liquidity position, which it thought was "insufficient to fully fund development expenditures at the level required to stem ongoing production declines." Furthermore, it worried that "absent an injection of additional liquidity, the source of which is not readily identifiable, EXCO could face going concern risk as it confronts an unsustainable capital structure." In other words, there is an increasing risk that EXCO might need to file for bankruptcy protection, especially if gas prices continue to tumble.
Now what
Gas prices in the U.S. ebb and flow with the weather forecast, which tends to be highly unpredictable. When the weather changes, it causes volatility to spike, which often prompts new concerns from analysts that financially weaker gas producers could struggle. Given the unpredictability of the weather, investors should avoid balance-sheet-challenged gas producers -- they face a greater risk of burning up if gas prices swoon.
10 stocks we like better than Southwestern Energy When investing geniuses David and Tom Gardner have a stock tip, it can pay to listen. After all, the newsletter they have run for over a decade, Motley Fool Stock Advisor, has tripled the market.*
David and Tom just revealed what they believe are the 10 best stocks for investors to buy right now... and Southwestern Energy wasn't one of them! That's right -- they think these 10 stocks are even better buys.
Click here to learn about these picks!
*Stock Advisor returns as of January 4, 2017
Matt DiLallo has no position in any stocks mentioned. The Motley Fool owns shares of and recommends Moody's. The Motley Fool has a disclosure policy.