Here's Why Nabors Industries Ltd., Patterson-UTI Energy, Inc., and Precision Drilling Corp Shares Are Up Over 16% Today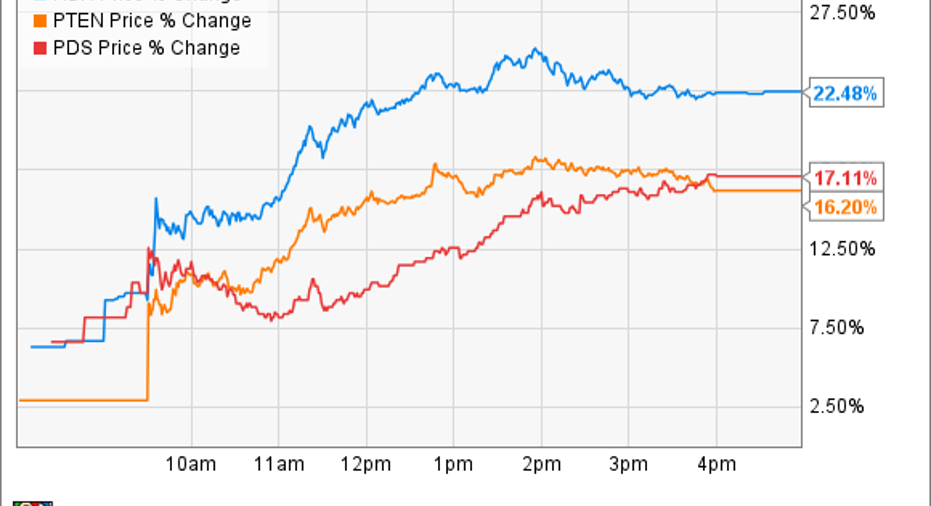 If OPEC's planned cuts do come through, U.S. production could surge. That would be good for these oil drillers. Image source: Getty Images.
What
Oil prices surged over 8% on November 30, with Brent futures closing above $50 and West Texas Intermediate finishing not far behind on news that OPEC was moving closer to a formal agreement to cut oil output by some 1.5 million barrels per day. Add in rumors that non-OPEC producing countries like Russia were amenable to cutting if a larger agreement were to happen, and oil stocks surged huge today.
That included shares ofNabors Industries Ltd. (NYSE: NBR), Patterson-UTI Energy, Inc. (NASDAQ: PTEN), and Precision Drilling Corp (NYSE: PDS):
So what
If OPEC's cuts come to fruition, it would be a big step toward balance in oil markets, which have struggled with a flood of surplus production and slow demand growth for more than two years now. Add in those rumors that major producing countries like Russia are willing to cut production in an effort to balance the market and send oil prices up, and there you have it: Oil-related stocks are up big.
How would these actions play out for Nabors, Patterson-UTI, and Precision Drilling? In short, it could be great news. After all, these three companies operate a significant number of rigs in North America, and North American oil producers are almost certain to increase drilling activity if OPEC's proposed cuts actually make it to the wellhead, and drive global output down and oil prices up.
Now what
As much as it looks like OPEC is seriously moving forward with a plan to cut supply, we've been through this before in the past year, and rumors of cuts never made it past the OPEC boardroom. So, as far as I can tell, it's probably way too early to be throwing money at any company that's dependent on higher oil prices to see its prospects improve.
And there's no denying that all three of these companies need to see higher oil prices if they intend to get their idled drilling rigs back to work. Rig counts have started to recover from the bottom earlier this year, but at last count, there were more than 350 fewer drilling rigs operating around the world versus this period one year ago.
That's good in that it should help reduce oversupply and drive oil prices higher, but until there's actual evidence that OPEC's member states are cutting supply, I wouldn't suggest acting on this news. Particularly with service companies like these drilling contractors. But at the same time, it's not a bad idea to keep them on your watchlist, because you can almost guarantee that North American producers will start ramping up drilling activity if OPEC's cuts happen and send oil prices higher from here.
10 stocks we like better than Precision Drilling Trust When investing geniuses David and Tom Gardner have a stock tip, it can pay to listen. After all, the newsletter they have run for over a decade, Motley Fool Stock Advisor, has tripled the market.*
David and Tom just revealed what they believe are the 10 best stocks for investors to buy right now...and Precision Drilling Trust wasn't one of them! That's right -- they think these 10 stocks are even better buys.
Click here to learn about these picks!
*Stock Advisor returns as of November 7, 2016.
Jason Hall has no position in any stocks mentioned. The Motley Fool has no position in any of the stocks mentioned. Try any of our Foolish newsletter services free for 30 days. We Fools may not all hold the same opinions, but we all believe that considering a diverse range of insights makes us better investors. The Motley Fool has a disclosure policy.