Here's Why Macy's Stock Rose by 15% in November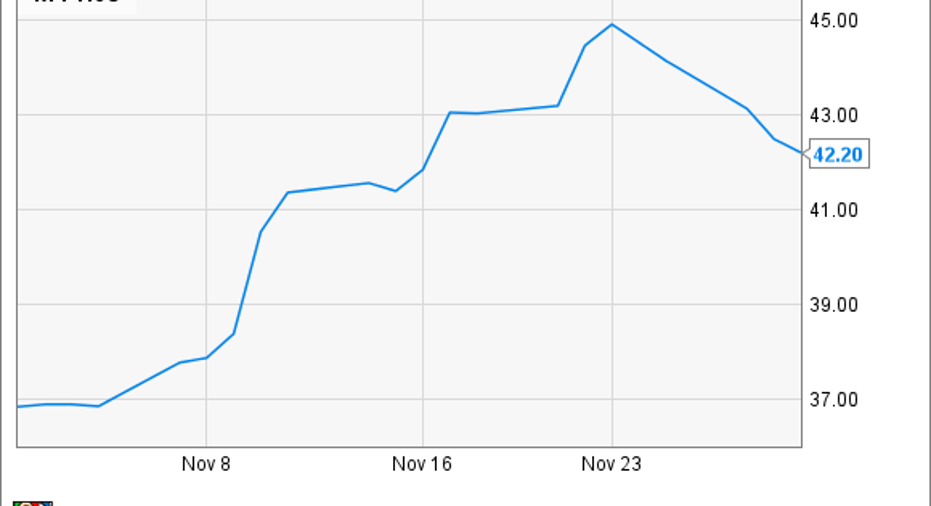 Macy's (NYSE: M) has been struggling to figure out how to revamp its business in the digital age.
That has included closing some stores and putting more money into its online efforts. It's very early in the process to decide whether those efforts have succeeded, but there were some positive signs in the company's Q3 earnings report.
Image source: YCharts.com.
What happened
The retailer reported Q3 sales of $5.626 billion, a decrease of 4.2%. Comparable sales on an owned plus licensed basis were down by 2.7% in the third quarter. Third quarter comparable sales declined by 3.3%, but these drops were expected and the company noted in its earnings release that "the difference between the year-over-year change in total and comparable sales largely resulted from the closing of 41 underperforming Macy's stores at the end of fiscal 2015."
The important news for shareholders is that the company has reaffirmed its previous earnings-per-share guidance and raised its sales guidance for full-year 2016. That suggests that the company believes its changes are working. It was news that sent the company's stock from a $36.44 open on Nov. 1 to a $42.20 close on Nov. 30, a 15.8% improvement according to data provided by S&P Global Market Intelligence.
So what
Macy's CEO Terry J. Lundgren seemed confident in his remarks in the earnings release. All CEOs generally try to paint a bright picture in these documents, but the Macy's boss was convincing.
"The trends we saw in the third quarter give us confidence that we can deliver our expectations for the fourth quarter and our guidance for fiscal 2016," he said. "Our third quarter top line results were better than the first half of the year and our sales-driving initiatives continue to gain traction."
Now what
Macy's has moved from the "tell me" to the "show me" phase of its turnaround. These are encouraging results, but how the company does in Q4 will tell investors the real story of whether it has turned a corner. This is good news and a cause for optimism, but now it's time for the company to show actual results. Meeting its Q4 numbers will go a long way toward showing that the chain has made the needed changes for its long-term health.
10 stocks we like better than Macy's When investing geniuses David and Tom Gardner have a stock tip, it can pay to listen. After all, the newsletter they have run for over a decade, Motley Fool Stock Advisor, has tripled the market.*
David and Tom just revealed what they believe are the 10 best stocks for investors to buy right now... and Macy's wasn't one of them! That's right -- they think these 10 stocks are even better buys.
Click here to learn about these picks!
*Stock Advisor returns as of Nov. 7, 2016
Daniel Kline has no position in any stocks mentioned. He lives near a Macy's and goes there a lot, but rarely buys anything. The Motley Fool has no position in any of the stocks mentioned. Try any of our Foolish newsletter services free for 30 days. We Fools may not all hold the same opinions, but we all believe that considering a diverse range of insights makes us better investors. The Motley Fool has a disclosure policy.