Here's Why Juno Therapeutics' Stock Dropped 20% in December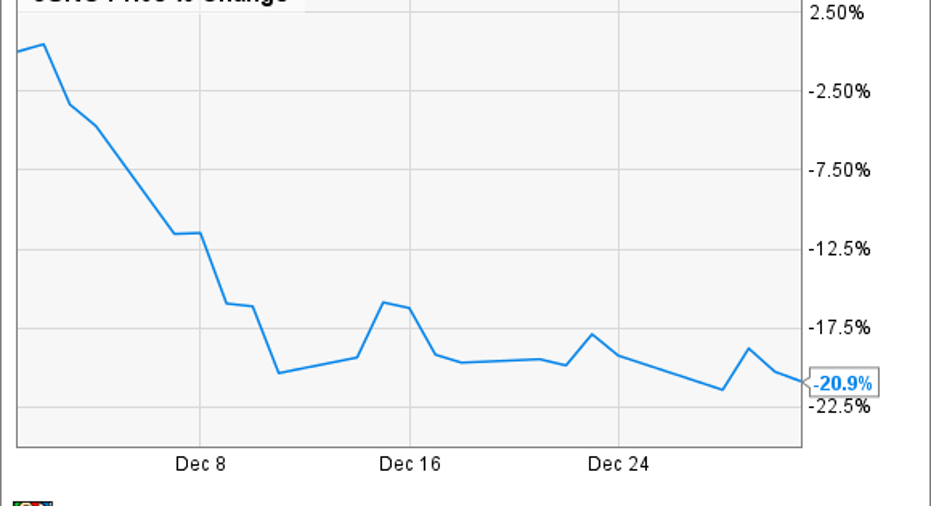 What: Juno Therapeutics , a clinical-stage cancer immunotherapy company, saw its shares lose more than 20% of their value in December, according to data provided by S&P Capital IQ. The stock's decline was apparently driven by the company's array of clinical updates provided at theAmerican Society of Hematology meeting last month.
So what: Although Juno reported that itschimeric antigen receptor (CAR) T cell product candidates, JCAR015 and JCAR014, showed encouraging clinical responses in patients with relapsed or refractory acute lymphoblastic leukemia, a fair number patients in some trials experienced serious side effects such as cytokine release syndrome and/orneurotoxicity.
Such adverse effects are a well-known problem associated with CAR T-cell therapies in general. That's why some of Juno's main competitors like Bellicum Pharmaceuticals are working diligently on so-called "suicide switches" that can reduce the risks of these potent cancer-fighting therapies.
Now what: Juno has reportedly built in its own version of a safety switch into some of its modified T cell therapies, including JCAR014. However, Bellicum's novel Chemical Induction of Dimerization, or CID, technology, that underlies its safety switch and can safely be triggered by the small molecule called rimiducid, is starting to look like it could potentially be a best-in-class mechanism based on some preliminary clinical trial data released last year.
As a result, there's been some chatter among industry experts that Juno, or perhaps other CAR T players, may consider licensing Bellicum's CID technology at some point in the future. While I think it's probably premature to talk about licensing deals yet, given that all of these therapies are in early to midstage development, the market is obviously deeply concerned about these overarching safety problems inherent to CAR T-cell therapies as a whole. Therefore, investors may want to proceed with caution with some of these CAR T developers for the moment, especially those like Juno that have seen their market caps swell in relatively short periods of time.
The article Here's Why Juno Therapeutics' Stock Dropped 20% in December originally appeared on Fool.com.
George Budwell has no position in any stocks mentioned. The Motley Fool recommends Juno Therapeutics. Try any of our Foolish newsletter services free for 30 days. We Fools may not all hold the same opinions, but we all believe that considering a diverse range of insights makes us better investors. The Motley Fool has a disclosure policy.
Copyright 1995 - 2016 The Motley Fool, LLC. All rights reserved. The Motley Fool has a disclosure policy.