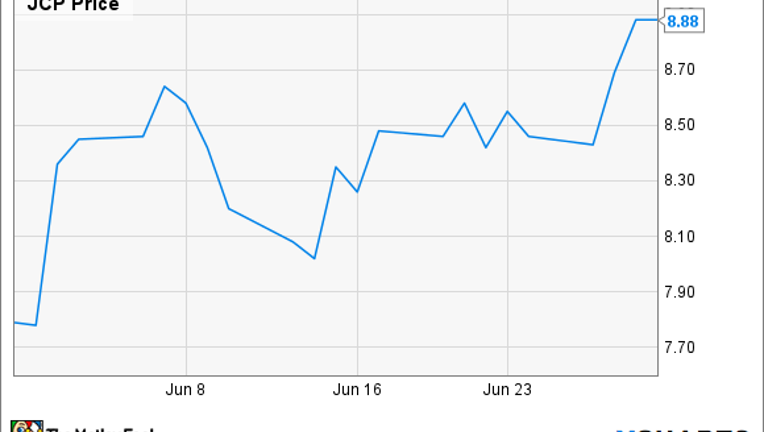 What: J.C. Penney successfully refinanced $2.25 billion in real estate loans in June, which sent the company's stock significantly higher.
Image source: YCharts.com.
After closing May at $7.29, the company's stock began to climb when it announced its intention to refinance the loans on June 10. The share price began to climb again when J.C. Penney reached a deal to close the refinancing on June 23. Shares finished June at $8.88 for a nearly 14% gain, according to data from S&P Global Market Intelligence.
So what: The company restructured its $2.25 billion five-year senior secured term loan credit facility, which it entered "into in 2013 with an amended and restated $1.688 billion seven-year senior secured term loan credit facility, and the issuance of its previously announced $500 million of 5.875% senior secured notes due 2023," the company said in a press release.
The new loan has a lower interest rate, and proceeds from it will be used to pay off the remaining balance from the previous loan. The company will save approximately $24 million in annualized interest expense savings. CEO Marvin Ellison elaborates:
Image Source: JCPenney.com.
Now what: While this was generally a routine transaction, it takes one worry off the plate of the recovering company. Going forward, the new loan gives the company flexibility, which should let it continue its slow path back to relevance.
In the future, the stock price will be driven by sales, not transactions like this one, but clearly shareholders are relieved that the deal has been done. Now Ellison and his team can work to continue new initiatives, such as returning appliance sales to many of its stores while also growing the chain's online business.
The article Here's Why J C Penney Company Inc Shares Gained 14% in June originally appeared on Fool.com.
Daniel Kline has no position in any stocks mentioned. He wonder why John Cusack can't get any good roles anymore. The Motley Fool has no position in any of the stocks mentioned. Try any of our Foolish newsletter services free for 30 days. We Fools may not all hold the same opinions, but we all believe that considering a diverse range of insights makes us better investors. The Motley Fool has a disclosure policy.
Copyright 1995 - 2016 The Motley Fool, LLC. All rights reserved. The Motley Fool has a disclosure policy.