Heres Why Hess Corp.'s Stock Jumped 17% Last Month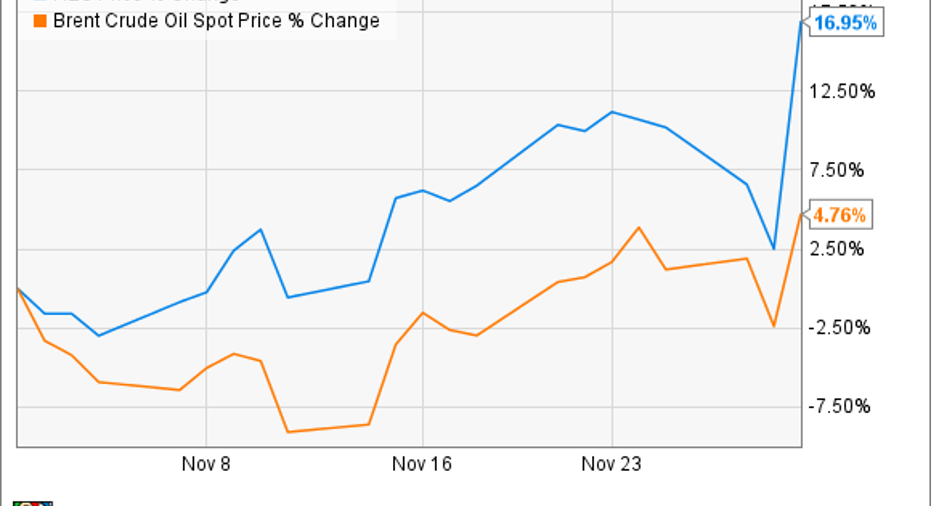 Image source: Hess Corp.
What happened
Shares of Hess (NYSE: HES) bounded higher last month. While the company had a couple of notable news items fueling the stock, the biggest driver was OPEC's decision to cut its output, which sent oil prices -- and the company's stock -- up sharply:
So what
Hess' most notable news last month was the announcement of layoffs to help it cope with lower oil prices. According to reports, the company cut more than 11% of its workforce as it continues to seek ways to reduce costs amid persistently weak oil prices. Those job cuts were the company's first since the oil downturn began in 2014, and they were partially in response to the company's decision in October to cut even deeper into its capex budget, with the company now only expected to spend $2 billion this year. That is $100 million less than its previous guidance, and 50% less than last year.
That said, just because Hess is cutting investment spending does not mean it has given up on oil exploration and development. In fact, the company was one of several winning bidders in Canada's latest offshore exploration lease sale last month. The company joinedBP (NYSE: BP) and Noble (NYSE: NBL) in a 276 million Canadian-dollar bid for a parcel where Hess and Noble will control 25% stakes, while BP takes the other half. In addition, Hess, Noble, and BP teamed up on two other smaller winning bids totaling CA$137 million.
Further, last month, Hess and partners ExxonMobil (NYSE: XOM) and China's CNOOC (NYSE: CEO) said they planned to fast-track their Liza discovery in Guyana. The ExxonMobil-led partnership recently announcedthis "world-class discovery," which holds an estimated 800 million to 1.4 billion barrels of oil equivalent. Hess controls a 30% stake in the prospect, which could be a significant driver of future growth for the company.
However, the biggest catalyst for Hess last month was OPEC's decision to step back into the oil market and support prices by cutting its production. This agreement should reduce the glut of oil on the market more quickly and boost prices. That would help solve a critical problem for Hess, which is that its costs are too high for the current price environment because it focuses on higher-cost offshore projects. That puts it at a disadvantage to rivals that primarily focus on flexible, low-cost shale development.
Now what
The OPEC agreement could be a major driver for Hess because it should push prices higher, which would alleviate the pressure on the company to cut costs. That would make it easier for the company to continue investing in its growing supply of offshore development projects. Further, it would give Hess more cash flow to ramp up its shale output next year.
10 stocks we like better than Hess When investing geniuses David and Tom Gardner have a stock tip, it can pay to listen. After all, the newsletter they have run for over a decade, Motley Fool Stock Advisor, has tripled the market.*
David and Tom just revealed what they believe are the 10 best stocks for investors to buy right now...and Hess wasn't one of them! That's right -- they think these 10 stocks are even better buys.
Click here to learn about these picks!
*Stock Advisor returns as of Nov. 7, 2016.
Matt DiLallo has no position in any stocks mentioned. The Motley Fool owns shares of ExxonMobil. Try any of our Foolish newsletter services free for 30 days. We Fools may not all hold the same opinions, but we all believe that considering a diverse range of insights makes us better investors. The Motley Fool has a disclosure policy.