Here's Why Frack-Sand Stocks Are Getting Crushed Today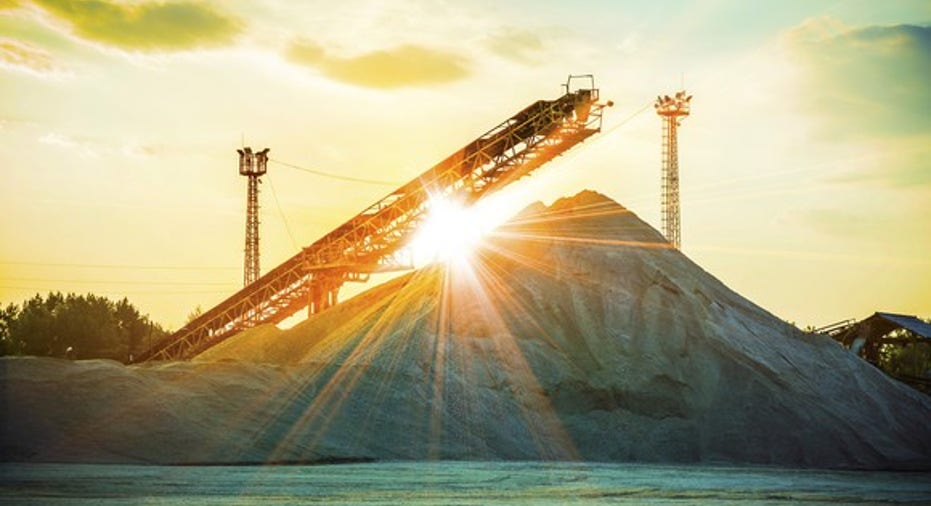 What happened
Frack-sand producers are getting absolutely pulverized today. As of 2:30 p.m. EST, shares of Emerge Energy Services (NYSE: EMES), Smart Sand (NASDAQ: SND), Hi-Crush Partners (NYSE: HCLP), and U.S. Silica Holdings (NYSE: SLCA) were all down by double digits. Driving the sell-off is the market's chilly reception to Fairmount Santrol Holdings' (NYSE: FMSA) fourth-quarter results.
So what
There wasn't anything out of the ordinary in Fairmount Santrol's fourth-quarter report. Revenue was $140.5 million, which was up 4% both sequentially and year over year. Meanwhile, the company's net loss of $19.9 million, or $0.09 per share, matched analysts' expectations. However, that apparently wasn't good enough for the market, which seemed to have its hopes set on the company's rising volumes translating into improving profitability.
Image source: Getty Images.
The problem with that expectation is that it was far from realistic, because all of Fairmount Santrol's peers reported the very same thing. Volumes were up, but profits were under pressure because pricing remains muted. In fact, just a few weeks ago, U.S. Silica reported a narrower loss than expected due to a 34% increase in volumes. However, the entire sector sold off on the news because the market was expecting that the company's growing volumes would cause pricing to increase, leading to even higher profits. But that's not possible at the moment, because producers are facing several headwinds including the roll-off of higher priced contracts, rising costs from the restart of idled facilities, and intense competition.
Furthermore, rivals were clear that pricing didn't begin to improve until the end of last quarter; that's when Emerge Energy Services noted that "small price increases started to take effect." The company would not feel the full impact of rising prices until the first quarter, assuming frack-sand demand remained robust.
Therein lies the other concern, which is that frack-sand demand might start to decline now that oil prices have turned lower. In fact, crude recently settled under $50 per barrel, which is its lowest price since November. That $50 a barrel level is a key psychological mark for the industry, because many shale wells need crude over $50 to earn lucrative drilling returns. However, with crude sliding below that level, it could cause drillers to rethink their growth strategies, which might mute demand for frack sand.
Now what
On the one hand, today's sell-off among frack sand producers is a bit of a head-scratcher because there was nothing unexpected in Fairmount Santrol's results. Instead, the market seemed to have unrealistic expectations that did not materialize.
However, on the other hand, the recent sell-off in the oil market is a reason for caution because it could cause volumes to fall, which would likely reverse the price increases that started to emerge in recent weeks. That's why I wouldn't view today's sell-off as a buying opportunity: If crude continues to slide, it will likely continue to take frack-sand stocks down with it. That would probably cause an even longer delay before higher volumes translate into rising prices, which are needed to drive profitability.
10 stocks we like better than U.S. Silica HoldingsWhen investing geniuses David and Tom Gardner have a stock tip, it can pay to listen. After all, the newsletter they have run for over a decade, Motley Fool Stock Advisor, has tripled the market.*
David and Tom just revealed what they believe are the 10 best stocks for investors to buy right now... and U.S. Silica Holdings wasn't one of them! That's right -- they think these 10 stocks are even better buys.
Click here to learn about these picks!
*Stock Advisor returns as of February 6, 2017
Matt DiLallo has no position in any stocks mentioned. The Motley Fool has no position in any of the stocks mentioned. The Motley Fool has a disclosure policy.