Here's Why EOG Resources Inc.'s Stock Surged 12.5% in November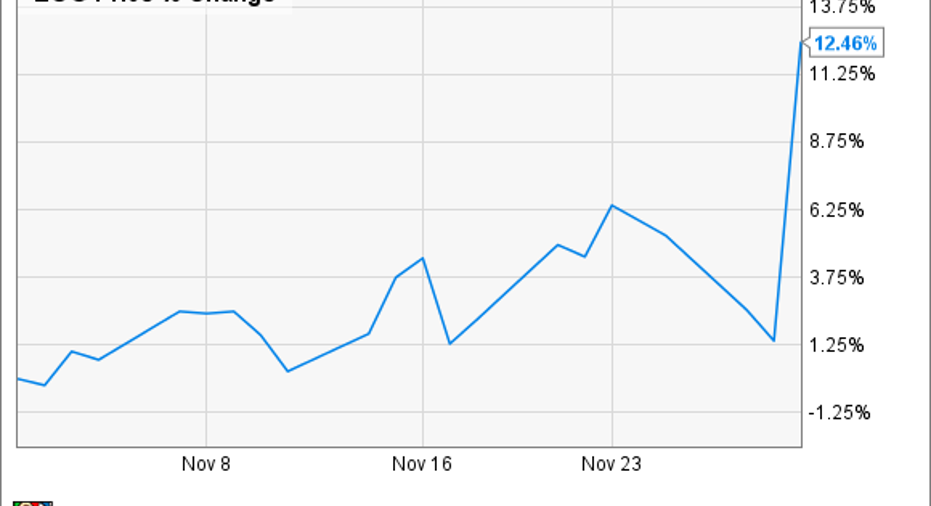 Image source: Getty Images.
What happened
With a nearly $60 billion market cap, it takes a substantial amount of fuel to get EOG Resources' (NYSE: EOG) stock to make a big move. However, that is just what it got last month after its third-quarter results, a bullish analyst note, and an OPEC agreement combined to send the stock soaring:
So what
On the one hand, EOG Resources' third-quarter financial results were a bit of a disappointment. The company reported an adjusted loss of $220.8 million, or $0.40 per share, which fell $0.09 per share short of the consensus estimate. That said, what was impressive about the report was the company's updated outlook for the future. Thanks to expectation-beating production, the company once again raised its U.S. crude oil production guidance. Furthermore, as a result of declining costs and improving production rates, EOG increased its 2020 crude oil production growth outlook by 5%. Finally, the company expanded the resource potential of its Delaware Basin asset from 2.35 billion barrels of oil equivalent (BOE) to 6 billion BOE.
Those results led an analyst from CLSA to upgrade the stock from underperform to outperform while setting a $105 price target. The analyst did so citing EOG's recent Yates transaction, which increased its premium drilling locations to 6,000. CLSA sees upside to that number, thanks to the company's technical innovation and operational excellence. It is worth noting that the CLSA analyst chose EOG over ConocoPhillips (NYSE: COP), which it downgraded from outperform to underperform, citing ConocoPhillips' lack of a meaningful Delaware Basin position as a negative.
That said, both stocks rallied sharply at the end of the month on news that OPEC agreed to cut its production. The reason they rallied so sharply is that the deal could enable both companies to deliver more growth in the future. For example, at $50 oil, EOG Resources can grow oil production by a 15% compound annual rate through 2020, while ConocoPhillips can grow companywide production by 2% per year, increase the dividend, pay down debt, and buy back shares. However, at $60 oil, EOG's oil output growth could accelerate to 25% compounded annually over that same timeframe, while ConocoPhillips could increase its production by 4% annually and deliver accelerated shareholder returns through higher dividends and increased stock buybacks. Investors see the OPEC deal potentially supporting those higher prices, and therefore increasing the likelihood that both companies deliver high-end growth over the next few years.
Now what
EOG Resources did not need OPEC to intervene in the oil market because it could have grown just fine at $50 oil. That said, it will not complain about the potential for higher oil prices, which could allow the company to grow output at a much faster rate going forward. In fact, investors are clearly betting that high-end growth is much more likely now that OPEC is back to supporting prices, instead of battling for market share.
10 stocks we like better than EOG Resources When investing geniuses David and Tom Gardner have a stock tip, it can pay to listen. After all, the newsletter they have run for over a decade, Motley Fool Stock Advisor, has tripled the market.*
David and Tom just revealed what they believe are the 10 best stocks for investors to buy right now... and EOG Resources wasn't one of them! That's right -- they think these 10 stocks are even better buys.
Click here to learn about these picks!
*Stock Advisor returns as of Nov. 7, 2016
Matt DiLallo owns shares of ConocoPhillips. The Motley Fool owns shares of EOG Resources. Try any of our Foolish newsletter services free for 30 days. We Fools may not all hold the same opinions, but we all believe that considering a diverse range of insights makes us better investors. The Motley Fool has a disclosure policy.