Here's Why Dyax Corp.'s Shares Jumped Today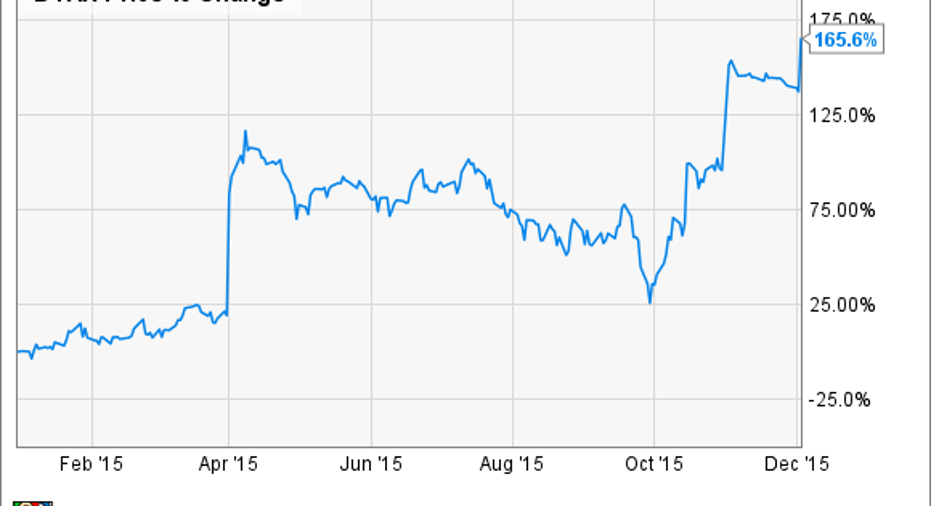 What: Shares of Dyax Corp. gained more than 12% this Thursday morning on heavy volume. The jump was triggered by the U.S. Federal Trade Commission reportedly terminating the antitrust waiting period for the company's acquisition by Irish biopharma Shire, allowing the two companies to proceed with their plans to merge in the first half of 2016. Per the announcement last month, Shire is offering $5.9 billion, or $37.30 per share, for Dyax.
So what: If Dyax's experimental treatment forhereditary angioedema,DX-2930,gains regulatory approval, this buyout agreement also includes a contingent value right worth around $4.00 a share to Dyax's shareholders. So, if everything goes according to plan, Dyax's long-term shareholders may end up booking a gain in excess of 175% from the start of 2015, according to data from S&P Capital IQ:
Now what: After completing an impressive early-stage study forDX-2930 that reported its top-line results last March, Dyax announced that it plans on pushing the drug directly into a pivotal late-stage study. Therefore, Shire and Dyax believe the drug could be on the market by 2018.Given that analysts think DX-2930 could generate sales of $600 million by as early as 2019and Shire has its peak sales pegged at over $2 billion, this acquisition seems to have all the hallmarks of a major win for Shire moving forward. On the flip side of the coin, if DX-2930 ultimately flames out in late-stage testing, this deal probably won't create much value for Shire's shareholders at the end of the day. So, this is one clinical-stage product that shareholders will certainly want to keep a close eye on going forward.
The article Here's Why Dyax Corp.'s Shares Jumped Today originally appeared on Fool.com.
George Budwell has no position in any stocks mentioned. The Motley Fool has no position in any of the stocks mentioned. Try any of our Foolish newsletter services free for 30 days. We Fools may not all hold the same opinions, but we all believe that considering a diverse range of insights makes us better investors. The Motley Fool has a disclosure policy.
Copyright 1995 - 2015 The Motley Fool, LLC. All rights reserved. The Motley Fool has a disclosure policy.