Here's Why ConocoPhillips' Stock Surged 11.4% in November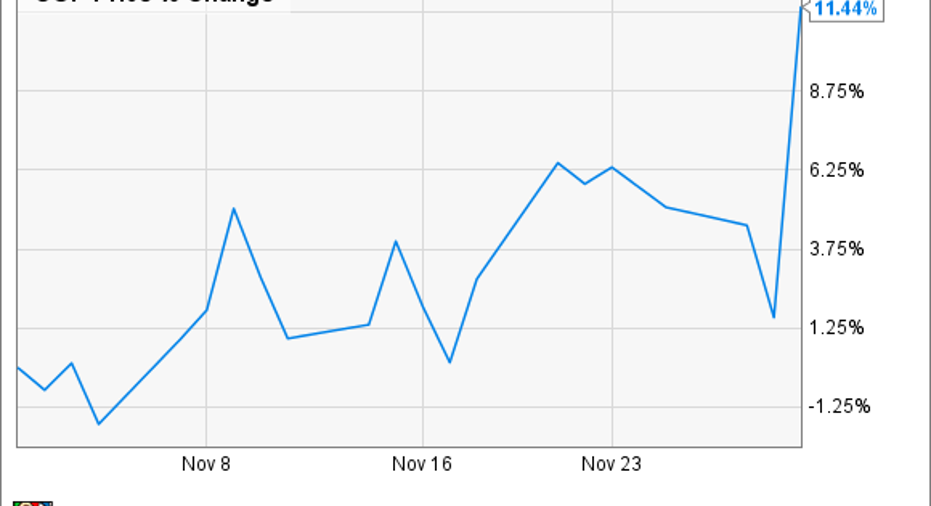 Image source: ConocoPhillips.
What happened
Given ConocoPhillips' (NYSE: COP) enormous size, it takes a lot of fuel to get its stock moving, which is exactly what investors got last month. In total, three catalysts combined to power ahuge rally:
So what
In early November ConocoPhillips hosted an analyst and investor meeting where it detailed its progress on positioning the company to run at lower oil prices and what that means for the future. At the heart of the new go-forward plan is a distinct set of priorities for capital allocation, which should drive prudent growth in production and shareholder distributions in the future. Further, the company announced that it planned to jump start that program by selling $5 billion to $8 billion in assets and use $3 billion of that cash to buy back stock, with the rest going toward debt reduction.
Analysts loved the plan, with Citi, for example, reiterating its buy rating. It approved of the company decision to sell "stranded" natural gas assets, which are those that have minimal value to the company but that it can sell for cash to unlock value. This approach has worked well for natural gas driller Chesapeake Energy (NYSE: CHK). So far this year Chesapeake Energy sold more than $1 billion of non-core assets including the recent sale of shallow gas wells in West Virginia and Kentucky. Meanwhile, Chesapeake is working to monetize some Haynesville shale acreage as it seeks to hit its target to sell $2 billion in assets this year.
Goldman Sachs also liked ConocoPhillips' plan, adding the company to its Conviction List toward the end of the month and upgrading the stock from neutral to buy. Driving that rating is an outlook that ConocoPhillips can deliver 5% to 10% annual dividend growth along with $1 billion per year in stock buybacks even if oil stays around $50 a barrel.
That said, the outlook for oil is much brighter after OPEC agreed to cut its production by more than 1 million barrels of oil per day. That announcement sent large oil stocks soaringbecause it should lead to higher oil prices. If those prices come to fruition, it would allow ConocoPhillips to return more cash to investors while also accelerating production growth. For example, at $50 oil it can grow output by up to 2% per year. However, it could ramp production up by 4% annually at $60 oil and 8% annually at $70 oil, which are now more likely scenarios thanks to the OPEC deal.
Now what
ConocoPhillips spent the past two years repositioning the company to thrive at lower oil prices. Those efforts could really pay off now that OPEC has decided that it has had enough of low oil prices. The potentially resulting higher prices could allow ConocoPhillips to deliver growth in production and shareholder distributions at the higher end of its outlook.
10 stocks we like better than ConocoPhillips When investing geniuses David and Tom Gardner have a stock tip, it can pay to listen. After all, the newsletter they have run for over a decade, Motley Fool Stock Advisor, has tripled the market.*
David and Tom just revealed what they believe are the 10 best stocks for investors to buy right now... and ConocoPhillips wasn't one of them! That's right -- they think these 10 stocks are even better buys.
Click here to learn about these picks!
*Stock Advisor returns as of November 7, 2016
Matt DiLallo owns shares of ConocoPhillips. The Motley Fool has no position in any of the stocks mentioned. Try any of our Foolish newsletter services free for 30 days. We Fools may not all hold the same opinions, but we all believe that considering a diverse range of insights makes us better investors. The Motley Fool has a disclosure policy.