Here's Why Clean Energy Fuels Corp Stock Was Down 11% in November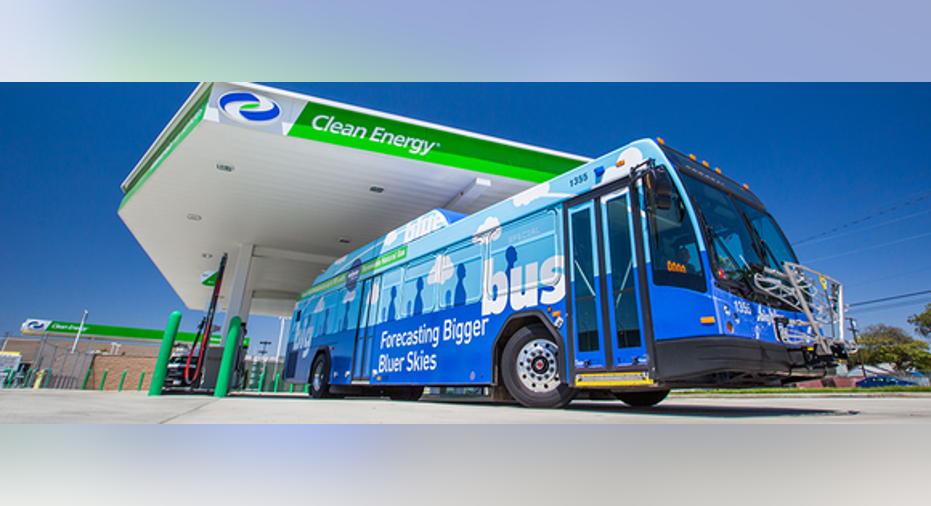 Image source: Clean Energy Fuels Corp.
What happened
Shares of natural gas for transportation leaderClean Energy Fuels Corp(NASDAQ: CLNE) fell 11.2% in November. The vast majority of that drop happened early in the month.
So what
As the chart above shows, shares of Clean Energy fell sharply early, losing nearly 18% of their value on November 4, after the company released its third-quarter financial results after market close on the 3rd.
The company's financial results weren't great on a GAAP basis. Clean Energy reported a 5% increase in both revenue and in fuel volumes delivered, but it reported a net loss of $12.6 million, or $0.10 per share. This wasn't too far off analyst expectations, but after several consecutive quarters of GAAP profits, the market was clearly disappointed with the result, even considering it was a near-halving of the $20.8 million loss in the year-ago quarter.
The company has also issued a substantial number of new shares in 2016, with the share count jumping from 91.5 million one year ago to more than 130 million at last count. Needless to say, the combination of falling back to a net loss, and diluting investors, didn't make Mr. Market very happy.
While GAAP numbers are critically important, the company's cash flows are actually quite good and have improved significantly over the past couple of years, and the third quarter was no exception. Though the first nine months of 2015, Clean Energy generated an operating loss of $1 million. Nine months into 2016, the company has generated a $44.2 million operating profit, with $16.6 million of that coming in the third quarter alone.
CLNE Cash from Operations (TTM) data by YCharts.
While much of it was paid for with those shares the company issued, Clean Energy Fuel took a big bite out of its debt load in the quarter, and it has reduced its total long-term debt from $567 million one year ago to $350 million. This will lead to a nearly 40% reduction in the company's interest expense, a meaningful step towards consistent profits on a GAAP basis as well as further bolstering cash flows.
Now what
On its surface, it's somewhat understandable why Clean Energy Fuels shares fell sharply in November: A quarterly loss, less-than-stellar growth numbers, and major dilution don't usually make the market happy.
Still, I think the market is overlooking the company's cash flows, which are solid and have continued to improve. This has occurred even with cheap oil slowing the pace of adoption of natural gas vehicles. Looking ahead, Clean Energy Fuels is in a much stronger position than the market seems to think. November's sell-off looks like a buying opportunity in my book.
10 stocks we like better than Clean Energy Fuels When investing geniuses David and Tom Gardner have a stock tip, it can pay to listen. After all, the newsletter they have run for over a decade, Motley Fool Stock Advisor, has tripled the market.*
David and Tom just revealed what they believe are the 10 best stocks for investors to buy right now...and Clean Energy Fuels wasn't one of them! That's right -- they think these 10 stocks are even better buys.
Click here to learn about these picks!
*Stock Advisor returns as of November 7, 2016.
Jason Hall owns shares of Clean Energy Fuels. Jason Hall has the following options: long January 2017 $5 calls on Clean Energy Fuels and long January 2017 $3 calls on Clean Energy Fuels. The Motley Fool owns shares of and recommends Clean Energy Fuels. Try any of our Foolish newsletter services free for 30 days. We Fools may not all hold the same opinions, but we all believe that considering a diverse range of insights makes us better investors. The Motley Fool has a disclosure policy.