Here's Why Caterpillar Inc., Joy Global Inc., and Westinghouse Air Brake Technologies Corp Stocks We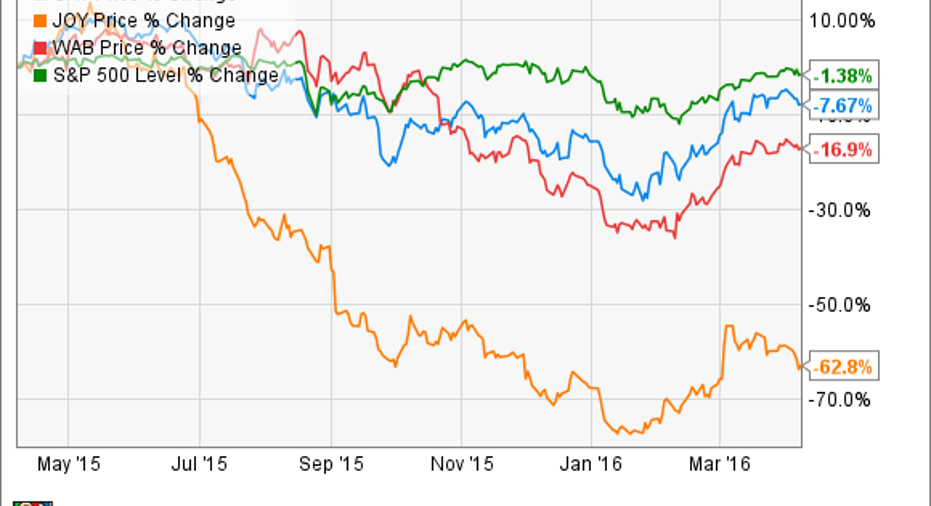 Image source: Westinghouse Air Brake Technologies Corp.
What: Shares of major industrial manufacturersCaterpillar,Joy Global, andWestinghouse Air Brake Technologies Corp. , finished March up strongly. This continued what has been a very run for all three stocks, going back to mid-January:
So what: Joy Global, like Caterpillar, has taken a beating over the past year-plus as global mining -- of essentially everything that's mined -- has turned south. There's too much coal (and too little demand for what there is), too much steel and iron -- you get the point. This has heavily weighed on Joy's business which is largely tied to mining.
Image source: Joy Global
And when the company announced first quarter earnings in early March, it reported a 25% revenue decline, a 21% decline in new orders booked, and a $0.41-per-share loss in the quarter after turning in a $0.31-per-share profit one year ago. However, Joy Global's stock shot up more than 20% that day when management held firm on its full-year guidance(that's the sharp jump you can see in the preceding chart).
Caterpillar, which competes with Joy in a number of sectors, while also manufacturing heavy equipment for rail, energy and construction industries, isn't scheduled to announce its earnings until late April, but the company said in mid-March that it's results in the first quarter will likely fall short of analyst estimates, providing guidance that was substantially lower than analyst projections.
However, Caterpillar management also held firm on its full-year guidance, and despite a quarterly earnings forecast of $0.65-$0.70 per share that was well below consensus estimates of $0.95 at the time of the guidance release, the market has stayed relatively upbeat on Caterpillar's prospects in recent weeks.
Wabtec, on the other hand, doesn't really have any exposure to the mining industry that's plagued both Joy Global and Cat recently. The company manufactures products for the freight and transit industry, including locomotives, freight cars, passenger transit vehicles, and parts and components for them. Over the past year-plus, Wabtec has faced the same challenge many multinational manufacturers have: a softening global economy that's weighed on demand, and also the impact of a strong dollar on both its top and bottom line, reducing the value of overseas business.
In early March, Wabtec did make one positive announcement, reporting that it had signed a deal with a Canadian transit authority for 17 low-emission locomotives worth $97 million, that would be delivered starting in 2017. Beyond that, Wabtec didn't really give investors much more to chew on; however, the company's earnings in February, which included evidence that the company's cost-cutting efforts were taking effect even faster than anticipated, could have continued to lift the stock price higher into March.
Now what: It's important to remember where we've come from with regard to these companies' stocks over the past year:
So even after the nice bounce back over the past couple of months, all three companies' stocks are still down from recent highs, and for good reason, as there's still lingering uncertainty as to when the prospects for these companies -- particularly Joy Global and Caterpillar -- will turn around. There's little reason to expect demand in key industries that Cat and Joy to bounce back in the next quarter or two, or for the global economic weakness that's affecting both of those companies as well as Wabtec, to improve overnight. But historically speaking, the best time to buy manufacturers with heavy exposure to boom-and-bust industries like mining, or the ups-and-downs of global demand, is typically in a downturn.
To put it another way, when stocks are up largely on optimism, and not improved business performance, it doesn't take much for them to give back those gains. This is especially true when the companies involved are largely tied to cyclical industries, as Cat, Joy, and Wabtec are.
Even with that caveat, and the potential for their share prices to fall again in the short term, now is probably still a good time to invest in these companies for the long term. It's impossible to predict what will happen in coming quarters, but looking out years ahead, it's hard to see a world where mining, energy, and global transportation doesn't bounce back and see growth in demand.
When that happens, these companies will be big beneficiaries, and long-term investors willing to ride out the downturn -- and even a short-term pullback in their stocks -- could do quite well.
Image source: Caterpillar.
The article Here's Why Caterpillar Inc., Joy Global Inc., and Westinghouse Air Brake Technologies Corp Stocks Went Up Big in March originally appeared on Fool.com.
Jason Hall has no position in any stocks mentioned. The Motley Fool recommends Westinghouse Air Brake Technologies. Try any of our Foolish newsletter services free for 30 days. We Fools may not all hold the same opinions, but we all believe that considering a diverse range of insights makes us better investors. The Motley Fool has a disclosure policy.
Copyright 1995 - 2016 The Motley Fool, LLC. All rights reserved. The Motley Fool has a disclosure policy.