Here's Why bluebird bio's Shares Dropped 10% on Monday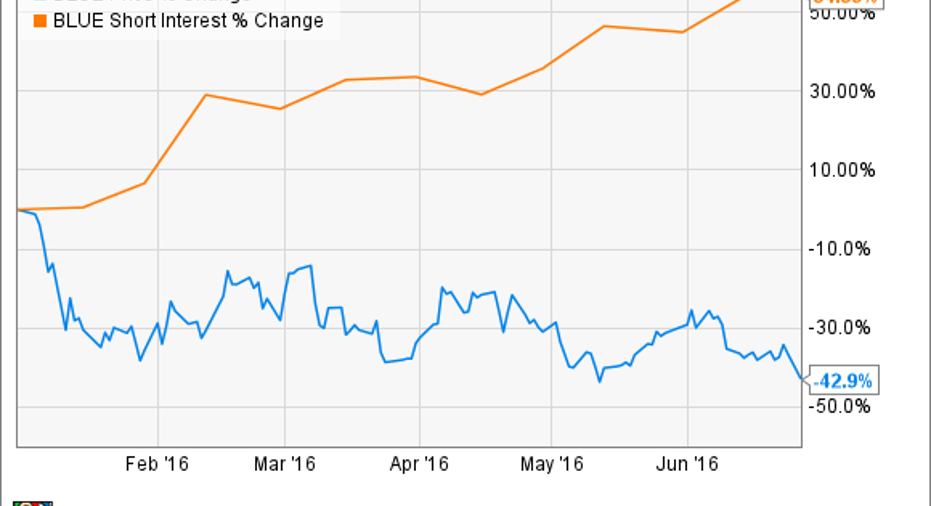 What's happening: Shares of the clinical-stage gene therapy company bluebird bio fell by 10% yesterday on higher than normal volume.
Image source: Getty Images.
Why it's happening:The Brexit vote has put a ton of pressure on healthcare stocks in general over the last few trading sessions, especially cash-flow-negative operations like Bluebird that are entirely dependent on clinical catalysts to create shareholder value.
Apart from the Brexit news, Bluebird's shares have also attracted significant interest from short-sellers this year, helping to drive the biotech's shares down by over 42% so far in 2016:
Short-sellers have seemingly taken aim at Bluebird for two reasons. First, the biotech's last major clinical update for its lead product candidate,LentiGlobin -- indicated as a treatment for the rare blood disorder beta thalassemia andsevere sickle cell disease -- was somewhat of a letdown. Investors are therefore going to have to wait until this year'sAmerican Society of Hematology (ASH) in early December to get another update on the therapy's progress.
In addition, Bluebird is facing an increasingly competitive landscape in thebeta thalassemia andsevere sickle cell disease markets. Bellicum Pharmaceuticals , for example, is developingan adjunct T-cell therapy known as BPX-501 that's showing tremendous promise as a treatment forinherited blood disorders such asbeta thalassemia. Making matters worse, Bellicum is reportedly working toward filing accelerated regulatory applications for BPX-501 with the FDA and European Medicines Agency.
Although Bluebird does have other clinical assets in development, this gene therapy specialist no longer has a distinct edge in the increasingly crowded realm of inherited blood disorders. As such, investors can probably expect a bumpy ride heading into the company's all-important presentations at ASH.
The article Here's Why bluebird bio's Shares Dropped 10% on Monday originally appeared on Fool.com.
George Budwell has no position in any stocks mentioned. The Motley Fool recommends Bluebird Bio. Try any of our Foolish newsletter services free for 30 days. We Fools may not all hold the same opinions, but we all believe that considering a diverse range of insights makes us better investors. The Motley Fool has a disclosure policy.
Copyright 1995 - 2016 The Motley Fool, LLC. All rights reserved. The Motley Fool has a disclosure policy.