Here's Why Bluebird Bio Turned in a Disappointing 2015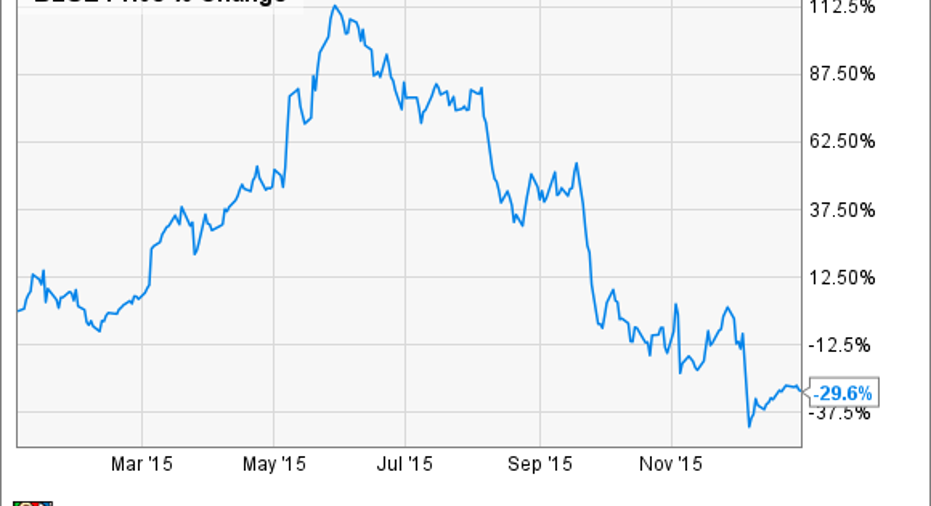 What: After starting the year off at a blistering pace, the clinical-stage gene therapy company bluebird bio broke down in the second half of the year, finishing 2015 down by around 30%, according to S&P Capital IQ.
Although the troubling macroeconomic and geopolitical environments probably weighed on bluebird's annual performance, the news that the company's lead gene therapy candidate,LentiGlobin BB305, didn't appear to work all that well in patients with the most severe forms of the inherited blood disorder, beta-thalassemia, was likely the main culprit.
In fact, bluebird bio's stock dropped a whopping 20% the day after the company's abstracts for theAmerican Society of Hematology (ASH) meeting were released last November, revealing this disappointing clinical news.
So what: Initially,LentiGlobin BB305 looked like it could be a functional cure for this rare disease, giving investors hope that it might turn into a blockbuster product, depending on its pricing scheme. As the clinical data continues to trickle out, though, it's starting to look likeLentiGlobin BB305 might only be a truly effective treatment in milder cases of the disorder, significantly curtailing its commercial potential in thebeta-thalassemia space.
Now what: Bluebird's researchers noted in their presentation at ASH that it's still too early to draw any solid conclusions regarding LentiGlobin BB305's effectiveness in the most severe cases ofbeta-thalassemia. Regardless of the ultimate outcome, though, bluebird's lead gene therapy may end getting pushed aside in 2016 by Bellicum Pharmaceuticals' experimental cell therapy BPX-501.
BPX-501 is presently in the midst of early and mid-stage testing in patients undergoing allogeneic hematopoietic stem cell transplantation (HSCT) for a variety of blood disorders, includingbeta-thalassemia. The basic issue to understand is thatallogeneic HSCT is essentially a curative treatment forbeta-thalassemia, but it's rarely performed because of potentially deadly side effects such as graft-versus-host disease and viral infection.
Bellicum's goal is use BPX-501 to make this procedure safer, allowing a much wider swath of patients to gain access to a functional cure. If Bellicum or any of the other companies working on similar treatments are successful, bluebird's most advanced product candidate may turn out to have limited commercial upside.
That's not to say that one of these cell therapy companies is destined to succeed in this endeavor, only that bluebird shareholders should definitely consider this emerging risk going forward.
The article Here's Why Bluebird Bio Turned in a Disappointing 2015 originally appeared on Fool.com.
George Budwell has no position in any stocks mentioned. The Motley Fool recommends Bluebird Bio. Try any of our Foolish newsletter services free for 30 days. We Fools may not all hold the same opinions, but we all believe that considering a diverse range of insights makes us better investors. The Motley Fool has a disclosure policy.
Copyright 1995 - 2016 The Motley Fool, LLC. All rights reserved. The Motley Fool has a disclosure policy.