Here's Why BioScrip Inc. Imploded and Lost as Much as Half Its Value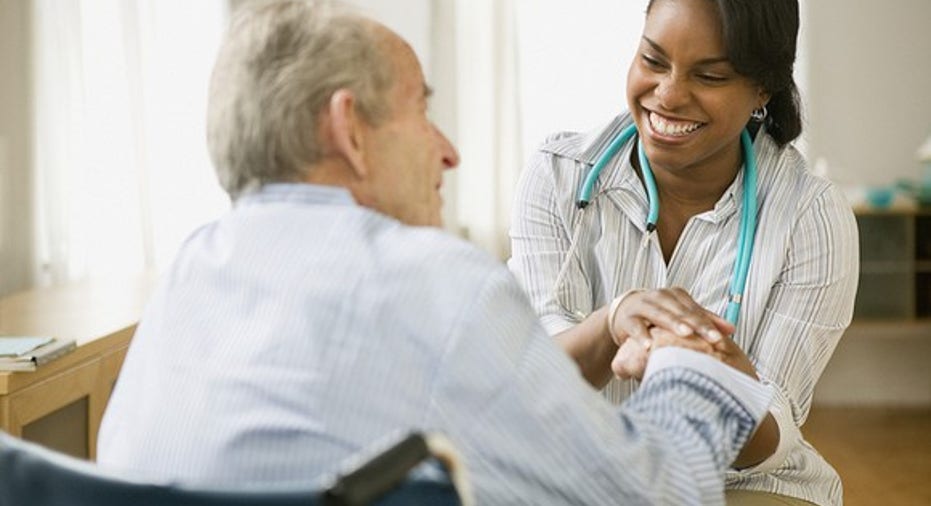 Image source: Getty Images.
What happened
Shares of BioScrip (NASDAQ: BIOS), a provider of home infusion services within the United States, imploded and sank as much as 50% following the release of the company's third-quarter earnings results.
So what
As you can probably surmise from the move lower, Wall Street wasn't too pleased with the company's Q3 report. Revenue for the quarter came in at $224.5 million, a 9.2% year-over-year decline. BioScrip attributed its sales weakness to a shift from lower-margin chronic-infusion revenue to higher-margin core-infusion revenue, as well as lower core sales volumes. Comparatively, BioScrip's revenue was about $1.2 million above Street expectations.
However, the company reported a loss from operations of $11.1 million, or $0.12 a share, with EBITDA of $3.5 million. Though its net loss was $13.4 million less than the year-ago period, its EBITDA declined $2.5 million year over year, and it badly missed the $0.05 per-share loss estimate that the Street was looking for.
Because of the ongoing struggles of integrating its Home Solutions acquisition, coupled with the aforementioned shift to core-infusion from chronic-infusion services, BioScrip lowered its sales and EBITDA guidance for fiscal 2016 to ranges of $928 million to $934 million, and $27 million to $29 million, respectively, from its previous projection of $940 million to $960 million, and $45 million to $50 million.
BioScrip also offered a subpar outlook for fiscal 2017. The company sees revenue of $940 million to $980 million and EBITDA of $50 million to $60 million. Analysts had pegged BioScrip for $1 billion in sales next year.
As summed up by new CEO Daniel Greenleaf, "I have just completed my first few weeks with the Company and based on my initial review it is clear we have work ahead of us."
Image source: MyFuture.com via Flickr.
Now what
On one hand, BioScrip's quarterly report signals that this isn't likely to be a single-quarter issue. Even with expected cost synergies from its Home Solutions transaction expected to increase, there are a lot of unknowns here that could take time to play out. For instance, transitioning away from higher-volume chronic infusions is probably a multi-quarter venture, and it's liable to create EBITDA and bottom-line hiccups along the way.
However, it's also possible that today's mauling could be a bit overdone. Though BioScrip missed Wall Street's consensus and its report left a lot to be desired, its management team is angling the company for higher-margin patients and lower costs over the long term. Sure, investors may have to wait until 2018 or 2019 until BioScrip has an opportunity to generate an annual profit, but management's plan seems achievable.
The big question remains over what will happen with BioScrip's liquidity. It ended Q3 with $34.2 million in liquidity, but has used $32.5 million in net cash this year. BioScrip may need to raise cash, or amend its agreement with its lenders, before investors want to consider dipping their toes into the water.
10 stocks we like better than BioScrip When investing geniuses David and Tom Gardner have a stock tip, it can pay to listen. After all, the newsletter they have run for over a decade, Motley Fool Stock Advisor, has tripled the market.*
David and Tom just revealed what they believe are the ten best stocks for investors to buy right now... and BioScrip wasn't one of them! That's right -- they think these 10 stocks are even better buys.
Click here to learn about these picks!
*Stock Advisor returns as of November 7, 2016
Sean Williamshas no material interest in any companies mentioned in this article. You can follow him on CAPS under the screen nameTMFUltraLong, and check him out on Twitter, where he goes by the handle@TMFUltraLong.
The Motley Fool has no position in any of the stocks mentioned. Try any of our Foolish newsletter servicesfree for 30 days. We Fools may not all hold the same opinions, but we all believe thatconsidering a diverse range of insightsmakes us better investors. The Motley Fool has adisclosure policy.