Here's Why Biogen Should Buy Ionis Pharmaceuticals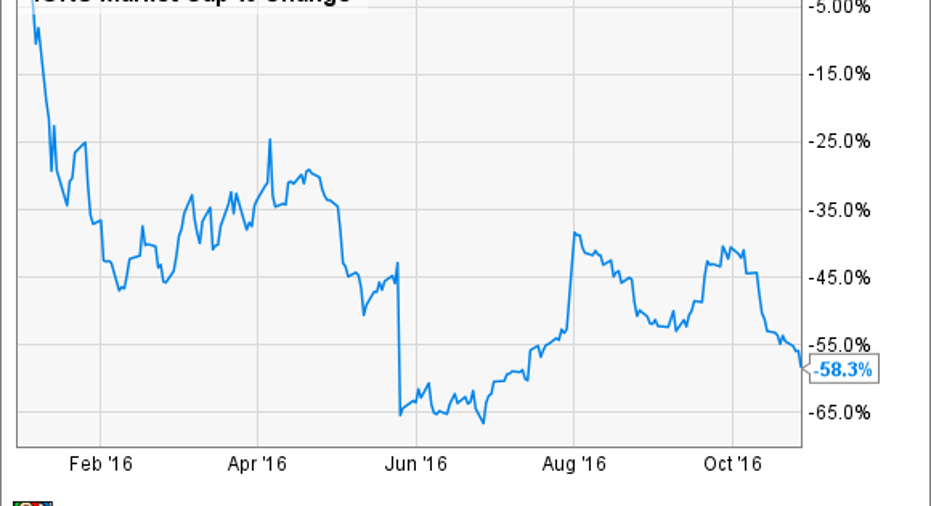 Despite the uncertainly created by the forthcoming retirement of Biogen's(NASDAQ: BIIB) longtime CEO, George Scangos, the biotech is reportedly continuing to hunt for deals that would diversify its clinical and product portfolios. The things is, it may not have to look much further than its R&D partner Ionis Pharmaceuticals (NASDAQ: IONS) to achieve both of these goals. Here's why.
Image source: Getty Images.
Ionis' valuation has fallen off a cliff this year
Earlier this year, Ionis' stock was absolutely rocked after its partner GlaxoSmithKline (NYSE: GSK) decided to delay the start of a late-stage trial forIONIS-TTRRx, an experimental antisense therapy indicated for patients with transthyretin (TTR)-related amyloid cardiomyopathy, due to some patients exhibitingdangerously low platelet counts following treatment. Unfortunately, Ionis said that an internal review showed that yet another of its clinical candidates, volanesorsen, targeting individuals with high triglyceride levels, was also flagged for worryingly low platelet counts in a handful of patients.
The net result is that Ionis has shed nearly 60% of its value since the start of 2016 due to concerns that its antisense drug platform may be riddled with safety problems.
IONS Market Cap data by YCharts
The good news for perspective buyers and investors alike is that this steep share price decline doesn't appear to be entirely warranted. According to the company, severe drop-offs in platelet levels were only detected in trials assessing IONIS-TTRRx andvolanesorsen, but not across its broad pipeline of second-generation antisense product candidates, which sports a total of 15 drugs currently in the clinic.
As an added bonus, the biotech's next round of antisense drugs based on itsGeneration 2.5 and Ligand-Conjugated Antisense technologies are designed to be more potent, which will give them effectiveness at markedly lower doses. That should, in turn, reduce the risk of undesirable side effects.
The big picture is that Ionis' present market cap of approximately $3.11 billion comes across asdirt cheap for a company with nearly 30 clinical trials underway -- so long as these safety hiccups really are confined to just to IONIS-TTRRx andvolanesorsen.
Biogen and Ionis already have deep ties
Biogen and Ionis have multiple agreements in place to develop and commercialize antisense therapies for a range of disorders. The two recently announced that theantisense oligonucleotidenusinersen met its pre-specified primary endpoint in an interim analysis of a late-stage study known as ENDEAR, where the drug is being assessing as a treatment for infantile onsetspinal muscular atrophy, orSMA.
Digging into the details, Biogen said that patients treated with nusinersen demonstrated a highly statistically significant and clinically meaningful improvement in the achievement of motor milestones, as measured by the Hammersmith Infant Neurological Examination. As a result, the two companies decided to file for regulatory approvals fornusinersen in both the United States and the EU during the third quarter.
Why is this experimental drug a big deal? First off, there is currently no approved treatment for SMA. And secondly, SMA is a rare disease (orphan indication), meaning thatnusinersen would likely garner a premium pricing structure in the area of $250,000 to $350,000 per year. As an orphan drug,nusinersen would also come with an extended period of exclusivity, which is a key reason why these drugs are so highly coveted by drug companies in general. And last but not least, nusinersen should generate peak sales of close to $2 billion by 2025, if approved and given a broad label by regulators.
Put simply, this single drug has the potential to drive Biogen's annual revenues up by more than 10% -- even after accounting for the milestone and royalty payments owed to Ionis.
A buyout is a logical next step
With Ionis' valuation taking a big hit this year, andnusinersen hitting the mark in its late-stage trial, the stage seems to set for Biogen to acquire its closest R&D partner. After all, a buyout would spare Biogen from having to dole out any ofnusinersen's long-tailed revenue stream to Ionis; Ionis comes with a monstrous pipeline of high-value drug candidates; and -- perhaps the best part -- an acquisition probably wouldn't cost more than, say, $6 billion.
There is a clear impediment to a possible deal, however. Ionis' management appears to firmly believe that this year's staggering devaluation is the result of the market's ill-conceived notion that its drug development platform is inherently flawed. So, they may not agree to a deal that offers even a 100% premium to its current share price in a buyout scenario.
Having said that, there's a good chance that Biogen is indeed mulling over a tender offer for Ionis for the reasons mentioned above -- along with the biotech's well-known desire to diversify its clinical and product portfolios. But even if a deal doesn't go through, Biogen and Ionis would both benefit tremendously from an approval fornusinersen based on its sizable commercial opportunity -- making both of these biotech stocks worth a deeper dive right now.
A secret billion-dollar stock opportunity The world's biggest tech company forgot to show you something, but a few Wall Street analysts and the Fool didn't miss a beat: There's a small company that's powering their brand-new gadgets and the coming revolution in technology. And we think its stock price has nearly unlimited room to run for early in-the-know investors! To be one of them, just click here.
George Budwell has no position in any stocks mentioned. The Motley Fool owns shares of and recommends Biogen and Ionis Pharmaceuticals. Try any of our Foolish newsletter services free for 30 days. We Fools may not all hold the same opinions, but we all believe that considering a diverse range of insights makes us better investors. The Motley Fool has a disclosure policy.