Here's Why Barrick Gold Corp. Shares Hit the Smelter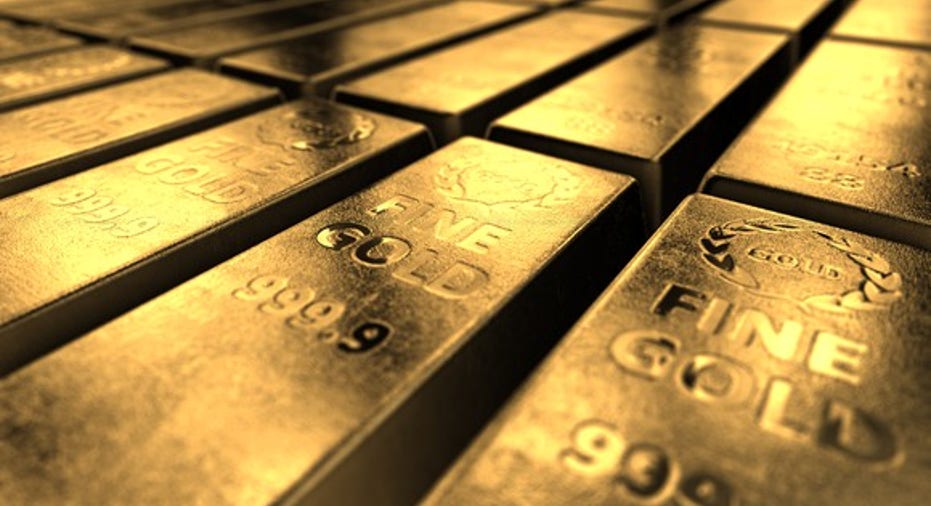 What happened
Shares of large gold-mining company Barrick Gold (NYSE: ABX) hit the smelter this afternoon and lost as much as 11% after the company reported its fiscal first-quarter earnings results after the closing bell on Monday. As you can probably surmise by the move, Barrick widely missed the mark and disappointed Wall Street with its guidance.
So what
For the quarter, Barrick Gold reported 1.31 million ounces of gold production, which, with other byproducts included, yielded $1.99 billion in revenue and $495 million in operating cash flow. On a bottom-line basis, Barrick Gold generated $162 million in adjusted income, or $0.14 per share. By comparison, Wall Street had been looking for Barrick Gold to generate $230 million more in revenue and EPS of $0.21 per share.
Image source: Getty Images.
Why the wide miss? Barrick Gold attributed higher direct mining costs, higher exploration and development expenses, and higher depreciation for its subpar adjusted earnings per share in Q1. Its production was also affected by adverse weather conditions at its Pueblo Viejo mine in the Dominican Republic.
Looking ahead, Barrick disappointed with its forecast. The company updated its full-year guidance to 5.3 million to 5.6 million gold ounces of production, which is down from its previous guidance of 5.6 million to 5.9 million ounces of gold. It should be noted that 200,000 ounces of this 300,000-ounce dip at the midpoint is from the sale of 50% of Veladero to Shandong Gold for $960 million. Still, this suggests that around 100,000 ounces of production is being slashed from Barrick's existing mines.
The good news, though, is that the company stood pat on its all-in sustaining cost (AISC) guidance of $720 to $770 per gold ounce, and it reduced its total debt by another $178 million.
Image source: Getty Images.
Now what
Barrick Gold's quarterly results clearly weren't what Wall Street was looking for, but I'd also opine that the 11% move lower in the company's share price could be a major overreaction. Let's consider a couple of important facts about Barrick.
Among the largest gold miners, Barrick has the lowest AISC of them all. It's managed this by focusing on its highest ore grade mines and reducing its capital expenditures. This suggests it also has the biggest buffer between the current spot price of gold, making it one of the most attractive gold-mining stocks.
Barrick Gold has done an excellent job of reducing its debt levels. At the end of fiscal 2014, Barrick had roughly $13.1 billion in debt, which constrained its financial flexibility and caused it to spend quite a bit on servicing its debt. After today's quarterly report, the company is now down to a little more than $7.7 billion in debt. It remains on track to end 2018 with around $5 billion in debt.
Barrick has a handful of organic expansion opportunities that could fuel production growth for years to come. Expansion at Turquoise Ridge and the potential development of Goldrush in Nevada are two of many ways Barrick can boost gold production in the years to come.
Long story short, Barrick faced some weather-related challenges and sold off half of a key mine this quarter, but overall, this wasn't a bad quarter. It continues to pay down debt, maintained its leading AISC, and remains healthfully profitable with a prudent budget. Gold investors would be wise to get Barrick Gold on their radars after today's drop.
10 stocks we like better than Barrick GoldWhen investing geniuses David and Tom Gardner have a stock tip, it can pay to listen. After all, the newsletter they have run for over a decade, Motley Fool Stock Advisor, has tripled the market.*
David and Tom just revealed what they believe are the 10 best stocks for investors to buy right now...and Barrick Gold wasn't one of them! That's right -- they think these 10 stocks are even better buys.
Click here to learn about these picks!
*Stock Advisor returns as of April 3, 2017.
Sean Williams has no position in any stocks mentioned. The Motley Fool has no position in any of the stocks mentioned. The Motley Fool has a disclosure policy.