Here's Why Amgen, The Medicines Company, and Esperion Therapeutics Are All Tanking Today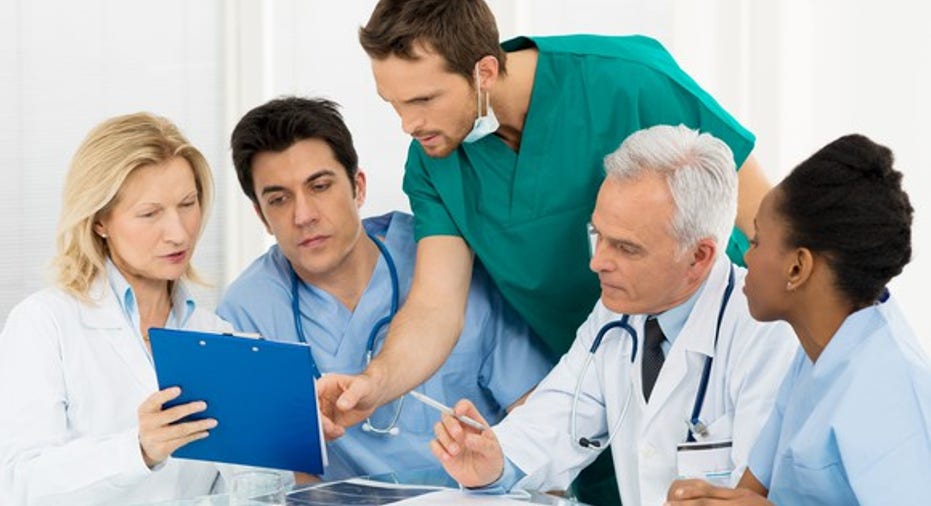 What happened
Shares of Amgen (NASDAQ: AMGN)fell by more than 6% on Friday morning after the biotech giant reported clinical details fromits FOURIER study. The trial was a long-term cardiovascular outcomes study designed to compare Repatha -- Amgen's PCSK9 inhibitor that is used to lower cholesterol -- to a placebo.
The clinical study was so important that the data release sent shockwaves through the entire biotech industry, and several other companies focused on cholesterol-busting drugs also took a dive. Among them were Esperion Therapeutics (NASDAQ: ESPR) and The Medicines Company (NASDAQ: MDCO), which dropped by 21% and 14%, respectively, by mid-day.Regeneron Pharmaceuticals, Sanofi, and Alnylam Pharmaceuticals are also all in the red for the day, apparently as a result of this data release.
Image Source: Getty Images.
So what
The headline numbers from the 27,564 patient FOURIER study looked quite promising. The study found that using Repatha lead to astatistically significant 15% reductionin the risk of having a heart attack, stroke, or other heart-related health problems when compared to taking a placebo. Importantly, this data also showed thatreducing low-density lipoprotein cholesterol (LDL-C, the "bad" cholesterol) levels beyond what statins alone can achieve will further reduce a patient's risk of developing major cardiovascular events.
Amgen also noted that these clinical results were observedas early as six months into treatment and continued throughout the median 2.2 years of the study. In addition, the data showed that using the drug for a longer period of time increases magnitude of the risk reduction. There were no new safety concerns identified in the trial, either.
So if the data looked good, why did shares of Amgen fall?
The simplest explanation is that the markets wanted to see an even greater cardiovascular risk reduction. In essence, Wall Street appears to view the data as good, but not great. This raises the concernthat insurers might not be willing to remove many of the restrictions that they have placed on accessing Repatha unless Amgen is willing to give in on pricing. After all, Repatha's list price exceeds $14,000 per year, whereas statins are very cheap. Opening up the floodgatesto all the patients who might benefit from the drug could prove to be a budget buster for many insurers.
Understandably, this worry has trickled over to The Medicines Company's stock because it is working with Alnylam Pharmaceuticals on a PCSK9 drug called inclisiran. Mid-stage clinical trials showed that using inclisiranalso produces lower LDL-C levels in patients, but this drug only has to be dosed a handful of times per year. That's believed by many to make it a more attractive option than currently available PCSK9 inhibitors, which require monthly or bi-weekly injections.
Meanwhile, Esperion Therapeutics is working on a cholesterol-lowering drug of its own called bempedoic acid. Its shares shot up last month after Amgen announced that the FOURIER trial hadmet its primary and secondary endpoints. Traders believed that Amgen's positive announcement would increase the chances ofbempedoic acid winning FDA approval by 2020, once itsPhase 3 safety and efficacy studiesare completed. The markets appear to be giving back some of those gains based on details of the FOURIER trial.
Finally, Regeneron and Sanofi also have a PCSK9 inhibitor of their own on the market called Praluent. Regeneron's stock fell by more than 4% while Sanofi is down by just over 1%, most likely because Sanofi has a more diversified product portfolio. Since Praluent and Repatha are so similarin terms of cost and effectiveness, the markets are likely worried that insurers will play hardball withRegeneron and Sanofi on pricing, too. These two companies are also funding an expensive long-term cardiovascular study called ODYSSEY OUTCOMES that is expected to wrap up later this year.
Now what
In an effort to ease insurers' concerns, Amgen also announced in the study's press release that it plans to offer "additional contracting options" to U.S. payers that are willing to remove restrictions on accessing Repatha. This includes offering a refund on the drug for any patient who has a heart attack or stroke while using it.
Will Amgen's FOURIER data and its willingness to offer innovative refunds be enough to convince insurers to allow broader use of Repatha? Unfortunately, it is still too early to know the answer to that question. However, we can say with certainty that the long-running debate over the cost-to-benefit ratio of using PCSK9 inhibitors like Repatha will continue to rage on.
10 stocks we like better than AmgenWhen investing geniuses David and Tom Gardner have a stock tip, it can pay to listen. After all, the newsletter they have run for over a decade, Motley Fool Stock Advisor, has tripled the market.*
David and Tom just revealed what they believe are the 10 best stocks for investors to buy right now... and Amgen wasn't one of them! That's right -- they think these 10 stocks are even better buys.
Click here to learn about these picks!
*Stock Advisor returns as of February 6, 2017
Brian Feroldi owns shares of Regeneron Pharmaceuticals. The Motley Fool owns shares of and recommends Alnylam Pharmaceuticals. The Motley Fool has a disclosure policy.