Here's Why Amarin Corporation's Stock Rallied in April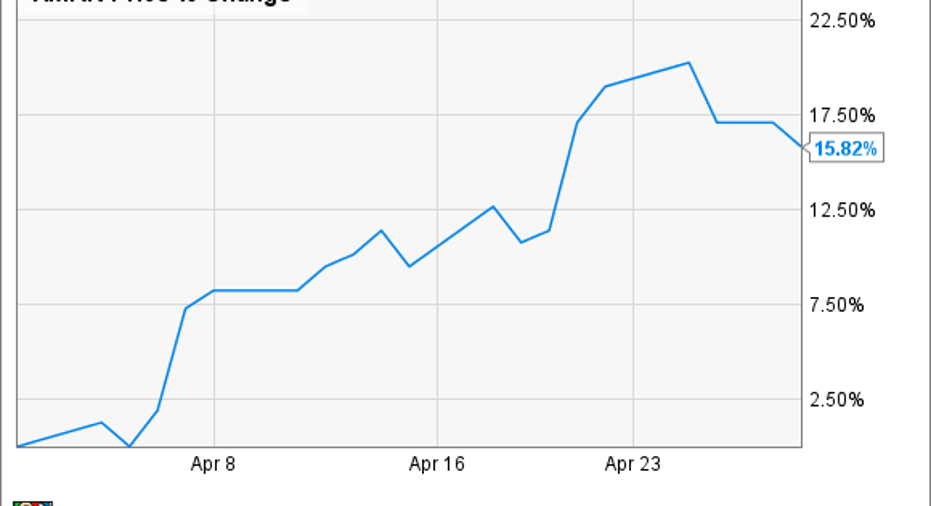 Image source: Flickr via user Sharon Sinclair.
What:Amarin Corporation's shares rose by nearly 16% in April, according to data fromS&P Global Market Intelligence. The drugmaker's stock got a boost from a pair of poster presentations at the annual meeting of the American College of Cardiology, where the company provided additionalclinical and pre-clinical data supporting the hypothesis that fish-oil based drugs like its FDA-approved medicine called Vascepa can reduce serious cardiovascular events in patients with severely high triglyceride levels ( 500 mg/dL)and that are already taking statins.
So what:Amarin is steadily marching toward an interim data readout of its large cardiovascular outcomes trial known as REDUCE-IT that could be a make-or-break moment for the company. While the information provided in these poster presentations isn't exactly a game-changer for Vascepa in particular, it does add to the growing body of evidence suggesting that highly refined fish-oil pills may be beneficial to patients with high triglyceride levels.
The bottom line is that a positive outcome for the REDUCE-IT trial would likely open up a much larger market for Vascepa and possibly allow it to generate sales on par withGlaxoSmithKline's fish-oil-based drug and former blockbuster Lovaza.
Vascepa's current label is fairly similar to Lovaza's, but doctors have apparently been more willing to prescribe Glaxo's drug off-label for patients with only moderately high triglyceride levels due to some preliminary studies linking omega 3 intake with a reduced likelihood of heart attacks or stroke. Since the advent of Vascepa, however, a handful of recent studies and clinical reviews have cast doubt on this positive association.
Now what: During its first-quarter earnings release, Amarin's management confirmed that the REDUCE-IT trial has now reached the60% target aggregate number of primary cardiovascular events required to trigger a pre-specified interim efficacy and safety analysis by the independent Data Monitoring Committee. As such, investors can expect this pivotal event to occur in either September or October of this year.
Before shareholders get ahead of themselves, though, it's important to understand that REDUCE-IT's outcome may not have as much of an impact on Vascepa's commercial potential as once believed now that the potent cholesterol medicines called PCSK9 inhibitors are on the market. The long and short of it is that Lovaza was competing in a far less crowded space when it generated blockbuster-type sales before going off-patent, perhaps making it a poor model for Vascepa's commercial trajectory moving forward.
The article Here's Why Amarin Corporation's Stock Rallied in April originally appeared on Fool.com.
George Budwell has no position in any stocks mentioned. The Motley Fool has no position in any of the stocks mentioned. Try any of our Foolish newsletter services free for 30 days. We Fools may not all hold the same opinions, but we all believe that considering a diverse range of insights makes us better investors. The Motley Fool has a disclosure policy.
Copyright 1995 - 2016 The Motley Fool, LLC. All rights reserved. The Motley Fool has a disclosure policy.