Here's Why Alexion Pharmaceuticals, Inc. Stock Gave Up 36% in 2016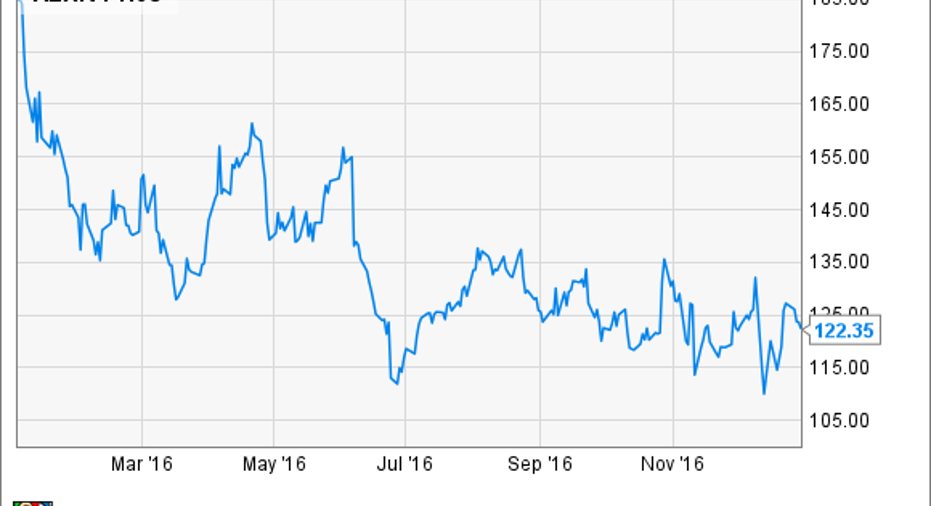 Image source: Getty Images.
What happened
Shares of rare-disease specialist Alexion Pharmaceuticals, Inc. (NASDAQ: ALXN) slid 35.9% lower last year, according to data from S&P Global Market Intelligence. Disturbing clinical trial results for its lead drug, Soliris, put a bad taste in investors mouth about half-way through the year. Allegations of sales fraud from a former employee, followed by unexpected replacement of the CEO and CFO near the end of the year didn't set well either.
So what
Soliris is approved for treatment of a tiny population of patients with specific rare blood-based disorders. With a list price above $500,000 per year, even a slight increase to its addressable patient population would be an enormous financial win for the company.
A potential label expansion to include patients with refractory generalized myasthenia gravis (gMG) prompted analysts to predict Soliris sales would rise from about $2.59 billion in 2015 to around $5.5 billion by 2022. But a failure to show a significant benefit in a clinical trial with gMG patients shot a hole through its peak potential. A more recent failure to prevent complications following kidney transplants didn't help lift spirits either.
Last November, the company delayed the filing of its third-quarter financial report while it investigated allegations of sales fraud made by a former employee. With such a big price tag, mislabeling even a handful of vials as "sold" rather than "destroyed" would be enough to warrant such an investigation.
The market didn't get too excited about the filing delay, but the sudden replacement of the company's CEO and CFO in December sent the stock lurching downward.
Now what
On Jan. 4, 2017, management finally filed the company's missing quarterly report, after concluding previously issued results don't need restatement. However, Alexion's board concluded that internal revenue-reporting controls weren't sufficient, which helps explain the executive-suite shuffle.
Also encouraging was a restatement of previously provided guidance that suggests 2016 revenue will come in at between $3.05 billion and $3.10 billion, or around 17% to 19% higher than 2015's top line.
Third-quarter sales growth for Alexion's two other commercial-stage products, Kanuma and Strensiq, were encouraging, but Soliris still comprised 91% of the company's top line. At recent prices, Alexion shares are trading at around 10.7 times sales, which means a slowdown in Soliris sales -- perceived or actual -- could still send the stock sharply lower.
In the quarters ahead, investors will want to keep an eye out for pivotal trial results from the Soliris follow-up therapy ALXN1210.
10 stocks we like better than Alexion Pharmaceuticals When investing geniuses David and Tom Gardner have a stock tip, it can pay to listen. After all, the newsletter they have run for over a decade, Motley Fool Stock Advisor, has tripled the market.*
David and Tom just revealed what they believe are the 10 best stocks for investors to buy right now... and Alexion Pharmaceuticals wasn't one of them! That's right -- they think these 10 stocks are even better buys.
Click here to learn about these picks!
*Stock Advisor returns as of January 4, 2017
Cory Renauer has no position in any stocks mentioned. You can follow Cory on Twitter @coryrenauer or LinkedIn for more biotech investing insight.
The Motley Fool has no position in any of the stocks mentioned. The Motley Fool has a disclosure policy.