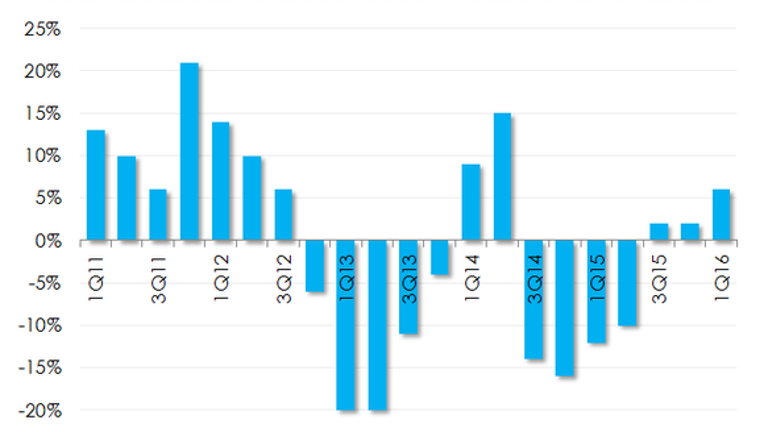 Image source: The Motley Fool.
While it's impossible to say for sure when Chipotle Mexican Grill's stock will recover from last year's foodborne illness outbreak, it's reasonable to think that the turnaround will come in the first half of next year. The reason for this is simple: That's when Chipotle's same-store sales, arguably the most important metric in the retail and restaurant industries, seem likely to veer back into positive territory.
You can get a sense for this by looking at the trend in Yum! Brands same-store sales following a pair of food-quality issues that it encountered in China over the past four years. The first occurred in the fourth quarter of 2012, following a news report in the country showing that some of its poultry suppliers were using excessive levels of antibiotics in chicken.
The impact on Yum! Brands' sales was immediate. Same-store sales at its restaurants in China fell 6% in the fourth quarter of 2012, despite the fact that the incident impacted only two weeks' worth of that quarter's performance. In each of the next two quarters, same-store sales dropped 20%. They then improved in the third and fourth quarters of 2013 before turning positive in the first quarter of 2014.
Data source: Yum! Brands. Chart by author.
It seemed at that point as if Yum! Brands was in the clear. However, an unrelated incident that struck in the third quarter of 2014 caused same-store sales to drop again after Chinese officials shut down another food supplier that had allegedly beenselling expired meat to Yum! Brands' KFC outlets, as well as other restaurant chains.
The net result was that Yum Brands' same-store sales in China dropped by an average of 13% over the next four quarters, before turning positive again in the third quarter of 2015.
What this teaches us about Chipotle Mexican Grill is that scandals like these take four to five quarters before same-store sales recover. That makes sense when you consider how the metric is calculated. If sales at a restaurant chain fell by 20% in the first quarter of last year, it would be a lot easier for them to grow in the first quarter of this year.
In Chipotle's case, then, it seems reasonable to assume that it will report positive same-store sales in either the fourth quarter of this fiscal year, or, more likely, in the first quarter of next year. I say "more likely" because it wasn't until the first quarter of this year that the worst of the crisis was reflected in Chipotle's comparable sales. In the fourth quarter of last year, they dropped by 14.6%. Flash forward to the first quarter of this year, however, and they were down by 29.7%.
The net result is that Chipotle's stock probably won't recover until the beginning of 2017. I could be wrong on this, but it seems to follow not only from logic -- as that will be when it's comping against the previous year's steep drop -- but also from a comparison to Yum! Brands' experience in China.
The article Here's When Chipotle's Same-Store Sales Will Recover originally appeared on Fool.com.
John Maxfield owns shares of Chipotle Mexican Grill. The Motley Fool owns shares of and recommends Chipotle Mexican Grill. Try any of our Foolish newsletter services free for 30 days. We Fools may not all hold the same opinions, but we all believe that considering a diverse range of insights makes us better investors. The Motley Fool has a disclosure policy.
Copyright 1995 - 2016 The Motley Fool, LLC. All rights reserved. The Motley Fool has a disclosure policy.