Here's What's Free on Election Day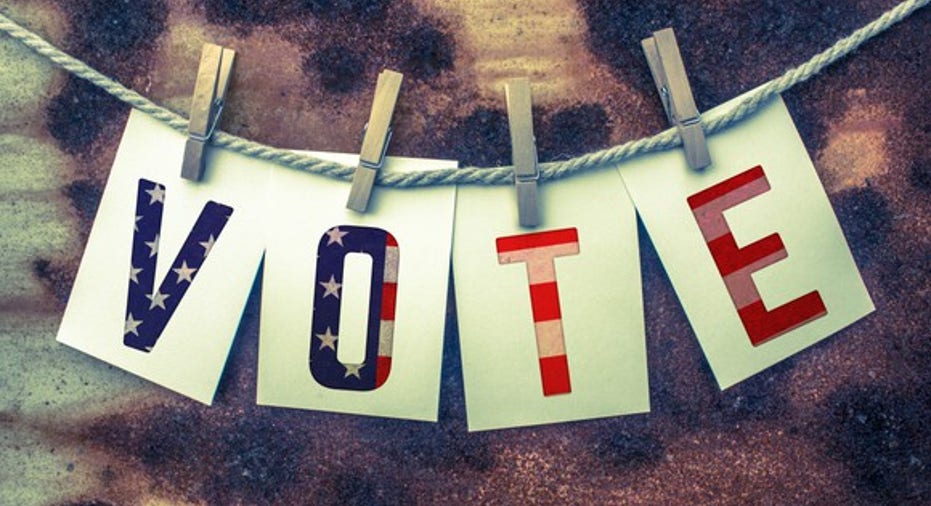 After what has been a fairly nasty election season, America deserves a doughnut.
Krispy Kreme will be filling that need by offering one free doughnut on Election Day (Nov. 8) to any guest in one of its stores wearing a sticker indicating he or she voted. It's a publicity stunt, of course, but it's hard to fault the company's logic in making the offer.
"We want to sweeten election day by saying 'thank you' to those who participate at the polls," said Chief Marketing Officer Jackie Woodward in a press release. "It has been a long election season, and we think a free treat is the perfect way to reward voters."
The doughnut chain will be one of many companies offering freebies on the day when Americans head to the polls to pick their next president. Some of those offers are actually tied to the voting process, but many are like the Krispy Kreme deal -- a way for the country to move past politics and delight in the things we can all agree on (mostly our love of unhealthy treats).
Election Day will be full of free or discounted offers. Image source: Getty Images.
Wash down your doughnut
After visiting Krispy Kreme, you may want to stop by 7-Eleven to pick up a free cup of coffee. The deal is offered through the company's mobile app, according to USA Today.
Noodles & Company is having its own vote
While the promotion actually runs through Nov.16, Noodles & Company (NASDAQ: NDLS) has been holding its own vote for America's favorite grownup macaroni and cheese. Anyone who casts a ballot in what the company called "the second most hotly contested showdown of the year" gets a buy-one-get-one-free coupon good for any of the chain's entrees with the purchase of another.
The chain also conducted a poll earlier this year that found that "Americans overwhelmingly agreed (85%) -- regardless of political party affiliation -- that curling up with a bowl of their favorite comfort food, macaroni and cheese, brings them a greater sense of security this election season than Hillary Clinton or Donald Trump becoming the next President of the United States."
Work off the calories
After you eat a doughnut and some mac and cheese and drink your free cup of coffee, you may be ready for a workout. Gold's Gym is offering anyone with an "I voted" sticker a free day of access to its gyms, The Dallas Morning News reported.
Get a ride to vote
Uber, Lyft, and Zipcar all have different Election Day offers designed to help get people to the polls. Uber has partnered with Google to launch an in-app feature on Nov. 8 that will help Americans locate their voting location and then request a ride with a push of a button, the company said in a blog post.
Uber's ride-hailing competitor Lyft will be offering users 45% off a one-way ride to their polling place in select markets, according to The Verge. The ride back, however, will be full-price.
Zipcar, a car-sharing network, will make over 7,000 cars available for free on election night from 6 p.m. to 10 p.m. on Nov. 8 in all markets in which Zipcar operates, the company said in a blog post. Those markets include hundreds of cities and towns and over 500 college campuses.
And more
In addition to the offers listed above you can get a free cookie at Great American Cookie, $1 craft beers at World of Beer, and a $5 "Conflicted Burger" (Angus burger + veggie burger) at BurgerFi (a discount from around $9), all for showing off your "I voted" sticker.
Voting is the important thing
Meanwhile,the New York Daily News is reporting that rewards for voting in elections in which federal candidates are on the ballot is illegal.
"You cannot offer something of pecuniary value in exchange for voting," Jonathan Brater, counsel for the Brennan Center's Democracy Program at New York University School of Law, told the paper "Federal law prohibits giving or receiving something of value in exchange for voting in a federal election." It is legal, however, to facilitate voting by something like offering a ride to the polls, he said.
However, it seems unlikely that non-partisan voting incentives like free coffee or doughnuts will actually get any company in trouble.
10 stocks we like better than Noodles and Co. When investing geniuses David and Tom Gardner have a stock tip, it can pay to listen. After all, the newsletter they have run for over a decade, Motley Fool Stock Advisor, has tripled the market.*
David and Tom just revealed what they believe are the ten best stocks for investors to buy right now... and Noodles and Co. wasn't one of them! That's right -- they think these 10 stocks are even better buys.
Click here to learn about these picks!
*Stock Advisor returns as of November 7, 2016
Daniel Kline has no position in any stocks mentioned. He does not plan to use any of these deals. The Motley Fool has no position in any of the stocks mentioned. Try any of our Foolish newsletter services free for 30 days. We Fools may not all hold the same opinions, but we all believe that considering a diverse range of insights makes us better investors. The Motley Fool has a disclosure policy.