Here's What's Behind World Wrestling Entertainment Inc.'s Stunning, Stone-Cold Gain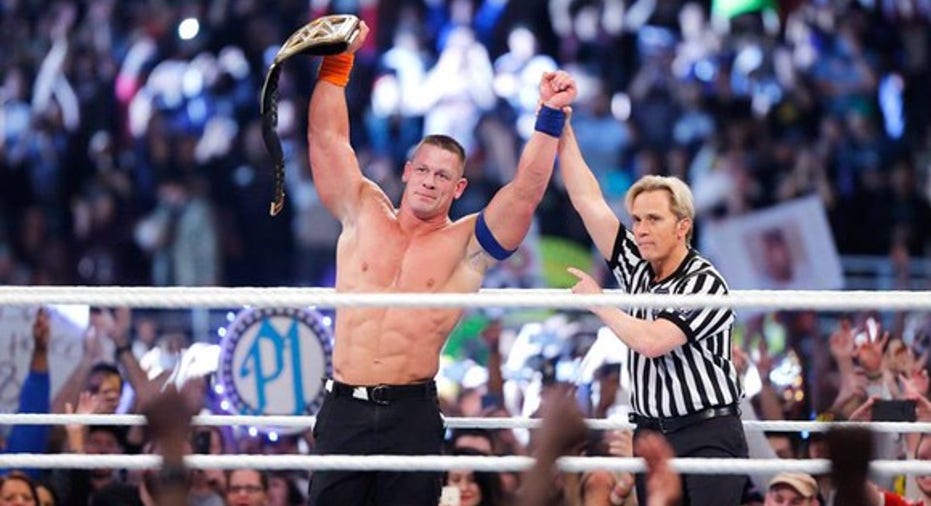 What happened
Shares of World Wrestling Entertainment (NYSE: WWE), a media company geared toward entertaining the public through live and pay-per-view events, as well as reality TV shows, surged as much as 11% during Thursday's trading session. The impetus behind the move appears to be a stunning, stone-cold revenue beat with the release of its fourth-quarter and full-year earnings report.
So what
Before the opening bell, World Wrestling Entertainment announced $194.9 million in revenue, a 17.3% increase from the prior-year period, which can primarily be attributed to a 14% increase in average paid WWE Network subscribers, to 1.41 million. Also of note, television revenue surged 23.4%, to $68.6 million -- television revenue accounted for 35% of total revenue in Q4 2016 -- reflecting the positive impact of WWE reality TV series' Total Divas and Total Bellas.
Image source: World Wrestling Entertainment.
In terms of World Wrestling Entertainment's bottom line, the company reported a profit of $0.10 per share, which reversed its year-ago loss of $0.02 per share in Q4 2015. However, the $0.10 profit wound up $0.02 shy of Wall Street's expectations. Increasing investments in digital and direct-to-consumer initiatives appear to be the primary cause of the profit shortfall compared to Wall Street's expectations.
Looking ahead, World Wrestling Entertainment is forecasting another year of record revenue in 2017, with operating income of $70 million and adjusted OIBDA (operating income before depreciation and amortization) of $100 million, representing OIBDA growth of 25% from the $80.1 million it reported in 2016. Additionally, WWE Network subscribers are expected to increase, but the company suspects at a slower rate than in 2016. Lastly, WWE anticipates increasing its investments in digital channels and in furthering audience engagement.
Now what
It's not often that you see a company's stock completely whiff on an earnings per share (EPS) estimate, and then soar, but that's precisely what we're witnessing today. The reason WWE is probably getting a pass on its EPS miss has to do with the strong top-line growth in areas of its business that should lead to higher margins in the future (i.e., digital and direct-to-consumer opportunities, and reality television shows). Make no mistake about it: The fact that WWE is forecasting record revenue and OIBDA in 2017 isn't hurting its performance today, either.
The big question moving forward is whether WWE can keep the momentum going. The same risk-taking plots and content that allow WWE to attract audiences can occasionally turn them off. Negative publicity from its superstars has also been known to quell its business from time to time. Its biggest enemy has been consistency.
On a forward-earnings basis, WWE is valued at roughly 30 times its 2018 EPS forecast from Wall Street, which may be a bit rich considering its expected growth rate is probably between 7% and 10% per year. Even assuming margin expansion as the company pushes for digital content, I'd suggest WWE is probably fairly valued right here.
10 stocks we like better than World Wrestling EntertainmentWhen investing geniuses David and Tom Gardner have a stock tip, it can pay to listen. After all, the newsletter they have run for over a decade, Motley Fool Stock Advisor, has tripled the market.*
David and Tom just revealed what they believe are the 10 best stocks for investors to buy right now... and World Wrestling Entertainment wasn't one of them! That's right -- they think these 10 stocks are even better buys.
Click here to learn about these picks!
*Stock Advisor returns as of February 6, 2017
Sean Williams has no position in any stocks mentioned. The Motley Fool has no position in any of the stocks mentioned. The Motley Fool has a disclosure policy.