Here's What the Apple Car Might Really Be Like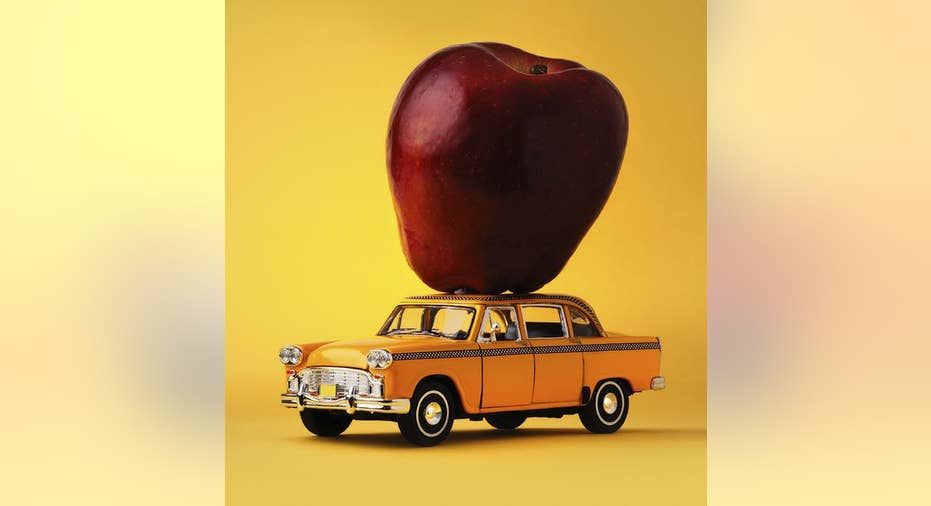 The Motley Fool's experts aren't certain of much when it comes to Apple Car. But we're fairly certain that this isn't it. Image source: iStock/Roberto A Sanchez.
Motor Trend magazine raised quite a fuss this past week with a cover storythat it had hinted might be a preview ofApple's maybe-upcoming Apple Car. The article consisted entirely of speculation, much of which was disparaged by veteran Apple- and tech-watchers. Simply put,Motor Trend's hypothetical Apple Cardidn't look or sound or feel anything like an Apple product.
It's not really a surprise that auto journalists would miss the mark on Apple. AsThe Verge'sastute Chris Ziegler put it in a sympathetic but critical take on theMotor Trendeffort, "[A]uto journalists are still learning to cover tech, after all, just as tech journalists are still learning to cover transportation."
While tech coverage is new for many in the auto world (and vice versa), it's not new territory for us at The Motley Fool. Several veteran Fool writers have already put considerable effort into bridging the gap between technology and automotive expertise, and are already working to sniff out the best investment opportunities as Silicon Valley and Detroit become ever more intertwined. We asked those Fools to offer their thoughts on the idea of an Apple Car and onMotor Trend'stake.
Daniel SparksThe one thing I've learned following Apple's product launches over the years is that I don'tknow about its product launches -- particularly when it comes to new product categories. For instance, before iMac, iPod, and iPhone, few came close to guessing what would make these devices special, or even what they would look like.
Even the smart folks atGooglewere totally caught off guard when Apple revealed the iPhone.
"Holy crap," said former Android engineer lead Chris Desalvo (viaThe Atlantic) to one of his colleagues when watching the iPhone unveil webcast. "I guess we're not going to shipthatphone."
Desalvo explained toThe Atlanticthat he realized the team would have to start all over on its plans for a new phone.
"As a consumer I was blown away. I wanted one immediately. But as a Google engineer, I thought 'We're going to have to start over,'" Desalvo said.
As has been the case with most of Apple's product launches, if the company eventually does bring a car to market, my guess is it will depart from what "experts" expect.
Of course, not all of Apple's new product categories have been so revolutionary -- and it's worth noting the advantage of having former CEO Steve Jobs behind all of these past products mentioned. Furthermore, even Apple is prone to a total flop, too.
Finally, keep in mind that even if Apple is planning a car, it can always shelve its plans. So, let's not get too excited.
My main point here is that history shows that speculation around a new Apple product category won't likely serve any useful purpose -- especially to investors. For the sake of fun? Sure. But nothing more.
Cute try, though,Motor Trend.
Chris NeigerThe Apple Car will combine the simplicity and elegance that all of the company'sdevices embody. So, of course, that means the vehicle will probably have just one single port that's used to charge the electric vehicle and will have an optional dongle just in case you want to plug in your headphones or add an extra display.
In terms of exterior design, I can't imagine the car being anything but beautifully, unapologetically plastic, for lack of a better phrase. And on the inside, it's easy to imagine the Apple Watch becoming a technology hub for the car, and definitely used to power the keyless entry system and start the vehicle -- for no other reason than for the Apple Watch to finally have a killer app.
All kidding aside, I envision an Apple Car with stunning designs that look more likeTesla Motors'vehicles than the "futuristic" mockups (that look like they were contrived in the 1980s) that we saw fromMotor Trend. If we ever see an Apple Car on the road, its exterior will appeal to our visual senses first, then to our tactile senses in the cabin, and (very) lastly to our financial sensibilities, due to its price tag.
But what I think could really set apart an Apple Car from the rest of its competitors will be the car's operating system -- because it will have one. This new OS will be CarPlay, evolved 100 times over. We already have well-designed cars, but what the automotive market lacks are well-designed buttons and user interfaces. Today's cars feel more like plane cockpits than driving machines, and they are desperately in need of a simplicity overhaul. Sure, the Apple Car will look pretty, it'll probably be powered by batteries, and may even have some semiautonomous features. But if the company truly lives up to its own legacy, then the Apple Car will also be one of the most enjoyable vehicles you've ever interacted with -- with a truly unique operating system as its centerpiece.
John RosevearI've been an Apple shareholder since 1981. (Yes, really.) If I've learned anything about Apple over those 35 (sheesh) years, it's that Daniel is absolutely right: Apple's new products always seem to be more than, less than, and justdifferent from what even genuine experts expect, all at the same time.
But that said, we can make some predictions about the much-rumored Apple Car that might be useful. I made a big one last year when I said that I thought that Apple was more likely planning a disruptive subscription-based automated Apple carservice than a car for retail sale. I still think that's likely, simply because to my mind (which is grounded in my knowledge of the mainstream car business) that's where the best opportunity lies for an Apple-like business that would be genuinely disruptive (and profitable).
If that's the case, then the Apple Car will probably resemble a limousine (or a minivan-like small bus) as reimagined by Jony Ive and the Apple design team. In other words, I can't say what it'll look like, except to say that it won't look like a sleek low-slung Tesla Model S -- and most of us will probably like it. It'll have sensational connectivity, it'll be fully integrated with the Apple device ecosphere, and it'll be fast and comfortable and smooth-riding and very, very safe. I also think that Apple wouldn't build a car factory from scratch to build its self-driving Apple Car Service cars. Instead, it would pay to have its cars built by an automaker it saw as sufficiently like-minded and perfectionistic to work with, perhapsBMWorDaimler'sMercedes-Benz unit.
That said, I don't rule out the possibility that Apple will try to bring a car to the retail market. But I think it's unlikely. A lot of the tech-oriented analysts and pundits who talk up that possibility don't seem to realize that profitably mass-producing cars to global standards of quality is very, very difficult, even when the cars aren't full of radical new technology. Mass production is arguably the auto industry's real "moat," one that Tesla is presently struggling to bridge as it gears up to build the Model 3.
I have no doubt that Apple has the money, intelligence, tenacity, and patience to bridge that moat and start building cars on its own. But hiring an established automakerto build Apple Cars for an Apple Car Service makes a lot more sense.
I still don't have any idea what that car will look like. But I think it's safe to say that no matter the business model that Apple chooses for its Car, it won't look likeMotor Trend'svery un-Applerenderings.
As with all things Apple, we don't know what we don't know. But we can make some educated guesses about what an Apple Car would have, based on what we know about the company. First off, the most obvious are that the Apple Car would be electric, autonomous, and connected.
Apple likes to jump into areas where it thinks that it can have a positive impact, and catalyzing EV adoption would play right into its corporate value of environmental sustainability. Self-driving cars are all the rage these days, as the technology races toward feasibility and regulators continue to consider the implications. Cellular connectivity is a no-brainer, and connected cars in some form or fashion have been around for many years.
We could also expect a heavy emphasis on the user interface, combined with deep integration of hardware and software. Apple Music integration would be a given, streaming over the cellular connection. Apple Car would communicate seamlessly with the other Apple devices you have, and you'd be able to dictate tasks to Siri. Imagine telling Siri to drive you home because you've had a few too many drinks. Interestingly, all of the miniaturization experience that Apple has accumulated over the years making progressively thinner and lighter mobile devices would be mostly irrelevant here, since cars have no need for extreme miniaturization.
While John has a compelling case for an Apple Car as a service only, I believe that the company will still cater to the traditional ownership model. Car-sharing is on the rise, but even Elon Musk (one of the biggest proponents of autonomous vehicles) believes that long-term car ownership will still be around two-thirds of the market. People simply like owning their cars, even if it's technically not the most efficient model once autonomy is feasible. However, autonomous car-sharing will be a big hit in urban areas.
The underlying monetization method that has always been at the heart of Apple's business is simply selling great products to consumers. The Apple Car as a service model would be a pretty significant departure from that. Owning, operating, and maintaining a massive fleet of any product in active deployment doesn't sound like the typical Apple business.
The article Here's What the Apple Car Might Really Be Like originally appeared on Fool.com.
Chris Neiger has no position in any stocks mentioned. Daniel Sparks owns shares of Apple and Tesla Motors. Evan Niu, CFA owns shares of Apple and Tesla Motors. Evan Niu, CFA, has the following options: long January 2018 $180 calls on Tesla Motors. John Rosevear owns shares of Apple. The Motley Fool owns shares of and recommends Alphabet (A and C shares), Apple, and Tesla Motors. The Motley Fool recommends BMW. Suzanne Frey, an executive at Alphabet, is a member of The Motley Fools board of directors.Try any of our Foolish newsletter services free for 30 days. We Fools may not all hold the same opinions, but we all believe that considering a diverse range of insights makes us better investors. The Motley Fool has a disclosure policy.
Copyright 1995 - 2016 The Motley Fool, LLC. All rights reserved. The Motley Fool has a disclosure policy.