Here's the Most Remarkable Thing About DryShips Inc.'s Fourth-Quarter Report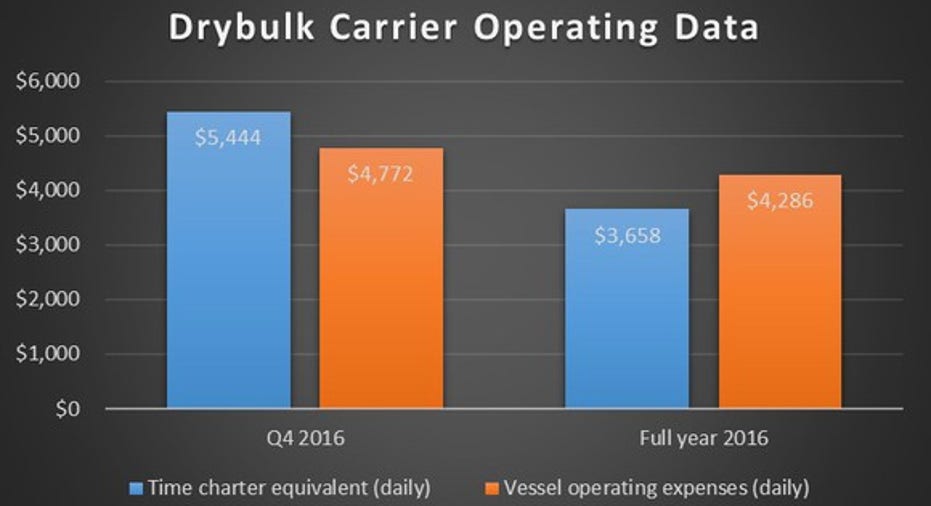 DryShips (NASDAQ: DRYS) reported its fourth-quarter and full-year results shortly after the closing bell on Wednesday. That report trumpeted the progress the company has made to strengthen its balance sheet, which has improved significantly over the past year. One of the highlights is the fact that it currently has $243 million of cash on hand, amounting to a whopping $6.70 per share.
However, before investors look at the stock price and do the math, there's one number that matters even more right now: cash flow. Unfortunately, that number is nonexistent. Furthermore, considering that the company has already announced plans for the bulk of its cash hoard, it is not as good as money in the bank.
Image source: Getty Images.
Examining the numbers
DryShip's financial report was a mess due in large part to the efforts it undertook to shore up its balance sheet last year. Those actions resulted in significant impairment charges and other one-time items during the quarter. As a result, it reported a net loss of $84.6 million, or a whopping $54.16 per share. However, that number is meaningless at the moment because it does not tell us how the company's underlying operations fared during the quarter.
For that, we need to focus on adjusted EBITDA, which is a proxy for cash flow. During the quarter, this number was a negative $13.9 million. That is almost twice the cash burn from last quarter, when adjusted EBITDA was a negative $7.9 million. That is a remarkably poor achievement considering that its core dry-bulk shipping segment had its best quarter of the year thanks to rising shipping rates. As this chart shows, the company made money operating its dry-bulk vessels during the quarter:
Data source: DryShips Inc. Chart by author.
Driving the increase in charter rates was a noticeable rise in the Baltic Dry Index during the quarter, especially after the election. That rally enabled DryShips to capture higher spot rates for its dry-bulk vessels. That said, rates were still very low considering that its average time charter equivalent in 2015 was $9,171 per day. Because of that, as well as continued weakness in its offshore supply fleet, DryShips did not generate any operating cash flow during the quarter, nor the full year for that matter. Making matters worse is the fact that the company managed to burn through all that cash before even factoring in interest or taxes, which for the fourth quarter added another $1.7 million to its outflows.
Spending money to stop the bleeding
Suffice it to say, DryShips cannot continue to bleed cash. However, that is tough to do given its current setup because the company is at the mercy of the spot market, which has come well off its post-election peak. To combat this issue, DryShips announced earlier this year that it would use its cash hoard to acquire up to four Very Large Gas Carriers signed to long-term, fixed-fee time charters because these vessels would supply it with a steady stream of cash flow.
The problem is that the first ship will not arrive until this June, which will continue to leave the company exposed to the whims of the spot market until that time. Given current rates, DryShips will likely continue to hemorrhage cash. That is a concern because it has the option to commit virtually all of its cash resources in acquiring the other three vessels, which wouldn't start generating cash until later this year. If the company overcommits to acquisitions, its liquidity could dry up, especially if it cannot generate operating cash flow from its current asset base. That is a risky plan, to say the least.
Investor takeaway
Yes, DryShips currently has a boatload of cash and its core dry-bulk segment made money last quarter. However, the company as a whole continues to burn through cash because it is not generating any operating cash flow, which could prove problematic if shipping rates do not rebound soon. While the company has a plan to stop the bleeding, there's a real risk that it could bleed out before those vessels come on board.
10 stocks we like better than DryShipsWhen investing geniuses David and Tom Gardner have a stock tip, it can pay to listen. After all, the newsletter they have run for over a decade, Motley Fool Stock Advisor, has tripled the market.*
David and Tom just revealed what they believe are the 10 best stocks for investors to buy right now... and DryShips wasn't one of them! That's right -- they think these 10 stocks are even better buys.
Click here to learn about these picks!
*Stock Advisor returns as of February 6, 2017
Matt DiLallo has no position in any stocks mentioned. The Motley Fool has no position in any of the stocks mentioned. The Motley Fool has a disclosure policy.