Here's How You Get Motley Fool Rule Breakers Picks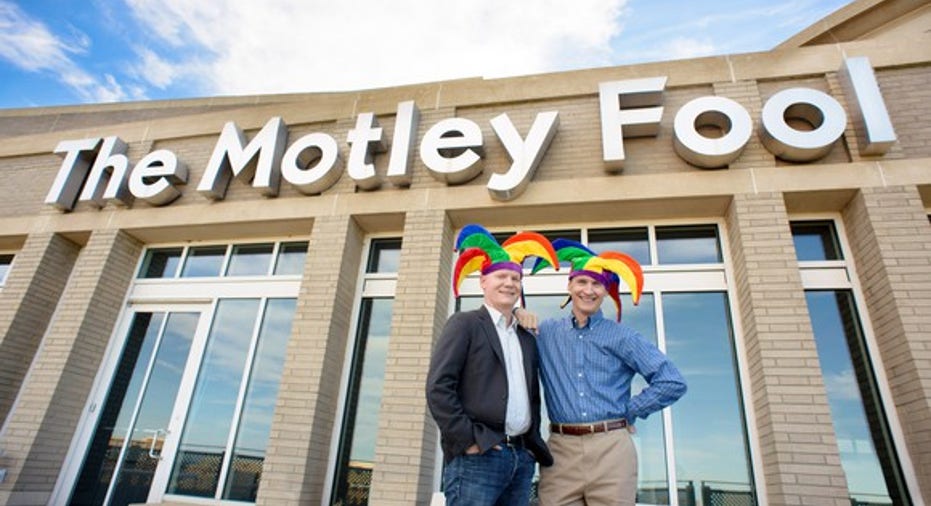 Motley Fool co-founders Tom and David Gardner.
Many of the greatest investments of our time started out as small high-growth companies that were the market leaders of tomorrow. Since 2004, the Motley Fool Rule Breakers service has made it its mission to find those winning stocks before the rest of the market discovers them, and the performance of the picks that Motley Fool co-founder David Gardner and his team of experts have found has given investors nearly a 40 percentage point advantage over investing in the S&P 500 stock market index. Below, we'll show you how you can get access to the winning picks that this award-winning service has made -- while paying far less than you'd ever think possible.
What makes Rule Breakers picks so special
Motley Fool Rule Breakers focuses on growth stocks that aren't fully appreciated by many mainstream investors. Each pick will feature a solid management team and a business strategy that they think is sustainable over the long run. In addition, though, Gardner and his analyst team look for six key criteria that define successful Rule Breakers companies:
Early adoption in emerging industries and success in becoming a leader in their industry. These first-movers innovate and effectively create the demand for the products and services they provide.
Sustainable competitive advantages that can protect against existing rivals and new entrants to the industry.
Strong stock price performance. Stocks that have moved higher in the past often tend to keep rising in the future.
Solid business managers and other key personnel that are able to stay ahead of the competition.
Popular appeal from customers that creates brand awareness and builds positive momentum for the business.
A perception by most investors that the stock is extremely overvalued.
Every month, subscribers receive two recommendations of stocks that meet the Rule Breakers criteria and have the potential to produce high long-term returns. They also have ongoing access to the service's list of Starter Stocks, which are selections that David Gardner and his team believe are an essential part of any high-growth investing portfolio. A monthly list of the five most timely investing opportunities helps round out the regular advice that Rule Breakers members can use to guide their investing decisions.
The true value of Rule Breakers picks
A look at the top picks from Motley Fool Rule Breakers really brings home the value that the service provides. One of the service's first recommendations was NetEase (NASDAQ: NTES), the Chinese online video-gaming company that has taken full advantage of the opportunity to serve the gamer community in a nation with more than a billion potential users. The stock has climbed almost 1,700% in less than a dozen years, and the potential for further growth still exists in China and throughout the Asia-Pacific region.
Also from China, internet search giant Baidu (NASDAQ: BIDU) has delivered for Rule Breakers investors, climbing almost 2,000% in a decade. While most investors were laser-focused on U.S. tech stocks and their capacity for growth, Baidu tapped the larger potential from the emerging market that has become the world's second-largest economy. Having used its first-mover status in online search as a starting point, Baidu is working toward expanding its reach and becoming an even more vital part of the tech picture for Chinese users and others across the region.
Finally, closer to home, the field of robotic surgery spawned the rise of tiny Intuitive Surgical (NASDAQ: ISRG), whose da Vinci robotic surgical system has transformed the medical community. With returns of almost 1,500% since 2005, Intuitive Surgical has successfully navigated ups and downs in its industry. Intuitive Surgical's dramatic share-price gains have persisted even as competitors have emerged to try to challenge its leadership position in the space, and efforts to expand the scope of the da Vinci system's use could produce even better gains in the future.
Don't put off becoming a Rule Breakers member one more day!
Best of all, right now, you can sign up for Motley Fool Rule Breakers at a special introductory rate. Rather than paying our usual price, take advantage of this offer and pay as little as $53 per year. You'll then get immediate access to the service's latest stock picks as well as all the other resources that Rule Breakers offers to its elite group of subscribers.
If you want to become a successful high-growth investor, you need to recognize value when you see it. That's why we've offered access to Motley Fool Rule Breakers at such a low price: so that you'll have no reason to delay, and every reason to join the Motley Fool Rule Breakers community right now and begin your journey toward investing riches.
The Motley Fool owns shares of and recommends Baidu and Intuitive Surgical. The Motley Fool recommends NetEase. Try any of our Foolish newsletter services free for 30 days. We Fools may not all hold the same opinions, but we all believe that considering a diverse range of insights makes us better investors. The Motley Fool has a disclosure policy.