Here's How Pfizer's Protecting Its Kidney Cancer Drug From New Competitors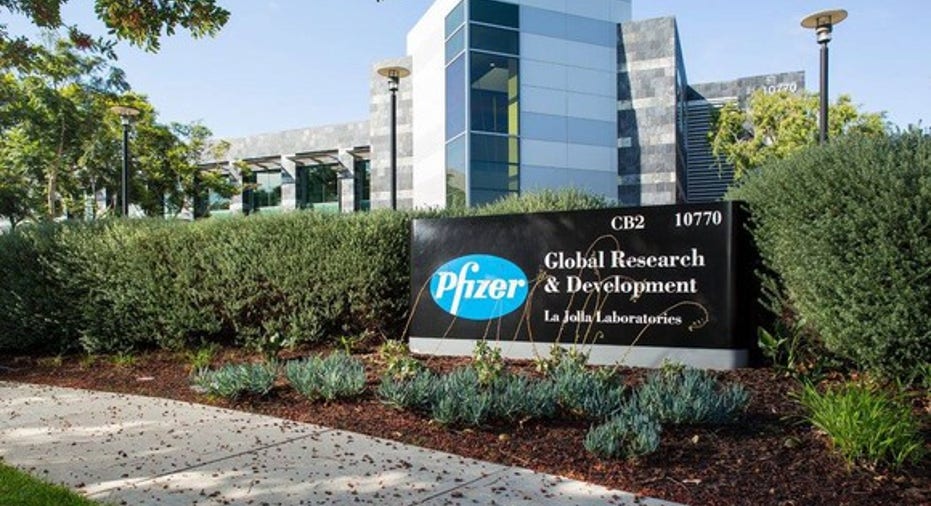 Image source: Pfizer, Inc.
Last fall, both Exelixis and Bristol-Myers Squibb reported positive results showing that their respective drugs are more effective in treating advanced kidney cancer than Novartis' Afinitor, a second-line therapy used to treat advanced kidney cancer patients. The two companies are conducting studies in hopes of showing that their drugs also work better than Pfizer, Inc.'s Sutent, the most commonly prescribed first-line therapy used in advanced kidney cancer.
Exelixis' Cabometyx or Bristol-Myers Squibb's Opdivo efficacy suggests they'll be shaking up the kidney cancer landscape, and that could eventually mean a smaller share of the market for Sutent. While that could be true, Pfizer reported data this past week that could significantly expand Sutent's addressable patient population and help it maintain its dominance in the indication.
Improving outcomes
About 338,000 new cases of kidney cancer are diagnosed in the U.S. every year, and 90% of those cases are renal cell carcinoma, or RCC. Most of the time, the first treatment option for treating kidney cancer is surgery that removes the tumor.
In cases where kidney cancer is in the later stages of progression, treatment may include both surgery and targeted therapy. Advanced kidney cancer cases represent about 30% of kidney cancer cases, and the first targeted therapy that's used in these patients is Sutent, a drug that curbs cancer growth by targeting cancer cell proteins called tyrosine kinases. When patients fail on Sutent, they're then often shifted to Afinitor.
Last fall, Bristol-Myers reported phase 3 trial results showing that patients receiving Opdivo enjoyed overall survival of 25 months versus 19.6 months for patients receiving Afinitor. Similarly, Exelixis reported phase 3 results showing its cabometyx delivered overall survival of 21.4 months, versus 16.5 months for Afinitor.
The FDA has since approved both Opdivo and Cabometyx for second-line use in advanced kidney cancer patients, and with those wins in hand, both Exelixis and Bristol-Myers Squibb are now taking aim at Sutent in the first-line advanced kidney cancer setting.
In May, Exelixis reported results from a phase 2 study comparing Cabometyx head-to-head against Sutent. In that trial, Cabometyx significantly improved progression-free survival versus Sutent as a first-line treatment for advanced kidney cancer patients.Meanwhile, Bristol-Myers Squibb has a phase 3 study under way that combines its Opdivo and Yervoy together head-to-head against Sutent. Results from that trial are expected in 2018. However, if efficacy is good enough, that trial could wrap up sooner than that.
Side-stepping the threat
With Cabometyx and Opdivo nipping at Sutent's heels, Pfizer hopes to outmaneuver them by expanding the use of Sutent to all kidney cancer patients who have undergone surgery. Doing so wouldopen up Sutent to far more patients than it can address today.
On Friday, Pfizer reported thattaking Sutent once daily for one year following surgery significantly improved progression-free survival versus a placebo. Up until now, no targeted therapy has been able to prove itself effective in such an adjuvant setting.
Pfizer is waiting until a key conference in October to report the details of the improvement, but the phase 3 findings of this trial could mean a label expansion is in the wings.
Looking ahead
Sutent generated $278 million in first-quarter sales for Pfizer, up 15% from a year ago, and that billion-dollar run rate means that a lot is at stake for the company.
Assuming Sutent eventually nabs approval for use in the adjuvant setting, than it may maintain its current sales pace despite Cabometyx and Opdivo's success. In fact, the larger, post-surgery patient pool could mean that Sutent's sales head even higher than they are currently. Given that this is a big market and Sutent is already a blockbuster, investors will want to pay close attention when management unveils more data from this trial this fall.
The article Here's How Pfizer's Protecting Its Kidney Cancer Drug From New Competitors originally appeared on Fool.com.
Todd Campbell has no position in any stocks mentioned.Todd owns E.B. Capital Markets, LLC. E.B. Capital's clients may have positions in the companies mentioned. Like this article? Follow him onTwitter where he goes by the handle@ebcapital to see more articles like this.The Motley Fool owns shares of and recommends Exelixis. Try any of our Foolish newsletter services free for 30 days. We Fools may not all hold the same opinions, but we all believe that considering a diverse range of insights makes us better investors. The Motley Fool has a disclosure policy.
Copyright 1995 - 2016 The Motley Fool, LLC. All rights reserved. The Motley Fool has a disclosure policy.