Here's All the New IoT Technology TDK Corp. Will Get From Buying InvenSense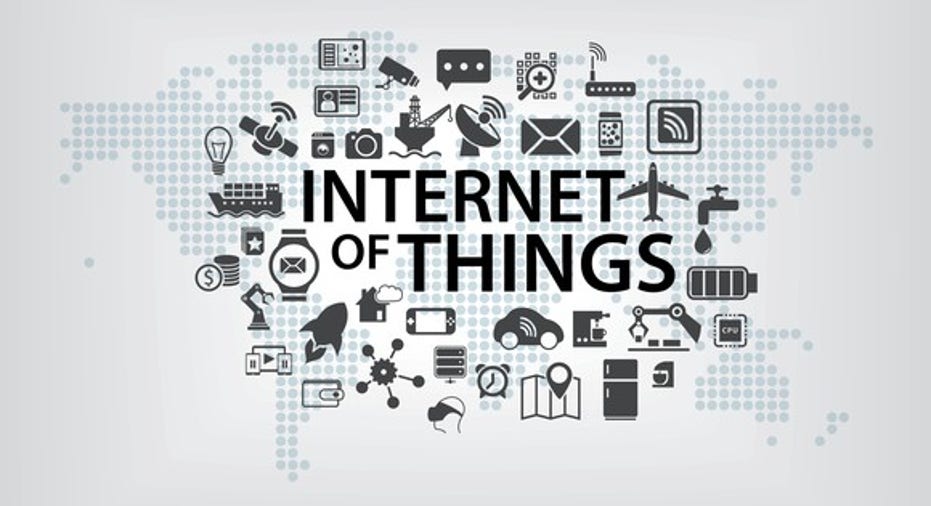 Image source: Getty Images.
Towards the end of 2016,TDK Corporation(NASDAQOTH: TTDKY) struck a deal to acquire InvenSense (NYSE: INVN) for $1.33 billion.The acquisition was made, in part, to boost TDK's Internet of Things (IoT) opportunities, which is now looking like an even smarter move than before, with InvenSense's recent release of new IoT technologies last week.
IoT is expected to be a $7.1 trillion market by 2020, and TDK is hoping to use InvenSense' micro electro-mechanical sensors, or MEMS, to help the company transition from the mobile market to the IoT.
So, here's all the new technology InvenSense just released that could help make that a reality for TDK.
The world's first seven-axis motion sensor
InvenSense said last week that it has started production of the world's first seven-axis motion sensor, called the ICM-20789. The company said the product builds on InvenSense's successful 6-axis motion sensor by adding a new pressure sensor into the mix.
The ICM-20789 will be marketed primarily to the prosumer and smart drone market (part of the broader IoT) to improve flight take-off and landings, as well as improve stability when a drone is in hover mode by implementing accurate elevation control. InvenSense's motion sensors are some of the best in the business, and this new one with a pressure sensor could become the standard for smart drones.
Microphone for home IoT devices
The company debuted a new signal-to-noise (SNR) 74-decibel analog microphone that InvenSense said can be used for in-home and Internet of Things devices. The new mic provides very low noise audio capturing and can be used with beamforming and audio processing algorithms.
Voice commands have become the go-to way to communicate with home IoT devices (think Amazon's Echo and Google Home), so focusing on high-end microphones for these types of devices could help InvenSense -- and eventually TDK -- make more inroads into the IoT component segment.
TheICS-40730 is only available for sampling right now, but InvenSense said it'll enter mass production in the third quarter of this year.
6-axis motion sensor specially tuned for wrist-worn wearables
An important part of the consumer IoT market is wrist-worn wearables, primarily fitness bands and smartwatches.
InvenSense isn't new to the wrist-worn space, but the newly tuned ICM-20648 combines 3-axis gyroscope sensors and 3-axis accelerometer sensors with the company's updated software stack to improve step count and activity classification (walk, run, bike, sitting still) in wrist-worn wearables.
The sensor also incorporates a "Bring-to-See" (B2S) capability much like the Apple Watch's, where power is conserved in the device by having the screen off until a wearer raises her arm to view the device.
The company says adding all of these capabilities into its wearable tech sensor will speed up time-to-market timelines for original equipment manufacturers and will be available in the second quarter of this year.
Continued integration with more IoT platforms
InvenSense announced that its SensorStudio graphical software development tool can now connect to Samsung's Artik IoT platform to make it easier to program sensors and algorithms for IoT devices.
The company said in a press release that, "The integrated Samsung Artik Smart IoT platform provides the fastest path to secure, interoperable, and intelligent IoT products and services."
InvenSense said that SensorStudio and its FireFly ICM-30670 Development Kit are now compatible with Artik, and that the integration "helps our customers transmit their sensors & algorithms outputs faster" with end-to-end security.
Partnerships and compatibility are a big part of the IoT, as many companies have gone in their own direction and set their own standards. With the InvenSense/Samung announcement, InvenSense is signaling to the IoT market that it wants its components to be integrated with platforms designed by other companies.
What all of this means for TDK
TDK already sells some of its sensors, and it said when it made its acquisition bid for InvenSense that, "Sensors are viewed as an important IoT-enabling technology, and TDK envisions greatly expanding this portion of its business and providing a broad range of sensor solutions to its customers."
The company is looking to transition from a smartphone component supplier to an IoT leader, and it called the Internet of Things the "next big technology wave that we will be riding". With the new InvenSense technologies listed above (which will soon become TDK's) and the company's current sensor tech, it appears the company is on the right path to see that plan play out.
10 stocks we like better than InvenSense When investing geniuses David and Tom Gardner have a stock tip, it can pay to listen. After all, the newsletter they have run for over a decade, Motley Fool Stock Advisor, has tripled the market.*
David and Tom just revealed what they believe are the 10 best stocks for investors to buy right now...and InvenSense wasn't one of them! That's right -- they think these 10 stocks are even better buys.
Click here to learn about these picks!
*Stock Advisor returns as of January 4, 2017.
Chris Neiger has no position in any stocks mentioned. The Motley Fool owns shares of and recommends Apple. The Motley Fool owns shares of InvenSense and has the following options: long January 2018 $90 calls on Apple and short January 2018 $95 calls on Apple. The Motley Fool has a disclosure policy.