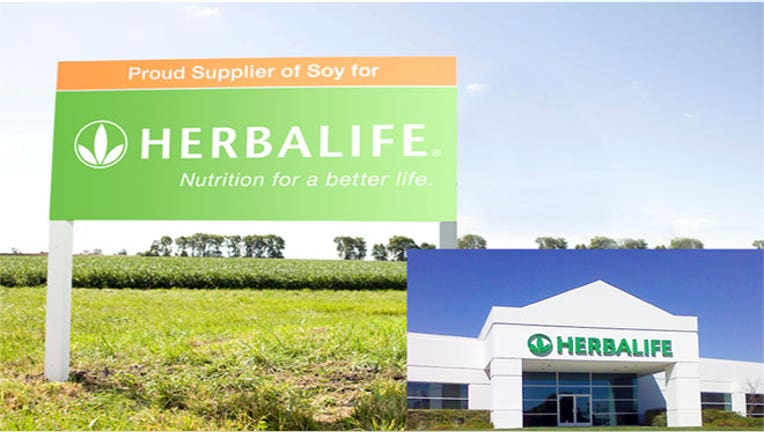 Shares of Herbalife (NYSE:HLF) soared on Monday to their highest level since before Bill Ackman called the nutrition company a pyramid scheme, as Wall Street anticipates positive pre-announced earnings and share buybacks to accelerate.
D.A. Davidson analyst Timothy Ramey told clients in a note on Monday to expect the "Mother of all Short Squeezes" if Herbalife follows through recent moves by announcing a robust repurchase program.
Monday's rally represents the latest rebound for turbulent Herbalife, which has surged an incredible 80% since plummeting to $24.24 on December 24 after Ackman revealed he was shorting the company.
Since then, Herbalife has fought back by trying to debunk some of Ackman's pyramid scheme claims during a high-profile investor day in New York last week.
"Buckle up, it's going to be bumpy."
Herbalife, which is weighing legal action against Ackman, also received a boost from hedge fund manager Daniel Loeb, who disclosed a passive 8.2% stake in the company last week.
Now Wall Street is betting Herbalife will follow that up this week by pre-releasing robust results and announcing a large buyback program that would represent a show of confidence and pressure short sellers.
Even though Pershing Square's Ackman unleashed his assault on Herbalife over three weeks ago, analysts said the company couldn't pressure short sellers with a buyback program due to a blackout period ahead of its February 18 scheduled earnings report.
Bullish investors are hoping Herbalife can get rid of material non-public information through a pre-announcement this week, paving the way for a potential share repurchase announcement.
The company has $950 million in buyback ability remaining under a prior authorization and last month said it expects to exceed a prior forecast to repurchase just $50 million in the upcoming quarters.
"The fact that Q4 earnings are 'material' leads one to believe that HLF may exceed their own guidance," Ramey wrote. Ramey also reiterated his "buy" rating on Herbalife and set a $72 price target, which is 15.8 times his 2013 EPS estimate of $4.55.
Given the public nature of the battle over Herbalife, it seems likely the stock's extreme volatility will continue.
"Buckle up, it's going to be bumpy," Barclays (NYSE:BCS) analyst Brian Wang warned clients in a note on Friday. "Many high-profile investors have taken sides, either long or short, on Herbalife so we expect a war of words to continue in the press."
Wang also expects Herbalife will pre-announce "very strong" results this week, clearing the way for the company to buy back nearly 20% of its stock "which would be materially accretive to earnings."
Citing "attractive valuation metrics," Barclays kept its "overweight" rating on Herbalife but cut its price target to $60 from $89 and warned "the stock is not for the faint of heart."
Barclays warned that Ackman will continue to push his case that Herbalife is a pyramid scheme and the threat of a potential Federal Trade Commission investigation will be an "overhang on the stock for the indefinite future."
Despite that overhang, short sellers, including Ackman, were squeezed once again on Monday as Herbalife soared as much as 9.6%.
Shares of the company were recently up 9.45% to $43.80 -- their highest level since December 18, the day before Ackman confirmed his short position.