Heineken Posts Drop in Earnings, Warns of Weak Markets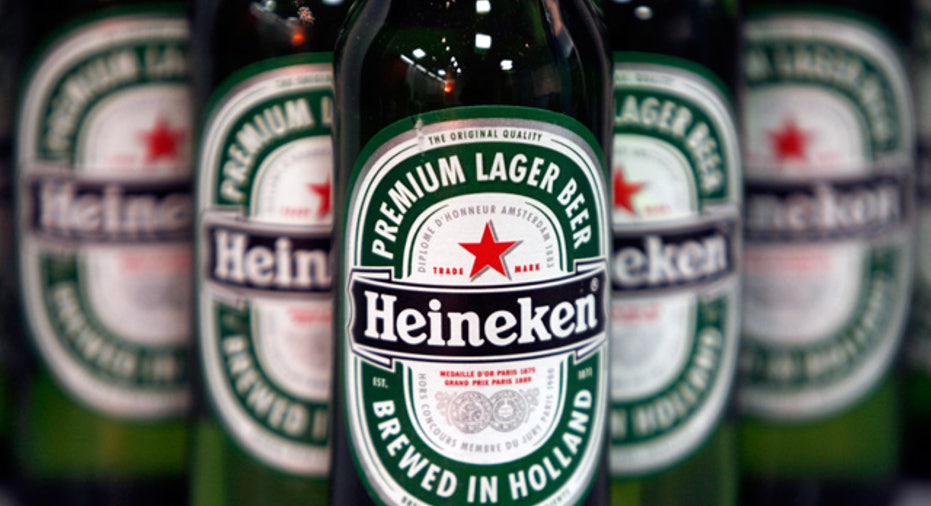 Heineken, the world's third largest brewer, forecast depressed consumer confidence and poor summer weather would hit second-half figures after first-half profit fell short of expectations.
The company's shares were the weakest in the FTSEurofirst 300 index of leading European stocks in initial trading, dropping by as much as 16% to 30.40 euros, their lowest level in 21 months.
"First-half results were below consensus and they say it's going to get worse in the second half ... It's an implicit profit warning of at least 15%," said a brewing analyst who declined to be named.
Europe's largest beer maker, which also dominates in Nigeria and has more than 40% of the Mexican market, said on Wednesday trading conditions remained favorable in Latin America, sub-Saharan Africa and Asia-Pacific, but not in developed markets.
"Volume development in parts of Europe and the USA is expected to remain challenging given the current economic uncertainty, high unemployment and ongoing weak consumer confidence," it said in a statement.
The Dutch brewer said it had already experienced weak beer sales in the normally high-selling season of July and early August due to poor summer weather in Europe and worsening consumer sentiment there and in the United States.
Heineken is the market leader in Greece and Italy and number two in Ireland, Portugal and Spain, countries either bailed out or seen by many in the financial markets as in line for rescue.
The company said this would affect second-half volumes and profit and it now expected full-year net profit before exceptional items and amortization of brands to be broadly in line with last year's level on a like-for-like basis.
Analysts had said they believed Heineken would forecast net profit growth of a mid single-digit to a low double-digit percentage.
In the first half, the comparable net profit figure rose 5.7%, excluding new consolidations and currency effects, to 694 million euros, below the average forecast in a Reuters poll of 746 mln euros.
The company reported first half operating profit of 1.26 billion euros, up 3.9%, compared with analysts' consensus forecast of 1.32 billion euros.
Heineken had said in April it expected higher planned marketing spending to hit profit after the first quarter, particularly across Europe.
It also said it expected a single-digit percentage increase in input costs, much of which are hedged, over the whole of the year. Sharply higher prices for raw materials will probably have a larger impact on brewing costs next year.
Heineken was the last of the big four brewers to report on the period to the end of June.
SABMiller, now seeking to buy Australia's Foster's for $10 billion, was buoyed by the emerging markets of Africa, Asia and Latin America. World number one Anheuser-Busch InBev warned investors of challenges in the United States, where it has about half of the market.
Carlsberg cut its full-year outlook last week as sales in its key Russian market shrank.