Health nominee Price may find that changing HHS isn't easy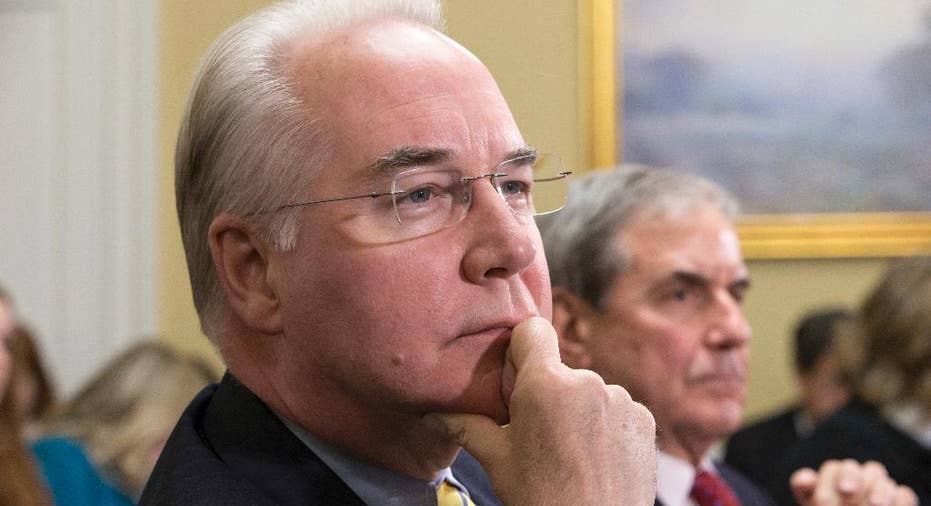 As an orthopedic surgeon, Tom Price is used to calling the shots in the operating room. If confirmed to run the federal Department of Health and Human Services, the doctor-turned-congressman from Georgia may find it a lot harder to exercise authority.
Incoming President Donald Trump's top health official will lead a $1-trillion-plus department that oversees insurance programs like Medicare and Medicaid, futuristic research at the National Institutes of Health, Food and Drug Administration decisions that can make or break companies and front-line public health defenses at the Centers for Disease Control and Prevention.
But almost everything the vast department does is circumscribed by law and regulations, and churned out through layers of bureaucracy not always in full communication with each other. The secretary's sixth-floor office suite in a bunker-like concrete-and-glass building at the foot of Capitol Hill can lull its occupants into a false sense of security. Witness how former Secretary Kathleen Sebelius was caught unprepared by the initial failure of HealthCare.gov's computer system.
Some of the issues and challenges Price would face include:
OBAMA HEALTH CARE LAW
The main "repeal and replace" fight over the 2010 Affordable Care Act will be waged on Capitol Hill. Price would no longer be a protagonist moving legislation through the House, but an adviser and strategist helping the White House and his Republican former colleagues.
He might have greater impact on the fate of "Obamacare" through the department's administrative and regulatory powers. The Obama administration used regulations to clarify ambiguous parts of the health care law, smooth some of its rough edges and maneuver around roadblocks thrown up by congressional Republicans.
One of Price's most important early decisions is what kind of signal he'll send jittery insurers about participating in the health care law's markets in 2018, with bids due during the first half of next year. If the industry gets the message that the markets will not have ongoing government support, a mass exit could complicate the stated intention of GOP leaders to have a smooth transition.
Price could also seek ways to soften the law's requirement that individuals carry health insurance or risk fines. For example, the department might consider a "hardship waiver" in the growing number of communities that only have one insurer.
MEDICARE AND MEDICAID
The ACA covers about 20 million people, but Medicare and traditional Medicaid cover more than 100 million and are politically popular.
As House Budget chairman, Price helped engineer sweeping GOP proposals to overhaul both programs, by privatizing Medicare for future retirees and limiting the amount of federal dollars to cover low-income people through Medicaid. As HHS secretary, those decisions would be above his pay grade, instead belonging to Congress and the president.
"HHS doesn't get to rewrite Medicare," said health economist Gail Wilensky, a longtime GOP adviser.
But regulations would allow Price to put his stamp on both programs.
Medicare is in the midst of revamping the way it pays doctors, changing to a new system under a bipartisan law known as MACRA. The law is meant to reward quality over volume, but as a congressman Price expressed concern that some of the implementing regulations might interfere with the doctor-patient relationship.
Price could also scale back some of the programs emanating from the Center for Medicare and Medicaid Innovation, an ideas shop created under the Obama health care law to re-engineer the programs. There's bipartisan criticism of a proposal by the center to change the way Medicare pays for drugs administered in a doctor's office, including many cancer drugs.
On Medicaid, Price could open the door for GOP-led states to seek changes under the traditional entitlement program, for example, by charging modest premiums and perhaps even requiring that beneficiaries look for work.
Trump's nominee to oversee Medicare and Medicaid — health policy consultant Seema Verma — was a top adviser on Indiana's conservative experiment with Medicaid, as well as assisting other GOP-led states.
E-CIGARETTES AND VAPING
Those hand-held devices that vaporize liquid nicotine could soon come to Price's attention.
The electronic cigarette industry will likely push the incoming Trump administration to undo sweeping regulations its predecessor put in place earlier this year.
Under the current rules, makers of the nicotine-emitting devices must for the first time submit their ingredients for FDA review.
E-cigarettes have not been extensively studied and there's no scientific consensus on whether they help reduce rates of cigarette smoking. But representatives for the emerging industry argue that federal regulations will wipe out hundreds of smaller companies in the space, curtailing use of products that lack the harmful chemicals released when tobacco is burned.
ROLE REVERSAL?
Some Republicans fret that fellow conservatives sent into a bastion of liberal social programs will begin to soften.
Funding is a critical need for the National Institutes of Health and Centers for Disease Control, and the agencies often have compelling stories to tell. The HHS secretary is expected to act as the agencies' advocate in Congress, and Price might even be called upon to press tight-fisted former colleagues for bigger budgets.
But would Price take on that mission, or would he send word back through the bureaucracy for the agencies to pare back their requests?
___
Associated Press writers Lauran Neergaard and Matthew Perrone contributed to this report.