HCP Earnings: The New HCP Is Coming Together Nicely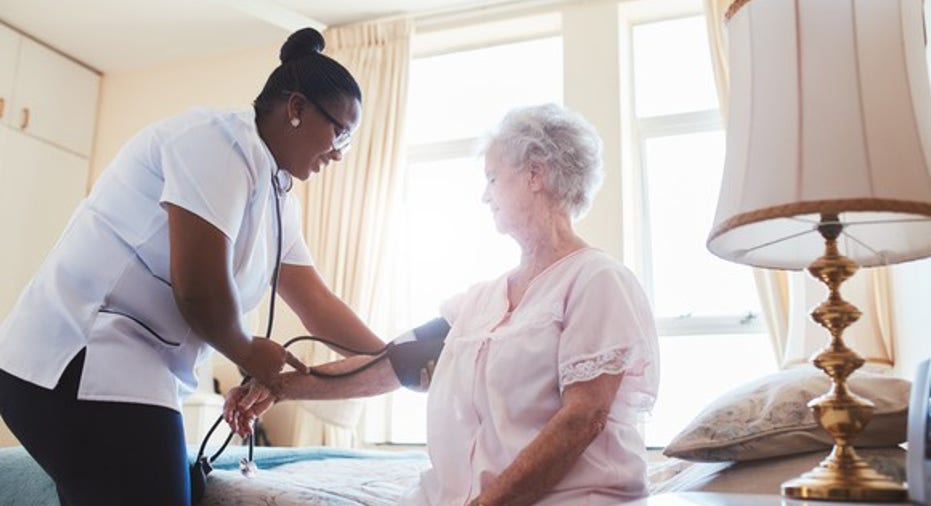 Healthcare REIT HCP, Inc. (NYSE: HCP) reported solid fourth-quarter earnings that exceeded expectations. More significantly, the company reported significant progress toward its goal of becoming a stable, predictable healthcare REIT once again. Here are the highlights of HCP's fourth quarter, and what investors can expect going forward.
The numbers look good
For the fourth quarter, HCP reported funds from operations of $0.59 per share, which was $0.02 better than analyst estimates. FFO for the full year came in at $2.74, which was toward the high end of the $2.69 to $2.75 range the company stated in its third-quarter earnings press release.
Image source: Getty Images.
Excluding the impact of now spun-off Quality Care Properties (NYSE: QCP) before its spinoff was finalized on October 31, the company's FFO was $0.53 for the quarter -- an improvement of $0.02 per share over the fourth quarter of 2015. Year over year, HCP's same-property net operating income grew by 2.4%, a solid growth rate for a healthcare REIT.
In a nutshell, HCP's results for the fourth quarter were solid and not surprising -- the way REIT results should be.
An eventful quarter
Despite the lack of surprises in HCP's numbers, the fourth quarter was anything but boring for HCP and its shareholders. Specifically, HCP executed on some of its plans to transform the company into the stable income-generator its shareholders want it to be.
Most significantly, the long-awaited spinoff of Quality Care Properties, or QCP, was completed on October 31, 2016. You can read a thorough description of the spinoff and the reasoning behind it here, but the short version is that HCP's post-acute/skilled nursing properties had become rather unstable, leading to an unexpected loss at the end of 2015. So, management set in motion plans to spin off those assets into a newly created REIT to pursue value-maximizing strategies for those properties, while leaving HCP with a more stable, high-quality portfolio of properties.
With the proceeds from the spinoff and other asset dispositions, HCP paid off more than $2.1 billion in debt. As part of its strategic plan, HCP aims to de-leverage its balance sheet and regain its higher Baa1/BBB+ credit ratings that it formerly held, and this repayment of debt should go a long way toward achieving that goal.
On the acquisitions side of the business, HCP has already started to acquire more of the types of properties that should deliver predictable, long-term growth. In November, the company agreed to acquire a portfolio of private-pay facilities in the U.K., and in December, the company acquired a 10-property portfolio of medical office buildings.
Progress in reducing the portfolio's tenant concentration
Along with its third-quarter 2016 earnings report, HCP announced that it was taking measures to reduce its dependency on Brookdale Senior Living as a tenant. Post-spin, Brookdale accounted for 35% of HCP's cash net operating income.
HCP completed the sale of its interest in one of its joint ventures during the fourth quarter, generating $480 million in proceeds. And, the previously announced sale of 64 Brookdale-leased communities is on track to close during the first quarter. Furthermore, the company continues to market another 25 Brookdale communities, which it expects to sell by the end of 2017.
What to expect from HCP in 2017
In its first full year without QCP included in its results, HCP expects to generate adjusted FFO in the $1.89-$1.95 range, which would actually be a slight decline from its non-QCP FFO of $2.04 in 2016. Don't be alarmed, though -- HCP has disposed of, or plans to dispose of, a substantial number of other assets as well, such as the Brookdale properties discussed earlier, so a lower FFO target is to be expected.
As far as dividends go, HCP has announced a $0.37 dividend to be paid to shareholders in March 2017, which was lowered from $0.575 in the wake of the spinoff. While there's no guarantee of a future dividend increase, I'd be surprised if HCP didn't increase its dividend in 2017, especially if all of its business activities go according to plan.
For one thing, based on the target FFO range, the current dividend represents a payout ratio of just 77%, rather low for a REIT. Also, prior to the spinoff, HCP had increased its dividend for 31 consecutive years. The company prides itself on continuously increasing income, and I'd be willing to bet that won't change anytime soon.
In a nutshell, I expect 2017 will be the year HCP gets back to doing what it does best -- investing in high-quality healthcare properties, growing responsibly, and generating a predictable and increasing income stream for shareholders.
10 stocks we like better than HCPWhen investing geniuses David and Tom Gardner have a stock tip, it can pay to listen. After all, the newsletter they have run for over a decade, Motley Fool Stock Advisor, has tripled the market.*
David and Tom just revealed what they believe are the 10 best stocks for investors to buy right now...and HCP wasn't one of them! That's right -- they think these 10 stocks are even better buys.
Click here to learn about these picks!
*Stock Advisor returns as of February 6, 2017.
Matthew Frankel owns shares of HCP and Quality Care Properties, Inc. The Motley Fool has no position in any of the stocks mentioned. The Motley Fool has a disclosure policy.