Hawaii scrambles to keep train project from going off rails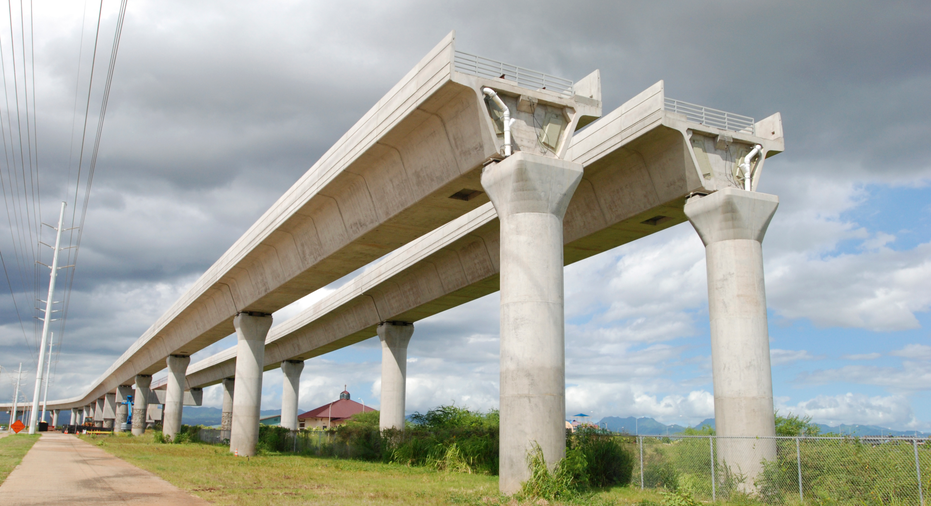 Train tracks supported by concrete pillars snake through Oahu neighborhoods and across its lush scenery, ending abruptly in an empty, overgrown field. They're part of a planned $9.5 billion rail transit project - one of the most expensive per capita in the United States.
But the commuter line, in the works in and around Honolulu for more than a decade, is less than halfway complete and facing a budget shortfall of up to $3 billion. If lawmakers don't agree on how to fill it, the giant columns could end up as nothing more than expensive eyesores.
Hawaii lawmakers are convening in a special session Monday after failing to plug the funding gap earlier this year.
Legislative leaders have tentatively agreed to a bill, but whether it will pass is unclear. If no solution is found by Sept. 15, the federal government could demand that Honolulu return more than $800 million it has already spent and withhold the rest of a promised $1.5 billion funding package.
Experts say U.S. rail projects often run over budget, but Hawaii's situation is among the worst they've seen.
"Right now it's probably a race between California and Hawaii of who's going to get their projects built or have the biggest boondoggle in the country," said Keith Millhouse, a transportation consultant and national expert on mass transit issues, referring to a $64 billion bullet train planned between Los Angeles and San Francisco. Both projects have faced funding issues and lawsuits.
But the Honolulu project stands out because of spiraling costs that have pushed its price tag to nearly $10,000 per person, thousands more than other U.S. rail lines. The proposed 20-mile (32-kilometer) route stretches from suburbs west of Honolulu into downtown and stops short of the tourist mecca Waikiki.
Transit experts around the country say the project makes no sense given Honolulu's size and the fact that materials must be shipped to the island state. They warn spending so much on rail could divert funding from other sources, including buses, which could limit schedules and lose riders.
"The capital cost is way too high, and the expected ridership is way too low," said Dan Chatman, associate professor of city and regional planning at the University of California, Berkeley. "It's pretty simple."
Yet the rail line has its ardent supporters, who say it's a matter of fairness to Oahu's sprawling west side.
That part of the island - with its fast-growing suburbs, affordable homes and a rural stretch that is home to many Native Hawaiians - has lower incomes than other parts of the island and has only one route in and out. Residents there deserve an alternative route to Honolulu to save them from crushing traffic that consistently rates among the nation's worst, the supporters say.
On the island's wealthier windward side, three highways connect residents to urban Honolulu.
"It's a social justice issue," said Howard Garval, president and CEO of the nonprofit Child and Family Service. "You have to get the kids up at an ungodly hour just to get into town early enough, and they're sleeping in their car or having breakfast in their car before school opens, and that's sad to me."
Critics counter the rail line would do little to help. By 2030, Oahu traffic is expected to increase 24 percent from 2007 conditions, an estimate that falls just 2 percentage points if the rail line is built.
"The reason people supported rail is because they could get some relief, and that's not the case," former Hawaii Gov. Ben Cayetano said.
Experts also question the ridership estimate of 119,600 trips per day. That's nearly twice the ridership per kilometer of Miami's heavy rail - a metropolitan area five times the size of Honolulu - and a little higher than that of Atlanta, which has a population six times the size of Honolulu, according to Erick Guerra, assistant professor of city and regional planning at the University of Pennsylvania.
The issue has upended Hawaii politics, impacting campaigns and diverting lawmakers' attention from pressing issues such as Honolulu's homelessness crisis. Cayetano, who has pushed for bus rapid transit instead of rail for decades, placed an ad in the Washington Post in April asking the federal government to stop funding Hawaii's rail project.
City and rail officials say lawsuits delayed the project, driving up the price because rail officials couldn't execute new contracts in 2012, when construction costs started rising.
State lawmakers say their trust of city officials deteriorated when they didn't get adequate information from Honolulu Mayor Kirk Caldwell - who was pushing for an extension of the general excise tax - about why costs climbed so rapidly. The general excise tax, currently about 4.5 percent on Oahu, is essentially a business income tax that's often passed on to customers.
"He owes it to the public to justify what specific things led to the cost overruns," House Finance Chairwoman Sylvia Luke said.
Cost estimates could increase further as the rail project heads into Honolulu's urban core, where utility lines must be relocated and where crews unearthed bone fragments indicating construction could disrupt Hawaiian burial grounds.
Caldwell declined to be interviewed through a spokesman who said the mayor heard from state lawmakers that they didn't appreciate his taking his concerns to the media. However, in a letter to lawmakers Thursday, Caldwell said the tax increases proposed in the measure to be taken up Monday are not enough to close the funding gap.
A bill to find a tax solution became a bargaining chip during the legislative session earlier this year, and was pushed to the final day - with representatives arguing the state should tax tourists, not residents, to fund rail - before it died. In the aftermath, a state senator lost her committee chairmanship, and former House Speaker Joe Souki was pressured to resign his leadership post.
Caldwell has noted thousands of Waikiki hotel workers commute into town every day, riding the bus or sitting in traffic for more than two hours each way, and said they deserve a better quality of life.
Others tout the development of affordable housing, restaurants and businesses already emerging around planned rail stations.
"This is not a money-making project," said Krishniah Murthy, the project's interim executive director. "You are creating the future of this island, how the island grows in a very sustainable way and keeps the quality of life that everybody's looking for."
___
Follow Cathy Bussewitz on Twitter: https://twitter.com/cbussewitz