Having Indigestion? Don't Fret Over Fast Food's Mixed 2Q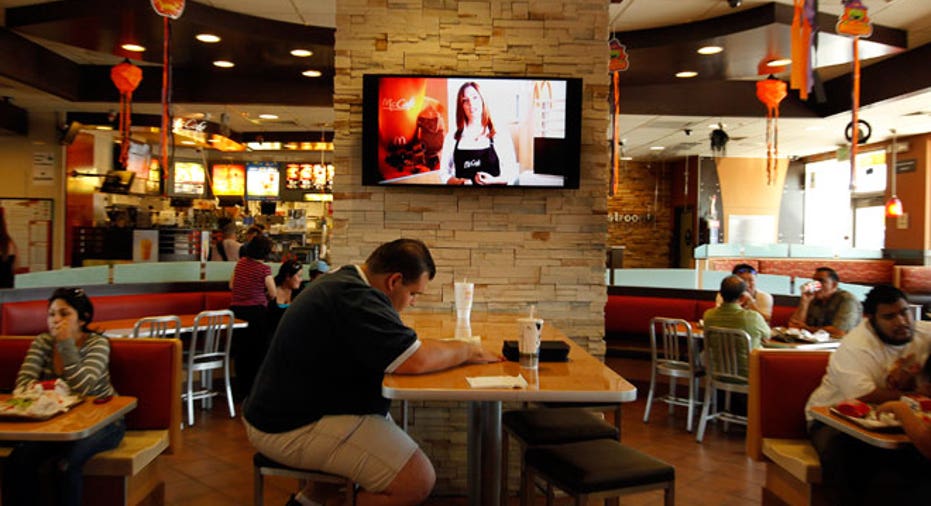 A cautious outlook by McDonald's and a second-quarter disappointment have weighed down the stock market and ignited fears of a stalling economic recovery, but analysts say it's not much to worry about.
Shares of the Oak Brook, Ill.-based fast-food chain closed down 2.7% Monday and were down another 1% on Tuesday after the company reported weak earnings and warned the informal eating-out market remains "challenged" as economic uncertainty pressures consumer spending.
"While our consolidated results this quarter were positive, global comparable sales for July are expected to be relatively flat," McDonald's CEO Don Thompson said.
However, analysts for the most part aren't concerned and say it is too soon to tell whether McDonald's, the largest restaurant chain to report so far, signals a weakening economic recovery or just temporary headaches.
"That's what we're waiting to see," said Dan Greenhaus, BTIG chief global strategist. "We'll have to wait for some more" to report.
While KFC and Taco Bell parent Yum Brands (NASDAQ:YUM) also suffered disappointing earnings last quarter (both Yum and McDonald's have very large footprints in China), other chains have topped expectations.
Wendy's (NYSE:WEN) on Tuesday revealed stronger-than-expected second-quarter earnings in a preliminary report and said it would sell 425 stores to franchise owners, sending its shares 8% higher. Denver, Colo.-based Chipotle Mexican Grill (NYSE:CMG) posted a stronger-than-expected 18% improvement in revenues last week and raised its same-store outlook.
"Their report was received much more warmly by investors," Greenhaus said,  referring to Chipotle.
Partly to blame for McDonald's decline was steep discounting by some of its biggest competitors in an effort to attract consumers still cautious to spend, costing the "Big Mac" giant some U.S. customers to Burger King (NYSE:BKW) and Wendy's.
The Golden Arches also suffered from China's weakening consumer market and an avian influenza there, leading to an APMEA same-store sales decline of 0.3%.
"The consumer in China is weaker and that's translating to food spending," said Christine Short, associate director at S&P Capital IQ.
However, those may be temporary headaches exclusive to McDonald's and Yum.  Sterne Agee analyst Jack Russo seemed pretty optimistic the flu and other factors would fade into the background as the year progresses. He also pointed to strong economic data in the U.S., which has indicated a robust – not stalling – recovery.
"The second half could be a grind but I think these guys are pretty well positioned," he said.
Changing Tastes
Whether discretionary spending is on the fritz or not, one thing for certain is fast-food chains are finally starting to realize on a mass scale the importance of meeting the healthier demands of consumers.
"Consumer preference is quite healthy," Short said. "That's translating to consumers wanting healthier food products and pushing them away from traditional fast food. [Fast-food chains] are starting to realize consumers want to have those healthier options."
McDonald's has been transitioning over the last few years, introducing a slew of healthier menu items, including oatmeal for breakfast and the choice of fresh fruit instead of fries in Happy Meals.
Taco Bell, the fast-food chain known for its Doritos Locos Tacos, became on Tuesday the first chain to completely eliminate kids meals, instead choosing to dedicate its resources on Millennials.
"As we continue our journey of being a better, more relevant Taco Bell, kid's meals and toys simply no longer make sense for us to put resources behind," Taco Bell CEO Greg Creed said in a statement.
Taco Bell says pioneering the change on its menu is a "bold move" for the industry.