Hasbro Earnings Signal Game-On for 2017, As Stock Pops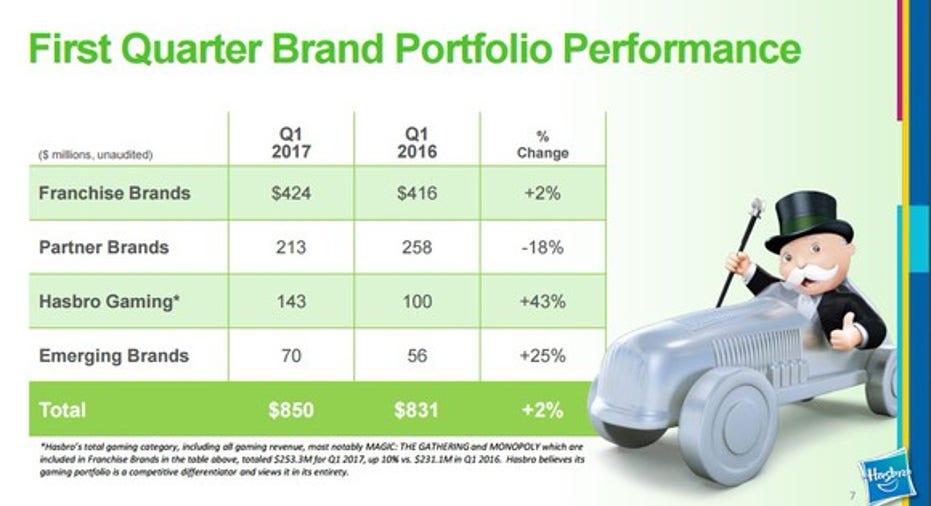 ToymakerHasbro(NASDAQ: HAS)delighted investors once again when it reported first-quarter 2017 earnings before the market opened on Monday. Revenue grew 2.2%, and adjusted earnings per share increased 13.2% from the year-ago period.
Results were stronger than these numbers suggest, as the first quarter of 2016 provided a tough comparable, largely because of sales of toys based onDisney's(NYSE: DIS)Star Wars: The Force Awakens, released before the 2015 holiday season. Growth in the current quarter was driven by the games category.
The market propelled Hasbro shares to a closing gain of 5.9% on Monday, as results were probably more robust than most investors had expected. Hasbro stock has returned 31.6% in 2017, through Monday, trouncing the market's 6.7% return. Shares of rival Mattel (NASDAQ: MAT)-- which reported disappointing first-quarter results last week -- have returned a negative-20.4% during this period.
Hasbro's key quarterly numbers
| Metric | Q1 2017 Result | Year-Over-Year Change |
| --- | --- | --- |
| Revenue | $849.7 million | 2.2% |
| Net income | $68.6 million | 40.6% |
| Earnings per share | $0.54 | 42.1% |
| Adjusted EPS | $0.43 | 13.2% |
Data source: Hasbro.
Reported earnings include an EPS benefit of $0.11 compared with the year-ago period stemming from an accounting rule related to employee stock shares. The adjusted earnings comparison strips this benefit out.
There are two main additional factors that affect year-over-year comparability: the differences in the length of the quarter and currency effects. The reported quarter included 14 weeks, while the year-ago period had 13 weeks. Given the timing of the week, it added another week of expense but didn't contribute a comparable level of revenue, according to Hasbro. On a positive note, revenue got a $3 million boost from the impact of favorableforeign exchange.
For some context -- though long-term investors shouldn't focus much on much Wall Street's near-term estimates analysts were expecting adjusted EPS of $0.38 on revenue of $827.3 million, so Hasbro breezed by both estimates.
Image source: Hasbro.
Category and segment results
Hasbro rolled out its new categories for reporting revenue this quarter, as shown in the following chart. Previous categories were boys, girls, games, and preschool. Hasbro gaming and emerging brands were the growth drivers, showing powerful year-over-year revenue growth of 43% and 25%, respectively.
The caption in the image reads: "Hasbro's total gaming category, including all gaming revenue, most notably MAGIC: THE GATHERING and MONOPOLY which are included in Franchise Brands in the table above, totaled $253.3M for Q1 2017, up 10% vs. $231.1M in Q1 2016. Hasbro believes its gaming portfolio is a competitive differentiator and views it in its entirety." Image source: Hasbro.
Gaming showed broad-based strength across new games, classic games, and digital games. Revenue in Hasbro's total gaming category -- which includes games that are categorized in the franchise brand category -- was up 10% year over year. Growth drivers included digital gaming; severalnew games, including Speak Out, Toilet Trouble, and Fantastic Gymnasium; and several other games, including Dungeons & Dragons, Bop-It, and Pie Face, the latter of which is a relatively new brand.
Emerging brand growth was driven by Baby Alive and Furreal Friends.
The franchise brand category held its own, with revenue up 2% from the year-ago period, driven by Nerf, Monopoly, and Transformers. Franchise brands are Hasbro'skey internal brands.
Partner brand revenue declined 18%, which wasn't unexpected. Performance in this category was better than it seems, as the year-ago period was particularly strong because ofThe Force Awakenstoy sales. DreamWorks' Trolls and Beyblade growth helped offset declines in Star Wars and Marvel, though the latter two partner brands should get a boost from movie releases later this year.
Hasbro's segment reporting system remains the same. Revenue in theU.S. and Canada segment was up 2% year over year, the international segment was flat, and entertainment and licensing segment revenue jumped 24%.
Looking ahead
Hasbro kicked off 2017 with robust results in the quarter.Catalysts for growth in the second quarter include the releases of powerful partner Disney'sGuardians of the Galaxy Vol. 2and Transformers: The Last Knight. Disney'sSpider-Man: Homecomingshould boost toy sales in the third quarter, while the releases of Disney'sThor: Ragnarok,My Little Pony: The Movie,and Disney'sStar Wars: The Last Jedi should help power toy sales in the big fourth, or holiday, quarter.
Notably, Hasbro's revenue in the first quarter of $849.7 million trumped the $735.6 million Mattel pulled in during the quarter. Hasbro has long been the smaller of the two big toymakers. This was the first quarter since 2000 that Hasbro's revenue exceed Mattel's, according to The Wall Street Journal.
10 stocks we like better than HasbroWhen investing geniuses David and Tom Gardner have a stock tip, it can pay to listen. After all, the newsletter they have run for over a decade, Motley Fool Stock Advisor, has tripled the market.*
David and Tom just revealed what they believe are the 10 best stocks for investors to buy right now... and Hasbro wasn't one of them! That's right -- they think these 10 stocks are even better buys.
Click here to learn about these picks!
*Stock Advisor returns as of April 3, 2017
n
Beth McKenna has no position in any stocks mentioned. The Motley Fool owns shares of and recommends Hasbro and Walt Disney. The Motley Fool has a disclosure policy.