Has Virgin America Finally Figured Out Love Field?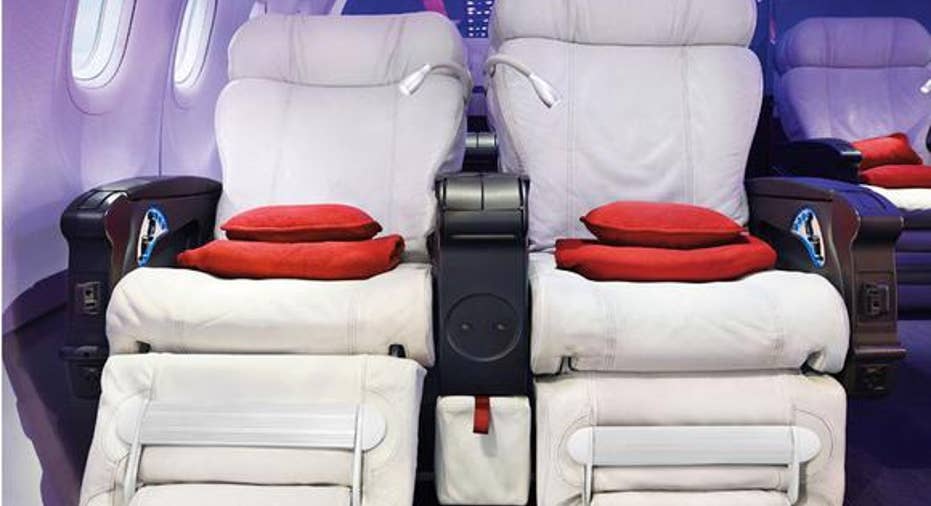 In late 2014, Virgin America began flying to Love Field, the closest airport to downtown Dallas. Virgin America executives had high hopes for the new service, expecting it to produce above-average profit margins from day 1.
Virgin America began a small "focus city" operation in Dallas in late 2014. Image source: Virgin America.
The reality didn't live up to the hype in 2015. At the same time as Virgin America began flying to Love Field, the airport's dominant carrier -- Southwest Airlines -- embarked on its own major expansion there, sparking a big price war in the greater Dallas air travel market.
This led to huge year-over-year unit revenue declines for Virgin America in Dallas last year, dropping 19% in Q1, 17% in Q2, and 19% in Q3. Fortunately, 2016 is shaping up to be a much better year for Virgin America in Dallas.
Retooling its Dallas route networkOne factor that should improve Virgin America's performance in Dallas next year is a recent route swap. Since October 2014, it has flown from Love Field to San Francisco, Los Angeles, New York, and Washington, D.C.
Originally, Virgin America had planned to add Chicago as a fifth destination in 2015. Instead, it opted to launch flights from Dallas to Austin, which began in late April. Management hoped that offering low fares would stimulate demand growth in that market. However, this demand growth never materialized, leading to poor results for the Dallas-Austin route.
Virgin America's swanky amenities are more valuable on long-haul flights. Image source: Virgin America.
As a result, Virgin America pulled out of the Dallas-Austin market at the end of November. Instead, it began operating two daily flights between Dallas and Las Vegas on Dec. 1. This is a more promising market, as Virgin America is already quite successful in Las Vegas and its upscale amenities are more valuable on longer flights.
While he didn't provide a specific forecast, Virgin America CEO David Cush told analysts in late 2015 that this route change would likely provide a significant boost to profitability.
Others are following suitA big reason for Virgin America's poor results in Dallas during 2015 was that Southwest Airlines was adding a slew of long-haul flights at Love Field at the same time.
Virgin America's strong foothold in San Francisco and Los Angeles shielded it somewhat from Southwest's onslaught on those routes. It doesn't have a privileged position in New York or Washington, D.C., though. With Southwest Airlines adding lots of capacity on those routes, too, Virgin America had to offer extremely low fares to fill its planes.
Southwest Airlines CEO Gary Kelly has contended that the carrier's Love Field expansion has been extremely profitable despite the low fares prevailing in many markets from Dallas. Nevertheless, he has admitted a need for some "fine-tuning."
Southwest Airlines added too much capacity on a few routes from Dallas last year. Image source: The Motley Fool.
This has involved significant capacity reductions on the routes from Dallas to New York's LaGuardia Airport and Washington D.C.'s Reagan National Airport. Southwest's capacity in those two markets is currently down year over year by 29% and 41%, respectively, according to CAPA.
Looking for a unit revenue revivalVirgin America's decision to drop its Dallas-Austin flights in favor of Dallas-Las Vegas flights and Southwest Airlines' capacity cutbacks on two key routes from Dallas will both bolster unit revenue for Virgin America. Eliminating the short-haul Austin flights will also reduce unit costs.
Virgin America will also face very easy unit revenue comparisons in Dallas during 2016 because its 2015 results there were so terrible. As a result, the chic discount carrier could potentially experience double-digit unit revenue growth in Dallas as soon as Q1. That should provide a nice lift to its overall results this year.
The article Has Virgin America Finally Figured Out Love Field? originally appeared on Fool.com.
Adam Levine-Weinberg owns shares of Virgin America. The Motley Fool recommends Virgin America. Try any of our Foolish newsletter services free for 30 days. We Fools may not all hold the same opinions, but we all believe that considering a diverse range of insights makes us better investors. The Motley Fool has a disclosure policy.
Copyright 1995 - 2016 The Motley Fool, LLC. All rights reserved. The Motley Fool has a disclosure policy.