Harvey shuts down America's largest gasoline pipeline, but don't panic just yet
Gasoline prices climbed to new highs Thursday, as the nation's largest pipeline shut down due to Hurricane Harvey and raised concerns over potential shortages at East Coast stations.
But drivers don't need to panic just yet.
What some analysts considered to be a worst-case scenario materialized late Wednesday, when Colonial Pipeline said its system would be out of commission until refineries are able to reactivate production. Colonial's pipeline, which stretches from Houston to Linden, New Jersey, near New York Harbor, is capable of transporting about 3 million barrels per day of gasoline, diesel and other fuels to southeast and mid-Atlantic markets. With the Colonial pipeline down, some gas stations could soon be tapped out.
The Colonial shutdown is unlikely to cause any widespread shortages on its own, according to GasBuddy. Rather, motorists often rush to the pump whenever there's talk of a future shortage, thus exacerbating supply constraints.
"People hear about gas shortages, and they flip out. Those panic reactions are going to cost motorists more money," Patrick DeHaan, senior petroleum analyst at GasBuddy, told FOX Business.
Gas prices have marched higher throughout the week, reaching levels not seen in two years. The national average for retail prices hit $2.468 per gallon Thursday afternoon, based on GasBuddy's live ticking average. That's up more than 2 cents since the previous day and 11.6 cents since last week. U.S. gasoline futures spiked 14% to $2.163 per gallon in recent trading.
GasBuddy estimates an overall Harvey impact of 20 to 30 cents per gallon to the national average, up from an earlier projection of 15 to 25 cents. The Colonial shutdown may cause more of a ripple effect and spark higher price increases in some areas, DeHaan said. The national average is on pace to top $2.50 per gallon, coinciding with the busy Labor Day travel period.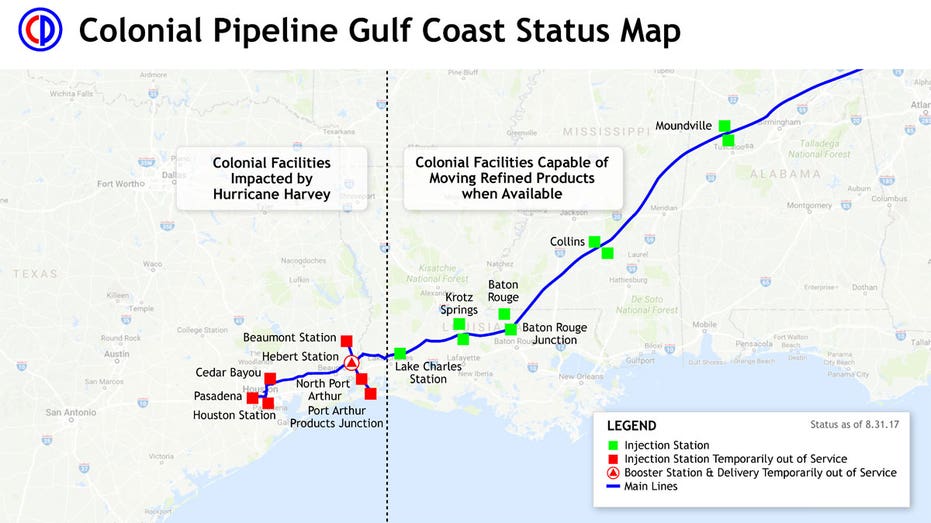 The price surge reflects the market's anticipation that supplies will start to run low as long as the Colonial pipeline is shut down. Colonial said Thursday it estimates that service from Houston will resume Sunday. Until then, deliveries will be intermittent and dependent upon supplies from refineries and storage terminals. Fuel from Colonial will first dry up along the pipeline's southern points, followed by markets further north.
The energy situation during Harvey differs from Hurricane Katrina, when the Colonial pipeline was forced to temporarily close from power outages. Colonial said Line 1 of its pipeline, which carries gasoline, and Line 2, which mainly handles diesel and jet fuel, can return to action east of Lake Charles, Louisiana, as soon as refineries recover. Colonial said of the 26 refineries that connect to its system, 13 are located in the Houston area, which has experience massive flooding.
Phil Flynn, Price Futures Group senior market analyst and FOX Business Network contributor, said the East Coast could be in "big trouble" and run into fuel shortages if the Gulf Coast's refining woes linger.
"I think it's a possibility, especially if we can't get these refineries back online," Flynn said during an interview on "Mornings with Maria," adding that Colonial's supply is "not going to be easily replaced."
The region will turn to European imports for help, but it takes about 10 days for new fuel shipments to arrive. The Port of Houston, which remained closed Thursday, can also provide some relief when it reopens.