Harley-Davidson Plots Full-Scale Assault on the Motorcycle Market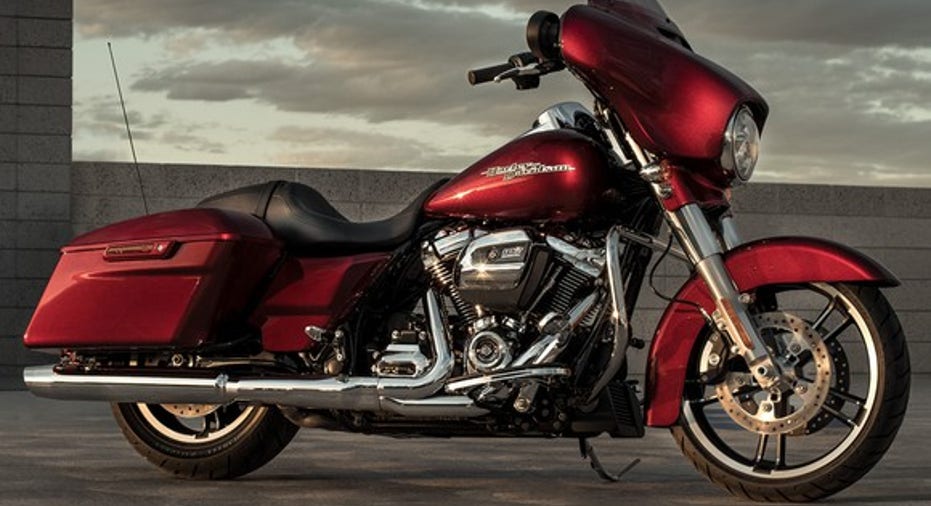 Harley-Davidson (NYSE: HOG) shipped only 262,000 motorcycles to its dealers in 2016, falling at least 2,000 short of its goal of shipping between 264,000 and 269,000 bikes last year. In dollars and cents, Harley's $6 billion in annual revenue basically flatlined versus 2015, and profits declined 8%.
Did those numbers look bad? Yes, they did. But despite what the numbers seem to say, this may not be a bad thing.
Meet the models: The 2017 Street Glide Special. Image source: Harley-Davidson.
Bad news, good news
As CFO John Olinexplained it in a post-earnings conference call back in January, Harley had a sense that motorcycle dealers "had too many 2016 motorcycles in retail inventory" at the end of last year. By "limiting model year 2017 motorcycle shipments" in the year's final quarter, Harley gave dealers breathing room "to focus on selling model year 2016 inventory."
Now admittedly, curtailing shipments of 2017 model-year bikes probably had an impact on sales in the final quarter of the year. But this was both an intentional and a beneficial move, designed to help dealers clear out stale inventory -- and create room on dealer floors for new models.
And boy, are there ever going to be a lot of them.
50 bikes in five years
According to Harley, the company plans to introduce 50 new motorcycle models over the next five years. The hope is that with less old inventory to compete with, the new models will sell pretty well -- perhaps well enough to extend a streak of growing unit sales that finally resumed in Q4 of last year.
How big of a deal is it for Harley to be introducing 50 new models? To put it in context, consider this: Fifty models in five years averages out to 10 new models being introduced per year. Ten new models a year, every year, for five straight years. But is that a lot, or a little?
Well, in 2014, Harley announced the introduction of eight new models. At the time, newspapers called this "the largest new model launch in Harley's history." But now Harley is going to beat that 2014 record by 25% -- and keep on beating it for five straight years. That sounds like kind of a big deal to me...
Valuing Harley-Davidson stock
And yet, analysts don't seem to have twigged to the potential growth this could mean for Harley-Davidson. According to data from Yahoo! Finance, 90 days ago analysts were projecting $4.22 per share in profits for Harley this fiscal year, and $4.53 per share in 2018. That was before the "50 models in five years" promise came out. Yet two months after Harley made its astounding announcement, analysts now predict that Harley will earn... $3.85 this year, and $4.23 the year following.
In other words, their projections for Harley-Davidson's profit went down, not up.
What's more, analysts continue to project that over the next five years,Harley-Davidson will grow its profits at less than 10% annualized, despite vastly increasing its offerings to new and existing motorcycle buyers, and despite plans to open 200 new dealerships outside the U.S. from 2016 to 2020.
Now admittedly, if you take the analysts' predictions at face value, Harley-Davidson stock may not look like much of a bargain at nearly 16 times earnings on a sub-10% growth rate. Up the growth rate by a few percentage points, though, to account for the rapid rise in new model availability and greater sales reach, and then factor in the company's generous 2.4% dividend yield, and Harley stock starts to look a bit more reasonably priced. Value the stock on its free cash flow ($918 million last year) instead of on its GAAP earnings ($692 million), and the stock looks even more attractive.
The fact is, at a price-to-free cash flow ratio of just 11.5, Harley stock could be perfectly buyable at analysts' projected 9.3% growth and 2.4% dividend yield. If you believe, as I do, that ramping up new model growth by 25% will help Harley grow faster than 10%, the stock could be downright cheap.
10 stocks we like better than Harley-DavidsonWhen investing geniuses David and Tom Gardner have a stock tip, it can pay to listen. After all, the newsletter they have run for over a decade, Motley Fool Stock Advisor, has tripled the market.*
David and Tom just revealed what they believe are the 10 best stocks for investors to buy right now... and Harley-Davidson wasn't one of them! That's right -- they think these 10 stocks are even better buys.
Click here to learn about these picks!
*Stock Advisor returns as of February 6, 2017
Rich Smith has no position in any stocks mentioned. The Motley Fool has no position in any of the stocks mentioned. The Motley Fool has a disclosure policy.