Hard Rock still (distantly) eyes New Jersey casino near NYC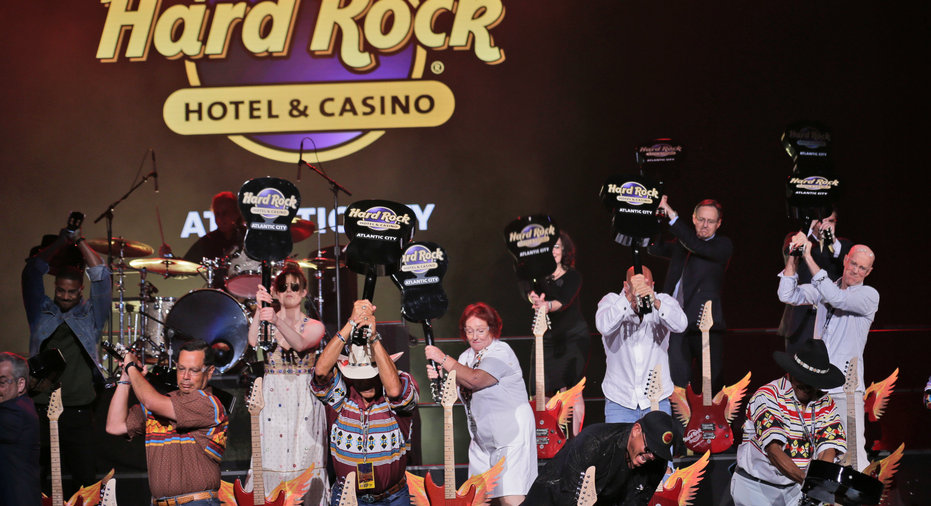 Even after spending a half-billion dollars on an Atlantic City casino, Hard Rock still hopes to build one in northern New Jersey near New York City one day.
Hard Rock CEO Jim Allen said the company has made significant investments of money and time preparing for casino gambling at the Meadowlands Racetrack in East Rutherford.
"We have an ownership in the Meadowlands, and we have an exclusive right to operate the (casino) gaming operation there," he said.
A proposal to allow that was resoundingly defeated by voters in 2016. But Allen said the company has not dropped the idea.
Speaking Thursday at the opening of Hard Rock's new casino at what used to be the Trump Taj Mahal, Allen said every study projects a casino at the Meadowlands would do well, with 14 million people living within 50 miles of it.
"Yes, we would certainly be interested," he said Thursday.
An Associated Press analysis of the Meadowlands casino proposal in 2016 found it could be among the most successful in the country — at least until a casino is opened in New York City itself, if that ever happens.
Jeff Gural, who operates the Meadowlands track, estimates a Meadowlands casino would take in $800 million to $900 million a year from gamblers, ranking it among the most successful in the nation. Some analysts think a Meadowlands casino could exceed $1 billion in annual revenue, at least before it has a nearby competitor in northern New Jersey.
And since that time, the U.S. Supreme Court cleared the way for all 50 states to legalize sports betting, which New Jersey quickly did. The Meadowlands plans to start taking sports bets on July 15.
Allen's comments Thursday echoed those he made right after the statewide referendum was defeated by roughly 80 percent to 20 percent. But key details about the project were never spelled out, including precisely where the casinos would go and the rate at which they would be taxed.
And at least for now, there remains little appetite among the state's Democratic-controlled Legislature to try again for another public vote on casino expansion. New Jersey's constitution restricts casino gambling to Atlantic City; changing that would require a constitutional amendment.
New Jersey Senate President Steve Sweeney told the AP in December that casino expansion is on the back burner, at best.
"I don't see it anytime soon, if ever," he said at the time. "I don't see any way where it comes back; it was crushed."
Sweeney said he can't guarantee a future state Senate president won't try to revive a public vote.
"I just don't see it reasonably coming back and making sense," he said.
Sweeney reiterated that stance on Friday.
Hard Rock was one of two shuttered Atlantic City casinos that sprang back to life Thursday. The former Revel casino, which closed in Sept. 2014, reopened as the Ocean Resort Casino.
The Trump Taj Mahal closed in October 2016, and Hard Rock bought it from former owner Carl Icahn in March 2017. While reiterating his company's long-term plan of developing a Meadowlands casino, Allen said it is committed to making its Atlantic City property a success.
"If that (Meadowlands casino) looks like it's going to happen, we will certainly not forget about the half-billion dollars we have invested in this building," he said.
___
Follow Wayne Parry at http://twitter.com/WayneParryAC