Hail and Rail Dent Berkshire Hathaway Inc. Earnings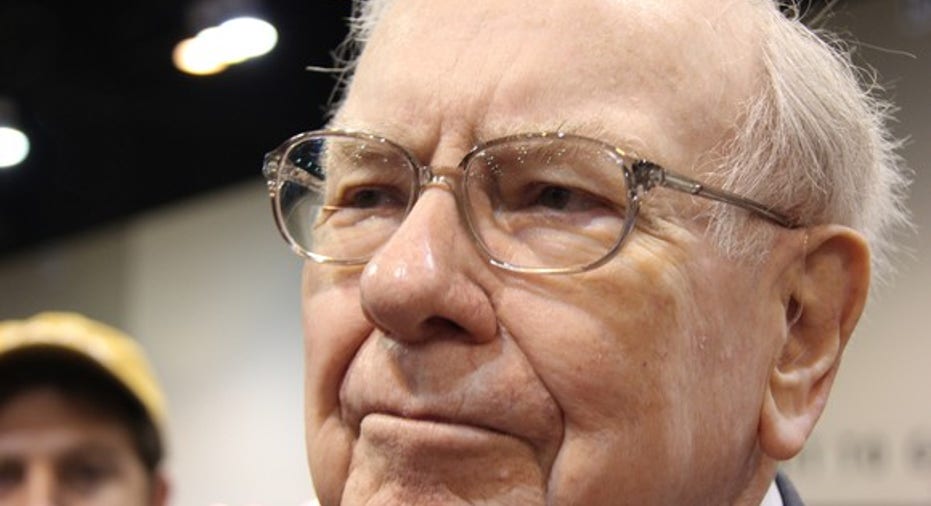 Image source: Fool Flickr.
Warren Buffett's masterpiece -- insurance titan and mega-conglomerate Berkshire Hathaway -- reported first-quarter financial results on May 6. Here are some of the key takeaways.
Insurance operationsUnderwriting profits fell 56% to $213 million in the first quarter, as solid results at Geico were more than offset by losses in Berkshire's reinsurance business. Geico wrote 11.5% more in premiums compared with the year-ago period, and the crown jewel of Berkshire's insurance subsidiaries delivered $264 million in pre-tax underwriting gains, a 65% year-over-year improvement. However, Berkshire Hathaway Reinsurance Group delivered a loss of $79 million versus a gain of $459 million in Q1 2015. And insurance segment profits were further dinged by losses related to hail storms in Texas.
Railroad, utilities, and energyBerkshire's Burlington Northern Santa Fe railroad business also reported sharply lower profits driven by falling demand for the transport of coal and crude-oil-related products. Shipping volume fell 5.5%, which contributed to a 15% decrease in revenue, to $4.8 billion, and a 25% decline in pre-tax earnings to $1.3 billion.
Unfortunately, these trends may persist for some time, with low oil prices and the shift in electricity generation toward natural gas and away from coal likely to negatively affect volumes in the quarters ahead.
"Railroad earnings are down significantly and railroad car loadings throughout the industry," said Buffett during Berkshire's annual meeting. "All of the major railroads were down significantly in the first quarter and probably will continue to be down -- almost certainly will continue to be down -- the balance of the year."
One area where Berkshire did see rising profits is in its utilities and energy segment, although the increase was mostly due to lower interest and tax expenses. Net earnings in this segment increased to $441 million from $421 million in the year-ago quarter, as Berkshire continues to invest heavily in alternative energy sources such as wind and solar power generation.
Manufacturing, service, and retailingProfits also rose in Berkshire's broadest business segment, with manufacturing, service, and retailing net earnings increasing 13% to $1.3 billion.
Berkshire's manufacturing revenue jumped 19% to $10.6 billion, boosted by the company's recent acquisitions of battery maker Duracell and aerospace parts company Precision Castparts.
Yet service pre-tax profits decreased 23% to $225 million, primarily because of an 8% decline in revenue for NetJets, Berkshire's aircraft fractional ownership business. And retailing earnings increased 6% to 99 million, aided by the purchase of Berkshire's auto dealership business.
Putting it all togetherAll told, Berkshire's company-wide revenue increased 8% to $52.4 billion in the first quarter, while operating earnings declined 12% to $3.7 billion. And Berkshire's net earnings, which are affected by the company's volatile investment income, rose 8% to $5.6 billion.
Berkshire ended the quarter with approximately $89 billion in insurance float -- essentially, the cash the insurer collects upfront when premiums are paid, but that it doesn't have to pay out until claims are made in the future. Berkshire gets to invest this float -- and keep the profits.
In that regard, Berkshire's public stock portfolio was valued at $106.42 billion as of March 31, approximately 60% of which was concentrated in four companies: Wells Fargo, with a stake valued at $24.2 billion; International Business Machines, valued at $12.3 billion; Coca-Colavalued at $18.6 billion; and American Expressvalued at $9.3 billion. Of note is Berkshire's position in IBM, which produced an unrealized loss of about $1.5 billion as of March 31. Yet Berkshire said in its 10-Q that it has no plans to sell its stake in IBM and believes its holdings will recover in value over time.
Finally, book value -- Buffett's preferred performance metric that provides a measure of net worth by subtracting Berkshire's liabilities from its assets -- rose 1.2% since the end of 2015 to $157,369 per Class A equivalent share. That places Berkshire Hathaway's stock at about 1.36 times book value -- not far from the 1.2 times book that Buffett identified as the price at which he himself would repurchase shares.
The article Hail and Rail Dent Berkshire Hathaway Inc. Earnings originally appeared on Fool.com.
Joe Tenebruso has no position in any stocks mentioned. The Motley Fool owns shares of and recommends Berkshire Hathaway, Coca-Cola, and Wells Fargo. The Motley Fool has the following options: short May 2016 $52 puts on Wells Fargo. The Motley Fool recommends American Express. Try any of our Foolish newsletter services free for 30 days. We Fools may not all hold the same opinions, but we all believe that considering a diverse range of insights makes us better investors. The Motley Fool has a disclosure policy.
Copyright 1995 - 2016 The Motley Fool, LLC. All rights reserved. The Motley Fool has a disclosure policy.