Guns Are Probably on a Lot of Christmas Lists This Year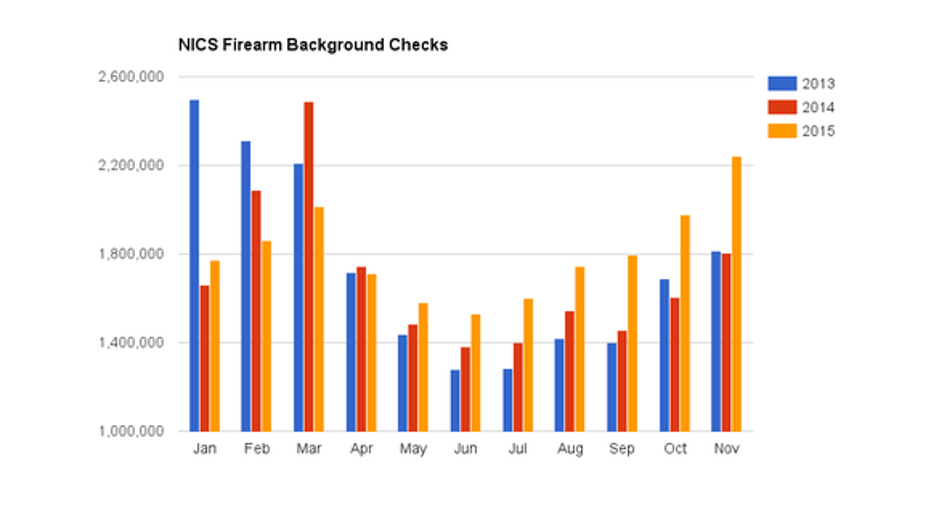 President Barack Obama's speech following the San Bernardino shootings helped send gun stocks soaring. Photo: Flickr/Greta Ceresini.
The FBI conducted more background checks on individuals wanting to buy a gun on Black Friday this year than on any other single day since the law-enforcement agency started keeping records. The agency performed 185,345 background checks that day, shattering the previous record of 177,170 that occurred on Dec. 21, 2012, in the wake of the Sandy Hook school shooting, and last year's Black Friday tally of 175,754.
It's beginning to look like 2015 will be a year that smashes all previous records for firearms background checks. The numbers have grown sequentially in the back half of the year so that in November the FBI said it conducted over 2.2 million checks, the fourth biggest monthly total ever.
So far this year, background checks are running 6% ahead of 2014's tally and are 4% ahead of 2013, the previous record year, when almost 21.1 million investigations were done.
Data: FBI.
Of course, background checks don't neatly translate into the number of guns purchased -- an individual can buy more than one gun during that transaction or decide not to complete the purchase -- but it's considered a decent proxy for demand.
In its fiscal-first-quarter earnings conference call with analysts this past August, Smith & Wesson Holdings CEO James Debny noted that checks were running 10% ahead of the year-ago period and that its shipments into the consumer market were up almost 12%, indicating healthy demand.
That's since materialized as rival Sturm, Ruger reported just last month that its third-quarter sales jumped 23% while profits surged 76% higher, and it estimated sell-through of the gun maker's products from independent distributors to retailers increased 28% (Ruger uses sell-through rates to plan production).
While retailer inventories were also higher for both gunsmiths, that was in anticipation of the fall hunting season, the holidays, and their own promotional plans. Previously, high inventories simply resulting from oversupply had sapped sales and profits, and they had to discount firearms to move product. There's no such shortage of desire for guns now, and the record pace of background checks may indicate that Smith & Wesson and Ruger may not have anticipated this level of growth.
After terrorist attacks like the one in Paris in November and the shootings in San Bernardino more recently, individuals are looking to protect themselves and their families from violence. At the same time, the Obama administration has stepped up its call for tough gun-control laws after each of these incidents, although the Kalashnikov rifles used by the ISIS terrorists in Paris, not to mention the grenades and suicide belts they wore, are already illegal in France, while the killers in California used long guns, not handguns.
Data: FBI.
Even so, the rhetoric supporting tougher gun laws helps drive gun sales higher. Just the fear that lawmakers would enact more restrictions on ownership has led to what's been called "the Obama boom" even though there has actually been little legislative or regulatory action at the national level.
The president's speech from the Oval Office on Sunday evening, wherein he called for more restrictions on the ownership of guns, caused the gunmakers' stocks to soar: Smith & Wesson's shares jumped more than 7%, while Ruger was up 6%. It's one of the reasons Obama has been called the greatest gun salesman ever.
It should be remembered, though, that there's something of a lag time between when background checks are reported and when the higher sales show up on the gunmaker's bottom lines. Comparing Ruger's sell-through rates with the FBI statistics show the numbers have little bearing on one another.
But higher demand will eventually trickle down as distributors need to restock, and with gun buyers kicking off the Christmas season with a record number of background checks, it appears they'll be giving themselves a present this holiday season, and both Smith & Wesson and Sturm, Ruger will also eventually be in high spirits.
The article Guns Are Probably on a Lot of Christmas Lists This Year originally appeared on Fool.com.
Rich Duprey has no position in any stocks mentioned. The Motley Fool has no position in any of the stocks mentioned. Try any of our Foolish newsletter services free for 30 days. We Fools may not all hold the same opinions, but we all believe that considering a diverse range of insights makes us better investors. The Motley Fool has a disclosure policy.
Copyright 1995 - 2015 The Motley Fool, LLC. All rights reserved. The Motley Fool has a disclosure policy.