Gulf Arab States Push to Develop Their Own Defense Industries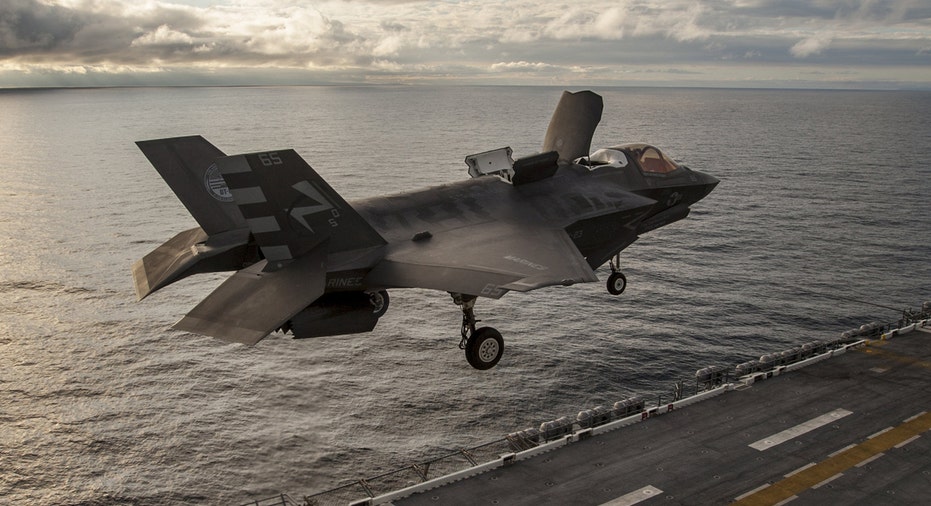 Wealthy Gulf Arab states have a warning for Western suppliers of military equipment: If they want business, they have to transfer technical knowledge to local companies that are part of a rising, home-grown defense sector.
Saudi Arabia and the United Arab Emirates, with troops fighting in neighboring Yemen and participating in allied air strikes against Islamic State, already have some of the region's most advanced forces. But they are limited in their ability to maintain and repair sophisticated military equipment -- let alone manufacture it.
The rulers want to become l ess dependent on the U.S. and other Western countries, and they see defense as a sector that can help diversify their oil-based economies.
The Saudi government, the world's No. 3 defense spender after the U.S. and China, last year announced it wants half the money it allots for military equipment to go to local firms by 2030, up from 2% today.
Even if the kingdom only partly achieves its goal, the impact will reverberate through the global defense industry. In 2015, Saudi Arabia military expenditures totaled around $87.2 billion, according to the research firm Stockholm International Peace Research Institute.
"We spend more than Britain, and France, and don't have industry. We have a strong demand that we should meet inside Saudi Arabia," Saudi Arabia's defense minister, Deputy Crown Prince Mohammed bin Salman, said in a televised interview last year.
The prince added that, under new official policies, the Saudi government would agree to defense deals with foreign providers "only if they are linked to local industry."
That message is trickling down. AM General, the South Bend, Ind.-based maker of the Humvee, said in February it was starting to export commercial chassis abroad. That allows customers, including partners in the Gulf, to assemble customized versions of their armored vehicles locally.
"The bottom line is they want to spend more of their money in their country," says Nguyen Trinh, an executive at AM General.
Saudi Arabia's Advanced Electronics Company, a Riyadh-based supplier of defense equipment like signal jammers and lasers, recently entered a new partnership with Raytheon Co. for a Saudi-government contract to develop cybersecurity capabilities. Raytheon declined to comment on the contract.
Local defense firms cite the deal as evidence foreign suppliers are scouting for new or expanded partnerships. "Instead of us pulling them, they are the ones pushing -- they are approaching us," says Mohammed Al Khalifa, the vice president of AEC, which is jointly owned by British weapons maker BAE Systems and Saudi investors.
Big global contractors such as Boeing Co. (NYSE:BA) say they see opportunities for opening new production lines in the Middle East. "Boeing will continue to look for potential partnership opportunities for mutual growth of business," Bernard Dunn, president of Boeing Middle East, North Africa and Turkey, said in an email.
But such opportunities are no simple matter for the foreign contractors. Policy rules in the U.S. and Europe would allow the manufacturing of some components to be out-sourced, but the rules are stricter for sensitive military technology.
In Abu Dhabi two years ago, a senior U.S. Department of Defense official told potential Gulf buyers and industry executives that they wouldn't be allowed in the foreseeable future to buy Lockheed Martin Corp.'s (NYSE:LMC) radar-evading F-35 Joint Strike Fighter , according to Danny Sebright, president of the U.A.E.-U.S. Business Council and a former Defense Department official, who was there.
The official alluded to rules to ensure Israel maintained a competitive military edge in the region.
The Emiratis decided to turn to Russia. The U.A.E.'s defense ministry said in February it would jointly develop a light combat fighter with Russia's state-run defense corporation Rostec.
"It was completely a statement to the Americans and to the Europeans that, if you don't give us what we need, if you don't help us with what we need, we have no choice but to try to get it somewhere else to protect our legitimate security needs," said Mr. Sebright.
Saudi Arabia reached a deal earlier this month with China to jointly manufacture drones.
"It's a very important marketplace -- and we have to adapt to it," said a Gulf-based executive with a U.S. defense firm.
Many Gulf-based defense companies were established decades ago under offset programs that required foreign suppliers to invest part of their compensation locally. The push into manufacturing, however, is new
Alsalam Aerospace Industries, a firm based in Riyadh and partly owned by Boeing Co., wants to manufacture its first complete aircraft by 2030. Last year, with Boeing's help, the company started assembling wings and forward fuselages in its factory to upgrade F-15 jet fighters for the Royal Saudi Air Force.
"We want to be the Lockheed Martin or the Boeing of Saudi Arabia," says Yehya Al Ghoraibi, the company's chief executive.
The company is expanding into helicopter maintenance and repair. In the more distant future, Mr. Ghoraibi is considering expanding into areas ranging from tank manufacturing to bomb making.
The U.A.E. is already producing armored vehicles. In February, the country's armed forces awarded a contract of 1,750 armored vehicles to an Emirati company, NIMR Automotive. It was a rare example of a local business securing a deal of such size.
In 2014, the U.A. E. merged more than a dozen state-owned firms under a conglomerate called the Emirates Defence Industries Company, It is led by Luc Vigneron, the former head of Thales SA, Europe's leading defense electronics maker.
NIMR, one of the conglomerate's subsidiaries, produces around four vehicles a day and looking to export to Eastern European and Asian markets.
In a sign of how the development of the local defense industry is shaping career perspectives, many of NIMR's engineers are Emirati. "My father thought a successful path would be in oil and gas," recalls 29-year-old Omran Alhashemi.