Guess Who's Selling Australia $1.2 Billion Worth of Missiles?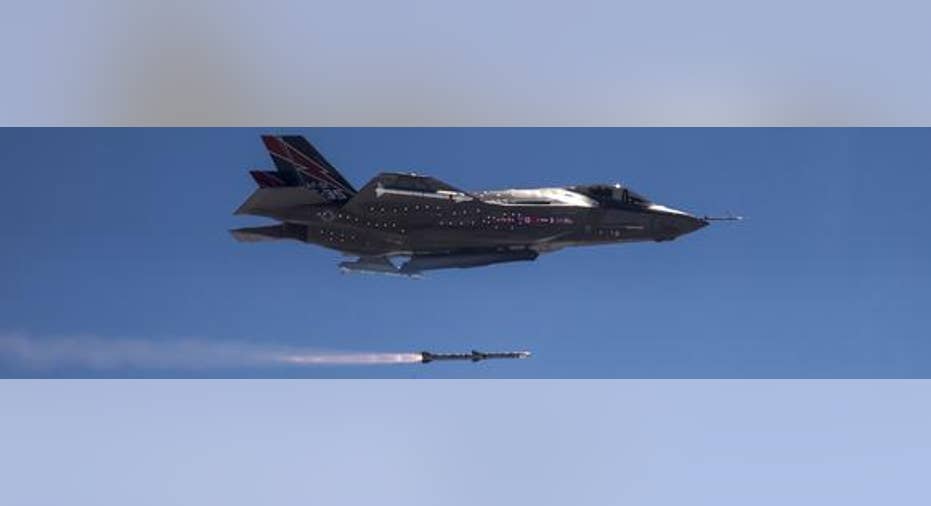 Missile away! Image source: Raytheon.
America's defense contractors have a lot of customers, and in a lot of different countries. One of the most important of these is Australia.
Oh, up here in the Northern Hemisphere, we don't ordinarily think of Australia as being any sort of huge military superpower. But over the years, Australia has actually built up quite a large arsenal of U.S.-built warplanes, for example.
At last count, the Royal Australian Air Force boasted a fleet of no fewer than 93 Boeing-built F/A-18 fighter jets, with 12 more on order. The country also has orders in for a dozen more F-18-derived EA-18G electronic warfare aircraft from Northrop Grumman-- and 100 of Lockheed Martin's fancy new F-35 stealth fighters, with two already in training.
But all of those airplanes need ammo.
"Bullets" for bombers And so it is that we learned this week that Australia has placed an order for a truly massive amount of missiles with which to arm their airplanes. According to a notification to Congress from the Defense Security Cooperation Agency, Australia has asked permission to buy "up to 450" AIM-120D Advanced Medium-Range Air-to-Air Missiles (AMRAAM) from manufacturer Raytheon . Combined with assorted related gear, training, and support services, DSCA values the entire arms package at $1.22 billion -- all of which will be routed through principal contractor Raytheon.
Raytheon Stock

Market capitalization

$37.9 billion

Revenue

$23.7 billion

Net profit

$1.95 billion
DATA SOURCE: S&P Global Market Intelligence.
This will be Australia's first purchase of Raytheon's most advanced AMRAAM variant -- the first foreign buyer of the weapon anywhere, in fact. Winning that first sale makes this a very big deal for Raytheon, even if the purchase price were not so big.
But of course, the contract is very big. So how much is it worth to Raytheon and its investors? Let's consider.
Raytheon's Missile Systems division builds the AMRAAM. According to data from S&P Global Market Intelligence, this is Raytheon's single-largest business, raking in $6.6 billion in revenue during the past year -- 28% of companywide revenue. It's not the company's most-profitable division. (That would be missile defense, or "Integrated Defense Systems" as they call it). But Missile Systems isn't exactly a slouch, earning pre-tax profit margins of 13.2%.
That means that Raytheon's sale of $1.22 billion worth of AMRAAMs to Australia is likely to generate more than $161 million in profit for the company -- or about $0.54 per share.
Should you buy Raytheon stock?That's a big number, even for a company as profitable as Raytheon, which earned $1.95 billion, or $6.44 per share, for its investors during the last 12 months. But even so, this contract is not in and of itself a reason to buy Raytheon stock. First, you need to take a look at the stock's valuation as a whole.
Raytheon Stock

Price-to-earnings ratio

19.4

Price-to-free cash flow

18.0

Price-to-sales

1.6

Projected 5-year growth rate

8.2%

Dividend yield

2.3%
DATA SOURCES: YAHOO! FINANCE, S&P GLOBAL MARKET INTELLIGENCE.
How does a value investor use numbers like these to determine if a stock like Raytheon is worth buying? Start by adding the company's projected growth rate to its dividend yield. These two numbers combined give you the "total return" you're expecting on an investment in Raytheon -- 10.5%.
Ideally, you want to buy the stock when its price-to-earnings or its price-to-free-cash-flow ratio (or even better, both) are equal to or less than that total return number: 10.5. Unfortunately, neither one of these numbers is anywhere close to the expected total return on Raytheon stock today.
The upshot for investorsAccordingly, unless you think analysts are way off the mark in estimating Raytheon's likely profit growth rate during the next five years -- and I personally do not think they're far off -- chances are that you probably do not want to buy Raytheon stock at today's prices.
But please, Australia, do buy as many missiles as you like. Buy enough of them, and one day soon, perhaps, Raytheon stock will be profitable enough for us to consider buying more of it.
The article Guess Who's Selling Australia $1.2 Billion Worth of Missiles? originally appeared on Fool.com.
Rich Smithactually does own Raytheon stock, albeit purchased at prices far below what it costs today. You can find him onMotley Fool CAPS, publicly pontificating under the handleTMFDitty, where he's currently ranked No. 297 out of more than 75,000 rated members.The Motley Fool has no position in any of the stocks mentioned. Try any of our Foolish newsletter services free for 30 days. We Fools may not all hold the same opinions, but we all believe that considering a diverse range of insights makes us better investors. The Motley Fool has a disclosure policy.
Copyright 1995 - 2016 The Motley Fool, LLC. All rights reserved. The Motley Fool has a disclosure policy.