Guess? Inc. Scares the Pants Off Shareholders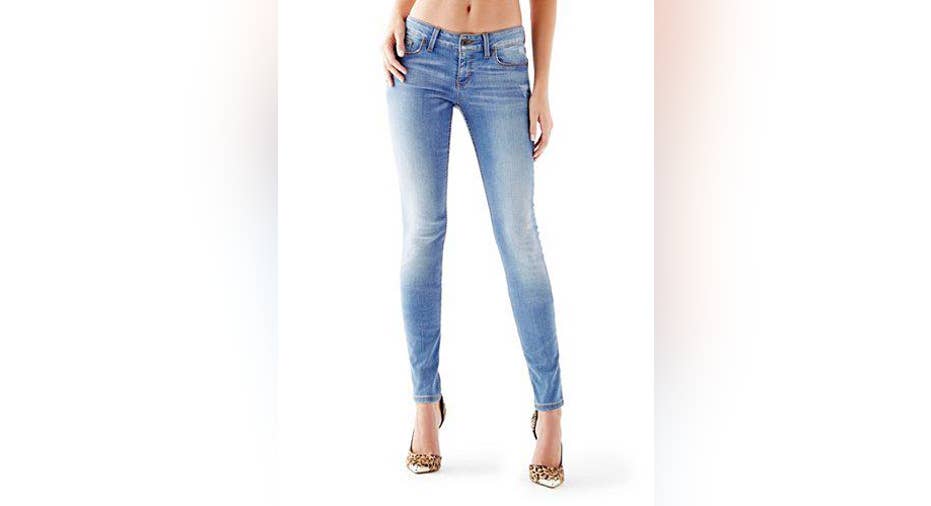 Image source: Guess?
The holiday season was a difficult one for many retailers, and jeans specialist Guess? was among the last apparel companies to report how they did during the holiday quarter. Coming into its fiscal fourth-quarter financial report, Guess? investors had expected to see sales and profits fall from the previous year's high season. But what they weren't prepared to see was guidance for 2016 that included a substantial loss in the fiscal first quarter and much lower full-year earnings.
Let's look more closely at why Guess? investors are reacting badly to the company's report and what it says about the company's longer-term future.
Guess? results don't fit wellThe fiscal fourth-quarter results Guess? posted didn't inspire a huge amount of confidence. Revenue dropped 6% to $658 million, which was actually $1 million higher than what most investors had expected to see. Net earnings of $47.8 million were similarly down 11% from year-ago figures, and the resulting earnings of $0.57 per share missed the consensus forecast by a penny.
A closer look at the company's results shows some of the same factors that have hurt Guess? in past quarters. Foreign currency weakness was a major factor in holding back growth, and Guess? said the 10% drop in earnings per share included a negative impact of 30% from the strong dollar. Retail comparable sales were down 1% in dollar terms, but were up 2% when you take out the currency impact.
Even greater impacts from the dollar were evident from Guess?'s segment results. European revenue fell 5% in dollar terms, but it would have risen 6% in a constant currency environment. Asia took a much greater 18% hit in sales, of which four percentage points were due to the strong dollar. Wholesale revenue in the Americas was down 9% in dollar terms and 1% on a constant currency basis.
Overall, Guess? saw little change in its overall operating margins, but the results varied greatly by region. Americas Retail operating margins doubled to 6.6%, and the Asia segment saw margins rise to 3.5%. But the lucrative European market suffered a nearly two percentage point drop in margins to 15.1%, and weakness in the wholesale and licensing segments also weighed on overall figures.
CEO Victor Herrero was generally pleased with the results Guess? posted, noting that they were within its initial guidance range. "There is still more work to be done," Herrero said, "but I am convinced that the initiatives we have started to implement in the last few months have contributed to these encouraging results."
What really scared investorsHerrero also tried to reassure investors that Guess? remains on a solid long-term track. "Based on the [company's] Strategic Initiatives," the CEO said, "we are planning for our annual revenues to reach $3 billion in three years at prevailing currency rates." Much of this $800 million in growth will come from e-commerce, with retail expansion and rising comps also contributing.
Still, the guidance Guess? issued for the current fiscal year was extremely weak. For the fiscal first quarter, the company expects revenue to fall 2.5% to 3.5%, with currency making up about two percentage points of the decline. Guess? believes it will lose between $0.17 and $0.20 per share, confounding investor expectations for a small profit.
For the full year, Guess? had even more disappointing guidance. The company expects to earn between $0.65 and $0.85 per share, far below the $1.05 per share consensus forecast among investors. That's particularly troubling because of the 6% to 8% rise in dollar-based revenue Guess? now expects during the year, which is far better than investors had looked to see. The implication is that Guess?'s margins will fall far short of what those following the company were hoping.
Investors took the news badly, sending Guess? shares down 13% in pre-market trading Friday following the Thursday afternoon announcement. Even though the company remains confident in its strategic turnaround, shareholders won't be convinced until the results start showing up more prominently in Guess?'s financials going forward.
The article Guess? Inc. Scares the Pants Off Shareholders originally appeared on Fool.com.
Dan Caplinger has no position in any stocks mentioned. The Motley Fool recommends Guess?. Try any of our Foolish newsletter services free for 30 days. We Fools may not all hold the same opinions, but we all believe that considering a diverse range of insights makes us better investors. The Motley Fool has a disclosure policy.
Copyright 1995 - 2016 The Motley Fool, LLC. All rights reserved. The Motley Fool has a disclosure policy.