Guess? Gets Crushed Again on Dire Predictions for Domestic Retail Business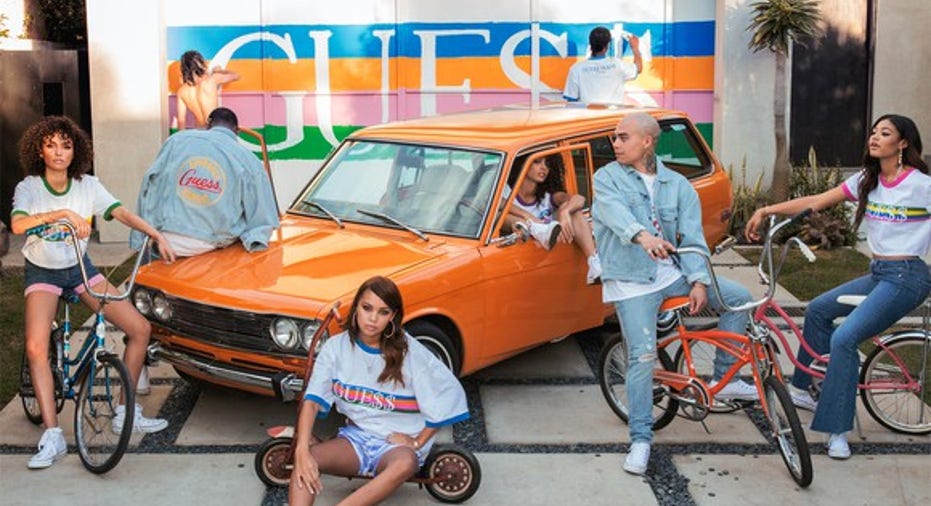 Denim specialistGuess? (NYSE: GES) has struggled for a long time, and tough conditions in the overall retail market have been only part of the story. After signs of a possible turnaround early in 2016, the company has more recently raised new doubts about its ability to keep moving forward, especially in its home territory in the Americas. Coming into Wednesday's fiscal fourth-quarter financial report, Guess? investors wanted to see decent sales growth, although they were prepared to deal with falling earnings. Yet the results that the jeans maker posted fell short of those expectations, and guidance for the coming fiscal year was ugly.
Let's look more closely at Guess? to see how it did and what lies ahead for the retailer going forward.
Image source: Guess?.
Guess? results just don't fit
For Guess?, the company's fiscal fourth-quarter results fell short of what most of those following the stock had hoped to see. Revenue was once again up modestly, with a 3% gain to $679.3 million, but that was slightly less than the 4% growth rate that investors had projected. Similarly, adjusted net income was down 28% to $34.6 million, and that produced adjusted earnings of $0.41 per share. That missed the consensus forecast for $0.43 per share in earnings.
Taking a closer look at the numbers, Guess? once again struggled in the key Americas retail division, which is the company's largest segment in terms of revenue. Comp sales including e-commerce were down 7%, and that pushed overall segment sales down by more than 6% from the year-ago quarter.
Yet as we've seen before, Guess? got some help from the rest of its global operations. In Europe, sales rose more than 11%, even though the company suffered about a 2-percentage-point headwind from adverse currency movements. Asia performed even better, posting revenue increases of 27%, for which currency impacts were limited to a single percentage point. Even within the Americas, Guess? had better results in its wholesale unit, with sales climbing 1%. The company's licensing business suffered a 9% drop in its segment top line.
The differences among the segments also appeared in operating margin figures. In the Americas, operating margin swung from last year's 6.6% figure to negative 11.1% in the fourth quarter of 2016, with higher impairment charges accounting for the majority of the difference. Still, even when you take out the impact of those charges, operating margin fell by more than 6 percentage points for the segment, as greater markdowns and falling sales weighed on results. The Americas wholesale business also suffered margin deterioration, falling 2 percentage points to 17%. Flat performance in Asia was lackluster, and even in the relatively strong European market, Guess? only managed to lift operating margin by about a percentage point, to 16%.
CEO Victor Herrero is still convinced that Guess? can bounce back from its challenges. Speaking on Asia and Europe, Herrero said, "We are encouraged by the progress we are making in these two regions and will continue to allocate the majority of our capital investment there."
What's ahead for Guess?
Guess? has high hopes for the coming year. In the CEO's words, "As we head into fiscal year 2018, we will build on the good momentum we are experiencing in both Europe and Asia." Herrero said that the company expects to close 60 stores in the Americas retail segment to focus on profitability improvements. Guess? also would like to make some changes to its supply chain to enhance margin levels as well.
Yet once again, the company's guidance for the coming fiscal year is far from upbeat. For the fiscal first quarter, revenue should finish between down 0.5% and up 1.5%, with negative operating margin and a loss of $0.30 to $0.33 per share. For fiscal 2018, revenue increases of 2% to 4% should produce earnings of $0.28 to $0.40 per share. The bottom-line figures are below what most investors had expected to see, and predictions for negative comps for the Americas retail segment in the high-single-digit to low-double-digit percentage range speak to how out of favor Guess? has become in the Western Hemisphere.
Guess? shareholders once again were unhappy with the report, and the stock plunged 12% in after-hours trading following the announcement. With another holiday season having failed to produce the results that investors wanted, Guess? might be running out of time to make good on its promises to adapt to changing conditions in the retail industry.
10 stocks we like better than Guess?When investing geniuses David and Tom Gardner have a stock tip, it can pay to listen. After all, the newsletter they have run for over a decade, Motley Fool Stock Advisor, has tripled the market.*
David and Tom just revealed what they believe are the 10 best stocks for investors to buy right now... and Guess? wasn't one of them! That's right -- they think these 10 stocks are even better buys.
Click here to learn about these picks!
*Stock Advisor returns as of February 6, 2017
Dan Caplinger has no position in any stocks mentioned. The Motley Fool recommends Guess?. The Motley Fool has a disclosure policy.