Greenbrier Soars Despite Posting Sharply Lower Earnings, Revenue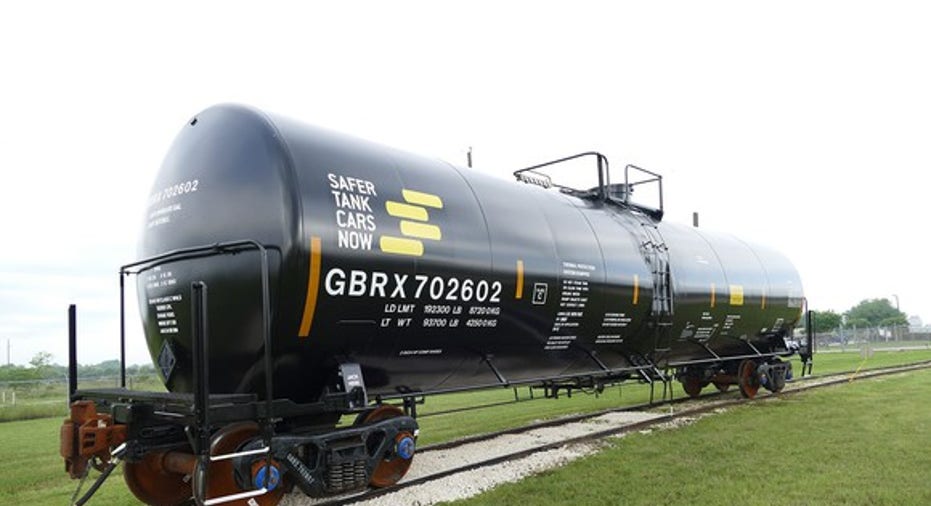 The railroad industry has gone through a lot of turmoil in recent years, and railcar manufacturer Greenbrier (NYSE: GBX) has seen both strong and weak times in navigating changing industry conditions. Recently, Greenbrier has endured a painful contraction in its business, and coming into Friday's fiscal first-quarter financial report, investors fully expected those tough times to continue. Greenbrier's profits weren't quite as good as most investors were prepared to see, but revenue held up fairly well, helping to spur a big jump in its share price. Let's take a closer look at Greenbrier and what its latest results tell about what the company faces right now.
Image source: Greenbrier Companies.
Greenbrier sees sales, profits shrink
Greenbrier's fiscal first-quarter results only looked good in the context of what downbeat investors were prepared to see. Revenue fell by nearly a third to $552.3 million, but that was actually far better than the consensus forecast among those following the stock for a nearly 40% drop in Greenbrier's top line. Meanwhile, net income dropped by nearly two-thirds to $25 million, and the resulting earnings of $0.79 per share were $0.04 per share less than investors had expected.
Taking a closer look at Greenbrier's numbers, the same trends among the company's segments remained in place. The manufacturing segment had the steepest drop in revenue, posting a 35% decline. The wheels and parts business saw just a 12% drop in revenue, and the leasing and services unit once again managed to see impressive sales growth of 15%. Given the mix of Greenbrier's business, however, manufacturing's woes dominated better year-over-year revenue results elsewhere.
Greenbrier did spend time focusing on shorter time frames in its turnaround efforts. Sequentially, gross margin climbed slightly compared to the fiscal fourth quarter of 2016, but higher overhead expenses and rising effective tax rates led to substantial declines in operating income and earnings. In manufacturing, the company said that slowing production rates resulted in fewer deliveries, and a challenging operating environment weighed on Greenbrier's performance in the wheels and parts unit.
From an operational perspective, signs of a bounce last quarter gave way to further weakness. Railcar deliveries fell by 600 from the previous quarter to 4,000, continuing a streak that has reduced delivery volume by more than 40% in just the past year. Backlog was also down again, falling 1,700 to 25,800 railcars. The total estimated value of $2.97 billion was about $220 million less than where the backlog stood three months ago, which is a slower rate of decline but still a disappointing result.
Greenbrier CEO William Furman tried to look on the bright side of the business. "Greenbrier's fiscal 2017 is off to a strong start," Furman said, "with solid financial performance delivered during a demanding first quarter." The CEO highlighted the efforts that the business has made to keep margins as high as possible even in light of falling delivery demand.
What's ahead for Greenbrier in 2017?
Also, Greenbrier is excited about some of its new global efforts. In Furman's words, "Greenbrier's operations in Brazil and our relationship with our partners continues to grow." Moreover, "Brazil's economic, business, and political conditions have improved," as the CEO put it, "and forecasts indicate continued GDP improvement in 2017." One thing to note is that the Greenbrier-Maxion joint venture's results aren't included in Greenbrier's own reported orders, with awards for more than 2,000 railcars during the fiscal first quarter.
Despite the differences between what Greenbrier's results were and what investors had expected, the railcar manufacturer didn't change its guidance for 2017. Greenbrier still expects sales to come in between $2 billion and $2.4 billion, and earnings will likely be between $3.25 and $3.75 per share. Deliveries are still on track to fall about 20% to 30% from 2016 levels to a range of 14,000 to 16,000 units.
Greenbrier shareholders seemed to focus on the strong revenue results, pushing the stock up by 6% in morning trading following the announcement. Long-term investors will have to be patient as Greenbrier aims to get itself back into growth mode, but the current valuation fully reflects the slowdown and gives the company some time to implement strategies to foster future expansion.
10 stocks we like better than The Greenbrier Companies When investing geniuses David and Tom Gardner have a stock tip, it can pay to listen. After all, the newsletter they have run for over a decade, Motley Fool Stock Advisor, has tripled the market.*
David and Tom just revealed what they believe are the 10 best stocks for investors to buy right now... and The Greenbrier Companies wasn't one of them! That's right -- they think these 10 stocks are even better buys.
Click here to learn about these picks!
*Stock Advisor returns as of January 4, 2017
Dan Caplinger has no position in any stocks mentioned. The Motley Fool recommends The Greenbrier Companies. The Motley Fool has a disclosure policy.