Greek Hopes Drive Dow Near 13K, Nasdaq Takes a Breather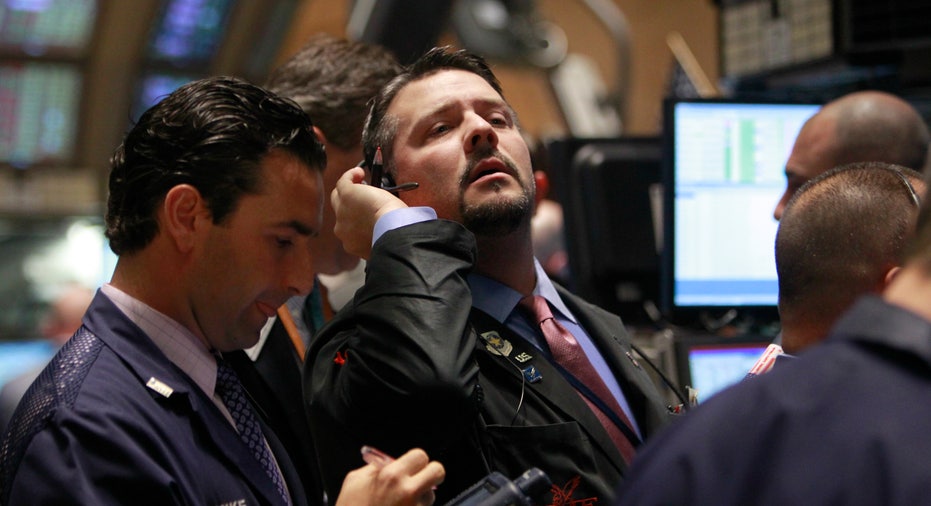 FOX Business: The Power to Prosper
Edging closer to the 13000 mark, the Dow finished the week with solid gains on Friday as Wall Street bets Greece will finally receive its long-awaited bailout, but the Nasdaq Composite failed to join the party.
Today's Markets
The Dow Jones Industrial Average climbed 45.56 points, or 0.35%, to 12949.64, the S&P 500 gained 3.17 points, or 0.23%, to 1361.21 and the Nasdaq Composite fell 8.07 points, or 0.27%, to 2951.78.
The gains in the broader markets leave the Dow at its highest level since May 2008 and just 50 points away from the 13000 threshold, which carries psychological importance for investors.
Continuing their strong start to 2012 amid growing economic hopes, all three major indexes landed in the green this week, marking their sixth weekly gain of the last seven.
The latest bullishness comes as market participants are growing increasingly confident Greece will be able to avoid a default on its debt that analysts fear would deal a serious blow to the European financial system.
In a significant development, the European Central Bank has swapped some of its Greek bond holdings for new ones, according to a report by Dow Jones Newswires. This shows the central bank's commitment to helping Greece reduce its debt load and take broader actions to help control the eurozone debt crisis.
Potentially, the ECB move could make way for a similar exchange by private creditors early next week. More importantly, perhaps, eurozone finance chiefs are expected to sign off on a $171 billion bailout package as early as Monday, according to reports. Still, the situation remains fluid and analysts note seemingly-secure deals have repeatedly fallen apart at the last minute in the past.
European shares, which were broadly lower on Thursday, posted solid gains on the day. The Euro Stoxx 50, which tracks eurozone blue chips, rallied 1.2%, while the euro gained 0.08% to $1.3145.
On the economic front, prices at the consumer level rose 0.2% in January from December, slightly less than the 0.3% increase economists forecast. Excluding the more volatile food and energy components, so-called prices were up 0.2%, which was in-line with expectations. The headline reading has jumped 2.9% from last year, while core prices are up 2.3%.
Economists have been keeping a close eye on the inflation situation since the Federal Reserve has taken unprecedented measures to boost the economy and stave off a collapse of the financial since the crisis in 2008. However, such an aggressive monetary policy has the potential to stir inflation.
Commodities markets were mixed on the day. Capping off its largest weekly gain of the year, crude oil jumped 96 cents a barrel, or 0.94%, to $103.60 -- its highest settle since May 10, 2011. In metals, gold dipped $2.30, or 0.13%, to $1,724.50 a troy ounce.
Traders shed safe-haven U.S. Treasury bonds as they moved into riskier asset classes. The yield on the benchmark 10-year note climbed 0.042 percentage points to 2.012%. Yields on bonds move in the opposite direction of prices.
U.S. markets are closed for a holiday on Monday.
Corporate Movers
Time Warner Cable (NYSE:TWC) and New York Knicks parent MSG (NYSE:MSG) resolved a dispute that has left much of New York City blacked out from the MSG Network in 2012, The New York Times reported. The news sent MSG shares to all-time highs.
Macy's (NYSE:M) CEO Terry Lundgren unveiled plans to hire 4,000 full-time employees this year, Reuters reported.
Foreign Markets
European blue chips rallied 1.2% to 2520.31, the English FTSE 100 gained 0.33% to 5,905 and the German DAX jumped 1.4% to 6,848.
In Asia, the Japanese Nikkei 225 climbed 1.6% to 9,384 and the Chinese Hang Seng rose 1% to 21,492.