Greek ex-prime minister files complaint vs current leader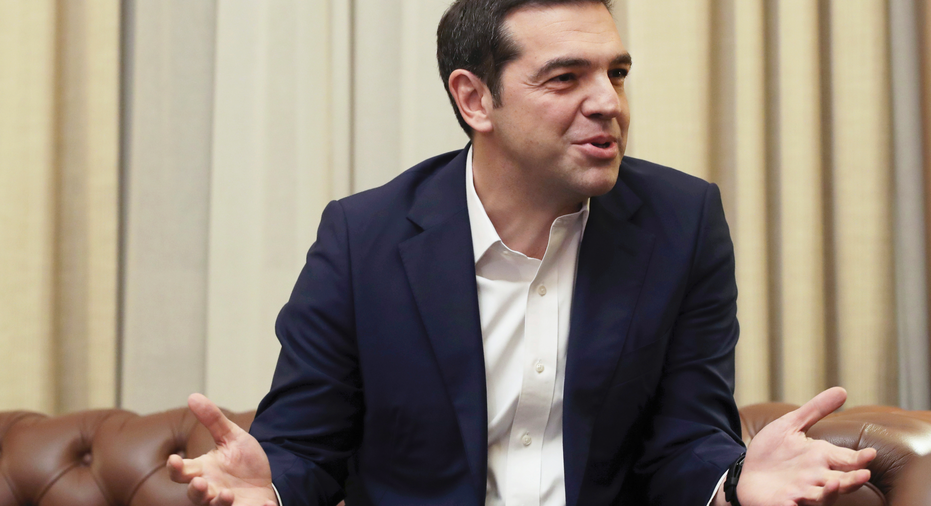 A Greek former prime minister accused of involvement in a pharmaceutical bribery scandal filed a criminal complaint Thursday against current Prime Minister Alexis Tsipras and six other people, including the deputy justice minister and three prosecutors.
Antonis Samaras, the conservative prime minister from 2012-15, filed the suit alleging a series of crimes, including abuse of power, defamation, violation of duty and perjury.
His move comes after Greece's left-led government requested parliament investigate accusations that 10 senior former officials, including Samaras, were involved in bribes allegedly paid by Swiss drug-maker Novartis to boost drug sales and prices. Samaras and the other officials have all denied the allegations. Novartis has said it is cooperating with Greek authorities.
That request, which targeted several top opposition figures, came amid an increasingly acrimonious face-off between the government and leading opposition parties, which accuse it of using the judiciary to further political ends.
Samaras' criminal lawsuit was filed against Tsipras, Deputy Justice Minister Dimitris Papaggelopoulos, three prosecutors and two secret witnesses who have been identified in court documents only by code names.
He accuses the prosecutors of abuse of power, violation of duty and violation of confidentiality, the two witnesses of perjury and defamation, and Tsipras and Papaggelopoulos of instigating the others to commit those crimes.
Samaras asks the court for "judicial protection from an unprecedented vulgar political-judicial plot that was created and executed against me."
In response to the lawsuit, Papaggelopoulos accused Samaras of trying to create a diversion and intimidate court officials and witnesses.
"I thank Mr. Samaras for the supernatural abilities he attributes to me, which allow me in an international scandal to provoke and manipulate investigations on a global level," Papaggelopoulos said in a statement issued by his ministry.
Tsipras' office also issued a statement responding to the lawsuit.
"We look forward to reading the new conspiratorial theory of Mr. Samaras, who is permanently under a persecution complex," the prime minister's office said. "However the only one who is persecuting him is his past. We recommend he sues that, too."
The officials allegedly involved in the scandal with Samaras include Bank of Greece governor Yannis Stournaras, EU Home Affairs Commissioner Dimitris Avramopoulos, who has served as health, foreign and defense minister in previous conservative governments, and Panagiotos Pikramenos, who served as caretaker prime minister for one month in 2012.
Tsipras' Syriza party cited testimonies from anonymous, protected witnesses who claimed Novartis set aside more than 1 million euros to bribe Greek officials. It quoted allegations from one of the witnesses that a senior Novartis official in Greece delivered a suitcase of cash to the prime minister's office in 2013.
Under Greek law, Parliament must review allegations against politicians before prosecutions can be authorized.